Which Employee Onboarding JIT Resources Are Worth The Investment?
Everybody has experienced new job jitters at least once. It usually involves sweaty palms, churning stomachs, and a whole lot of second doubt. Am I doing everything correctly? Will I make a crucial mistake in front of my manager? Where's the bathroom? And that's just the tip of the anxiety iceberg. As such, your new recruits need moment-of-need training to help them navigate the choppy waters or orientation. To prepare them for everyday challenges and bolster their self-confidence. Add these employee onboarding just-in-time (JIT) resources to your library to support new staffers and put their nerves at ease.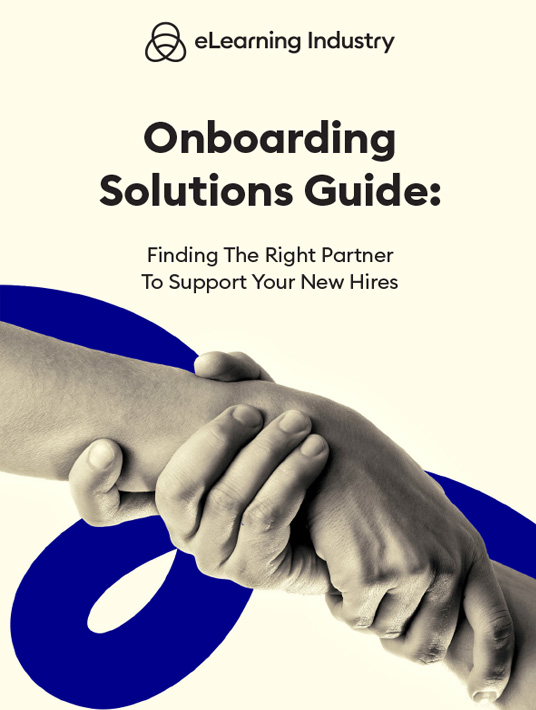 eBook Release
Onboarding Solutions Guide: Finding The Right Partner To Support Your New Hires
This employee onboarding solutions guide shows you how to choose the right outsourcing partner to achieve your objectives.
7 Top Employee Onboarding JIT Resources To Consider
1. Company Policy Checklists
There are a lot of policies for new hires to remember. In fact, one of the first hurdles they must overcome is cognitive overload. They aren't trying to be rebels without a cause. New recruits simply can't remember all the rules and regulations that pertain to their job titles. For this reason, it's best to create a company policy checklist for every job role, department, or individual task. For example, they must follow these rules during the sales transaction to stay in compliance.
2. Task Infographics
Break complex tasks into their most basic components or steps, then develop an infographic that serves as a performance cheat sheet. New hires can follow along if they forget the next step in the process. As well as refresh their memory before they clock in every day. At least until the task becomes second nature, include a few pointers in the infographic to help them avoid common errors. For instance, they should always greet the customer beforehand or wear specific gear to stay safe on the job. Infographics are also ideal for troubleshooting. Employees can simply refer to the graphic if they encounter a problem to explore the top 5 creative solutions.
3. Microlearning Sales Simulations
New employees must know how to complete a basic sales transaction. Such as how to use the POS system. However, there are numerous skills involved in the process. For example, they need to communicate with the customer, ensure they've found the right product, and persuade them to buy add-ons. Microlearning sales simulations immerse trainees in real-world environments so that they know what to expect. As well as how to deal with the most common challenges.
Discover The Best Employee Onboarding Content Providers
Explore our top list and see which content provider suits your business needs.
4. Customer Service Scenarios
Another key skill set to focus on in employee onboarding JIT training is customer service. Even members of the team who don't interact with consumers daily need to know interpersonal skills essentials, such as active listening, empathy, and conflict resolution. Customer service scenarios expose them to a broad range of personas they may encounter in the workplace. Every decision takes them down a different path, and ultimately, they must face the consequences (good or bad). Which also facilitates mistake-driven learning and feedback.
5. Performance Pop Quiz
Employee onboarding JIT doesn't just involve information delivery; it should also include assessment opportunities to track progress. As well as identify performance gaps that new hires must address autonomously. This might be in the form of multiple choice exams or simulations/scenarios that take a more qualitative approach. These performance pop quizzes allow trainees to diagnose personal pain points discreetly instead of discovering them on the job. For example, in the middle of a task, when the customer is growing impatient, and managers are looking over their shoulder. Make sure it includes targeted feedback to help them bridge gaps, such as a list of recommended resources.
6. Social Media Skill Builders
Launch a closed social media group where employees can gather online and help each other build essential skills. It might consist of daily tips and tricks. Or a new skill-based training topic every week that encourages peer-based discussion. For example, this week, you're covering communication skills. Trainees talk about how these skills apply in the workplace, share pointers on how to hone active listening skills, and so on. Remember that this social media group should have a good mix of experienced and new staffers. This facilitates knowledge sharing and turns seasoned staffers into online mentors. They can even break off into groups for peer coaching if they share similar interests or goals. In many respects, social media skill-building groups are a catalyst for collaboration.
7.  Emergency Map
Emergencies tend to induce panic. And panic clouds our ability to think clearly. We might be level-headed in normal circumstances. But natural disasters and fires have a funny way of upsetting the balance. That is when an emergency map can save lives. New hires can memorize the map beforehand and/or use it to safely egress during their moment of need. It should also feature evacuation tips. Such as who to report to, where to meet outside, and what to do if certain exits are blocked. There must always be a backup plan. Post this map around the workplace and make it readily accessible in the LMS. Plus, it also serves as a memory refresher for new hires who lose their bearings during shifts. For example, where's the break room or the HR department?
Conclusion
Effectively supporting your new recruits doesn't involve hand-holding or undue praise. They still need room to grow and face their L&D fears. You should give them the chance to explore training challenges on their own and identify pre-existing gaps. The key is offering them JIT tools to address personal areas for improvement discreetly so that they feel confident on the job. They're ready to overcome every obstacle because they have the basic building blocks, such as skills and knowledge that are applicable in various contexts.
Check out our Top Content Providers For Employee Onboarding list to find a partner who understands your brand values and helps you convey them in the employee onboarding training.