How To Identify Hidden Gaps And Boost Performance With Targeted Employee Skills Assessment
How do you hone in on strengths and weaknesses discreetly? Is there a cost-effective way to assess individual AND group productivity for your remote workforce? The good news is that a skills matrix can help you disclose hidden pain points and continually improve workplace performance with a personalized training strategy.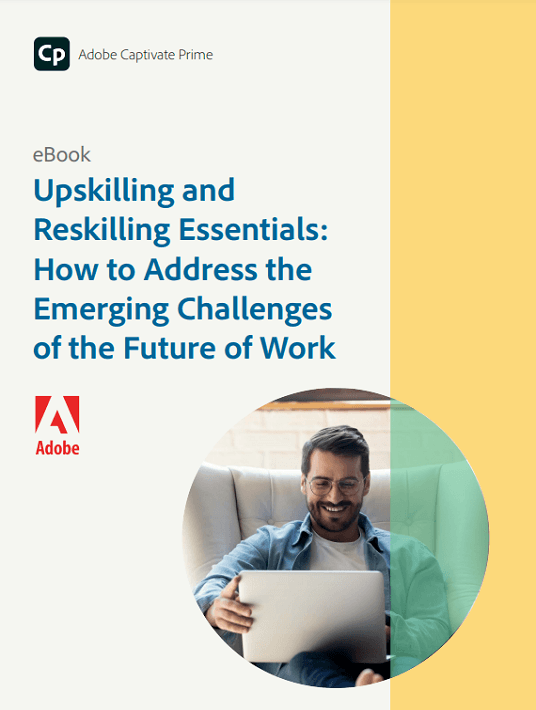 eBook Release
Upskilling And Reskilling Essentials: How To Address The Emerging Challenges Of The Future Of Work
Discover how to cultivate core competencies and build crucial skills to overcome remote work obstacles!
First Things First...What Is A Skills Matrix?
Skills mapping is also sometimes called competency mapping, as it provides you with a detailed overview of employee talents and areas for improvement. In most cases, it's in the form of a table or grid with an employee's name in each row and different core competencies in the columns. For example, the first row is Employee A and you can assess their on-the-job performance in 10 crucial areas (communication skills, problem-solving, etc.).
Many organizations use specialized rubrics or criteria for knowledge and skills assessment. 10 might be highly proficient in that area, while 1 indicates that the staffer needs to work on that skillset. Another approach is to grade them on a scale from Exceptional to Unsatisfactory instead of a numerical value.
Which Skills Should Top Performers Possess?
Of course, the skills you need to cultivate among your workforce greatly depend on your goals and emerging gaps. But, here's a small sampling of skills that employees should develop in order to boost job performance and achieve organizational objectives:
Creative problem-solving
Interpersonal skills (communication, empathy, active listening, etc.)
Time management
Teambuilding
Organization and planning
Stress management
Before you develop your first employee skills assessment, you must pinpoint which competencies you're looking for and why. This is usually based on employees' roles and responsibilities. For example, you'll probably need to create a separate skills matrix for each department or position for accurate comparison and evaluation. On the other hand, you can also design a master matrix or skills inventory test for a company-wide overview. For instance, to quickly determine which team members are primed for leadership roles.
Insider Tips For Employee Skills Assessment
How do you get all the competency-based data for your newly created skills matrix? These insider tips can help you delve into employee performance, disclose underlying gaps, and improve skill mastery in record time.
Launch Competency-Based Learning Initiatives
A great way to track employee development is by mapping skills via courses or learning paths. As an example, create competency-based learning plans that tie into their job duties or roles. This gives you the opportunity to focus on specific attributes they need to provide stellar service, increase monthly sales, and so on. You can also concentrate on targeted practical talents versus generalized skills that may be outside their professional scope. Do you really need your customer service staff to know the ins and outs of warehouse safety protocols or inventory organization? Every member of the team should be able to focus on competencies that are relevant to their departments and job positions instead of trying to spread themselves too thin. Likewise, competency-based programs enable you to assess their skills on a case-by-case basis, rather than applying the same skill-building rubric to every employee.
Focus On Qualitative Versus Quantitative
Skills are difficult to quantify because they're all about application in the real world. Thus, it's important to develop evaluations that center on qualitative instead of quantitative data. To put things into perspective, compliance policies often involve knowledge mastery. Employees must assimilate and retain policies and protocols to utilize them on the job. On the other hand, upskilling and reskilling often involves hands-on experience. For example, simulations, scenarios, and certification paths help you test their ability to apply certain skills in the workplace and identify underlying gaps.
Ask For Team Feedback
Which skills are necessary for a job? Peers give you an insider's perspective on the core competencies and talents that employees need to achieve their full potential. So, ask for team feedback in the form of surveys, polls, and interviews. In some cases, you can even ask fellow team members to "grade" their coworkers confidentially to identify areas for improvement and emerging skill-building challenges. The next step is to compile all the data in your LMS to disclose patterns and trends, as well as customize learning paths based on their input.
Use Gamification To Gather Skills Development Data
Badges, certifications, and leaderboards are some of the top employee skills testing methods because they track individual and team competencies. To illustrate, staffers must achieve learning milestones to move up the board and outrank their peers, which sparks friendly competition. More importantly, advancing up the leaderboard helps you find rising talent and offer additional support to those who fall behind. Finally, gamification gives you access to valuable Big Data to compile your skills matrix while, simultaneously, motivating employees to pursue additional upskilling and reskilling opportunities.
Create Benchmark Assessments
Skill gaps in the workplace aren't usually a sudden epidemic. In fact, they're typically the result of negative performance behaviors, training disconnects, and other issues that crop up over time. However, bench employee skills assessments help you not only bridge these gaps rapidly but detect deeper problems with your eLearning strategy. For example, employees must pass five knowledge checks throughout the course of their certification to test what they know and how well they can apply it. It's also wise to bookend your course or certification path with a pre-existing know-how exam and one at the end to evaluate how far they've come.
Insider Tip: Some Learning Management Systems have an auto-assign feature that enables you to plan their future online training activities based on past performance. So, add this to your LMS selection criteria for upskilling and reskilling.
How Does An LMS Help In Skills Mapping?
Now comes the most important question: How can your LMS help you assess employees' talents and compile all the data for your skills matrix? A top LMS allows you to host different types of training content to evaluate cognitive abilities through qualitative evaluations. Another functionality to consider is gamification support so that you can create badges for key competencies to monitor their progress and provide immediate feedback. You should also have access to robust reporting dashboards and team views so that managers can track performance and provide individualized skill-building recommendations. Adobe Captivate Prime even has personal learner home pages that give employees an overview of their progress, upcoming courses, and relevant support tools based on organizational priorities.
Download the eBook Upskilling And Reskilling Essentials: How To Address The Emerging Challenges Of The Future Of Work to learn how to foster internal talent, regardless of your budget or staff size.