Modern Online Learning Habits Of Today's Empowered Learners
It's recognized that more than 70% of employees will now use web searches to learn what they need for their jobs and are increasingly turning to their mobile devices to find just-in-time, immediate answers to their unexpected problems.[1] The way people are interacting with their mobile devices provides further insight into modern habits:
91% of smartphone users will turn to their devices for ideas while completing a task.[2]
Searches related to "how to" on YouTube are growing 70% each year.[2]
More than 70% of employees use search engines to learn what they need for their jobs; will unlock their smartphones 9 times an hour; and watch videos for no longer than 4 minutes.[1]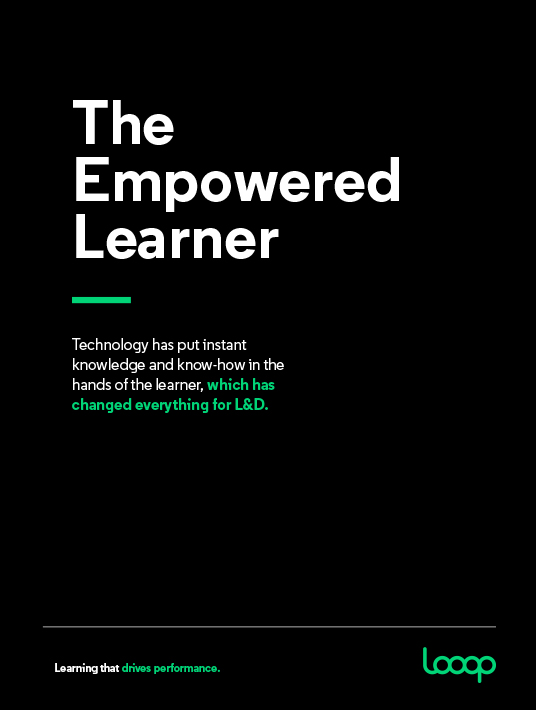 eBook Release
Free eBook - The Empowered Learner, by Looop
This eBook highlights what L&D can do to use learners' power and increase their engagement.
Employees Are Learning From More Varied Sources
Research is showing that employees are developing 'continuous learning' habits whilst drawing from various sources to do so. Furthermore, the involvement of the organization and Learning and Development is a small proportion of this continuous process as people explore and discover new trusted sources.[3]
Employees spend up to 5x more time learning from their own sources.
Workers invest more than 14 hours a month, on average, learning on their own, but just two to three hours on employer-provided training.
Employees rely disproportionately on self-direction vs. company L&D.
23% of workers say they completed a course of any kind in the last 2 years, whereas more than 70% learned something for their job from an article, video or book in the last 24 hours.
Company Training Is The Lowest Rated Way To Learn
The relationship between L&D and today's empowered learners has changed, with direct access to experts, knowledge, and learning freely available online. This was seen starkly in a recent survey to rate the importance (value/usefulness) of 10 different ways of learning in the workplace. It was revealed that 'web-searching for resources' came second only to 'knowledge sharing within the team'. 'Company training/eLearning' was rated least important – and ranked 10 out of a possible 10.[4]
How important (useful or valuable) are the following ways for you to learn in the workplace? [5]
Knowledge sharing within own team 87%
Web searching for resources 79%
General conversations and meetings 79%
Company training & eLearning 37%
The Modern Learning Environment: From 'Push' To 'Pull'
"Being constantly connected has trained us to expect immediacy and relevance in moments of intent – the I-want-to-know, I-want-to-go, I-want-to-do moments." – Think With Google, May 2015
Modern learning habits, facilitated by web-search, have prompted and accelerated the move away from 'push' towards 'pull' learning. Empowered learners will now search for what they need, online and at their moment of need. Often they'll search just before their moment of apply whilst remaining within their workflow.[6] However, web-searches take employees outside of their organization where the answers they discover lack the appropriate context. This is despite the knowledge and know-how often residing within the organization.
Employee moment of apply: 

New: When learning how to do something for the first time.
More: When expanding the breadth and depth of what's been learned.
Solve: When problems arise, or things don't work the way they were intended.
Change: When learning new ways, which requires a change to skills deeply ingrained.
Traditional approaches to training and eLearning require scheduled time for leaving the workflow to learn. The application of which will take place at an undetermined time in the future. Today's world of work often requires people to remain in the workflow and learn something (New or More) right at the moment they need it – rather than take a 'course'. Work demands and web-search have determined that people "learn in real-time, whilst on the job, at the moment of apply".[6]
'Pull' Increases The Influence And Retention Of Learning
Whilst traditional 'push' learning, in the form of classroom and eLearning courses, often anticipate the moments of need, it may be a number of weeks or months before application. By which time, the opportunity to influence application to any real effect has long gone. In contrast, when empowered learners search online for information and know-how they bring motivation and immediacy to the learning, which increases the likelihood of applying that learning and, therefore, its retention.
Learners forget almost everything from 'push' learning unless applied quickly.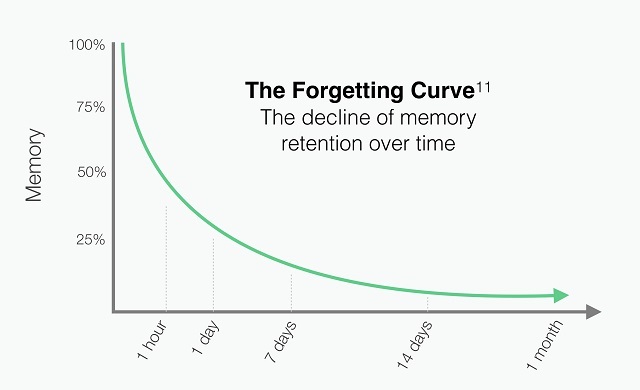 Between The Old-World And The New-World Of L&D Technology
In many organizations there is a conflict between old-world internal systems and the new-world of BYOD (Bring Your Own Device). This new-world brings with it the habits, preferences, and motivations of the device owners. So, whilst on one hand employees expect a "personalized, digital learning experience that feels like YouTube",[7] the reality is they experience clunky Learning Management Systems crammed full of generic, uninspiring eLearning courses.
Employees are resisting existing company eLearning:
In a recent survey, respondents rated 'live online learning / self-paced eLearning' as their least preferred method for learning.[8]
44% of line managers say their employees are unwilling to engage with company online learning.[9]
Whilst only 37% of managers say they use eLearning to develop themselves.[8]
Technology has put instant knowledge and know-how in the hands of the learner, which has changed everything for L&D. If you want to know more about the modern Learning and Development function and learning environment, download the free eBook The Empowered Learner.
References:
The Modern Learner, Bersin by Deloitte, 26 November, 2014.
I Want-to-Do Moments: From Home to Beauty, Think with Google, May 2015.
What Learners Really Want, Chief Learning Officer, 3 July, 2015
"Are Search and Social ousting L&D?", Jane Hart, C4LPT blog. 28 April, 2015.
The Learner Voice: Part 2 (Pages 6 & 8), Towards Maturity, May 2015.
Are You Meeting All Five Moments of Learning Need?, Conrad Gottfredson, Bob Mosher, Learning Solutions Magazine,18 June, 2012.
Global Human Capital Trends 2015: Leading in the new world of work (Page 26), Deloitte University Press, 2015.
The Learner Voice: Part 2 (Pages 6), Towards Maturity, May 2015.
Engaging Disengaged Learners, Laura Overton, Towards Maturity, 24 February, 2014
Related Articles: