How Talent Development Professionals Can Form High-Impact Partnerships
How should TD professionals adapt to the ever-changing corporate world and the new challenges brought on by the global pandemic? This guide gives you the information you need to form meaningful partnerships with organizations to bridge gaps and achieve long-term success. Backed by in-depth industry research, it shows you how to enact a plan for lifelong learning and use the latest L&D trends to cultivate internal talent (even remotely). Read on to learn how to instill the knowledge and skills needed to succeed with a top-notch TD approach.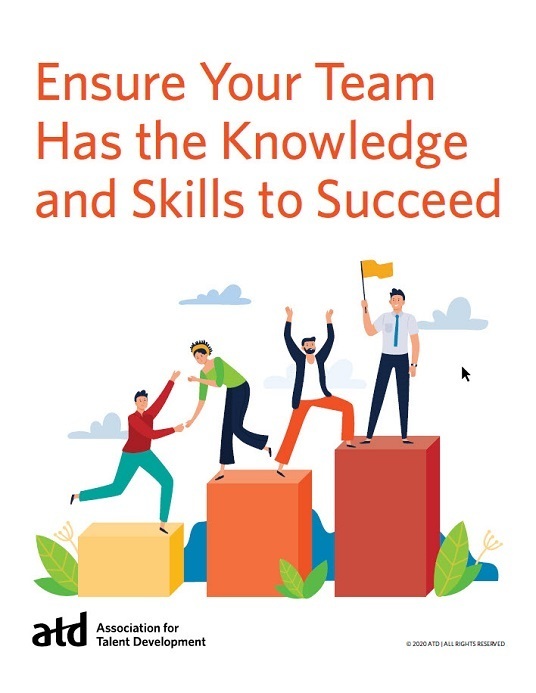 eBook Release
Ensure Your Team Has The Knowledge And Skills To Succeed
Learn how to develop internal talent and launch a lifelong learning program!
Launching A Talent Development Program That Gets Results
Every employee must be able to rise to emerging challenges and continually improve their performance. It's the talent development professional's role to provide ongoing support and identify potential roadblocks before they even occur. However, launching a TD program can be daunting, especially if your workforce is geographically dispersed. As such, many organizations turn to the Talent Development Capability Model outlined in this guide. It allows you to build core competencies, instill self-confidence, and guide staffers throughout the career path. This is based on a solid TD foundation, whereby HR and L&D professionals have all the tools they need to nurture top performers.
About This eBook
This guide explores the crucial elements your organization needs to develop skills and bridge gaps cost-effectively. Here's a brief overview of what you'll find inside:
Industry Research That Highlights The Latest TD Trends
Talent Development Capability Model
Certifications Validate Employee Expertise, Capability, And Credibility
Regardless of your staff size or budget, this eBook can help you identify pain points and maximize internal resources. It also delves into research that involved more than 3,000 professionals to identify the 23 capabilities needed for TD success.
Does Your Team Have The Knowledge And Skills To Succeed?
Your TD professionals require tried and tested methods to maximize your human resources. Download the eBook Ensure Your Team Has The Knowledge And Skills To Succeed to discover how to foster personal and professional capability, as well as enact a results-driven strategy for your team.