How To Use The Talent Development Capability Model To Build Essential Skills
The talent development profession is adapting to disruptions in the global marketplace. It has never been more critical for professionals in this field to become key partners with organizations to ensure that their workforce is prepared for the future.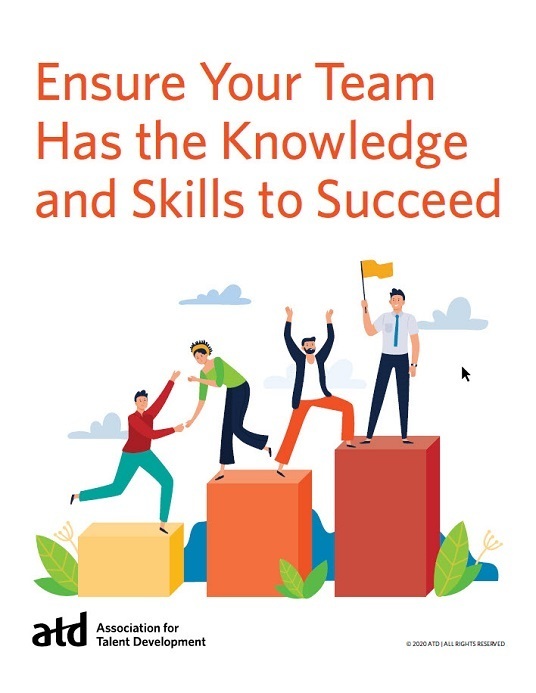 eBook Release
Ensure Your Team Has The Knowledge And Skills To Succeed
Learn how to develop internal talent and launch a lifelong learning program!
Ensure Your Team Has The Knowledge And Skills To Succeed
In 2018, the Association for Talent Development (ATD) conducted research to define the concept of talent development; assess, upgrade, and expand foundational skills; and connect training and
workforce development to organizational strategies and goals. The study lays out the major societal forces and business changes that are requiring TD professionals to adopt new approaches and upgrade skills to keep pace. It provides a common language to equip a network of global practitioners with shared definitions, methodologies, and concepts.
TD professionals can take several steps to position themselves and the team as valued business partners:
Develop the capabilities that are associated with talent development excellence.
Model lifelong learning.
Stay up-to-date with talent development trends and best practices.
You can ensure that your TD professionals have the skills, knowledge, and expertise needed for the challenges of today and tomorrow by grounding their development in the 23 capabilities outlined in the Talent Development Capability Model.
Want to learn about the ATD survey? Download the eBook to explore top industry trends!
Talent Development Capability Model
Out of the survey and interviews came ATD's Talent Development Capability Model. The model answers this question: What should talent development professionals know and do to be successful? ATD's focus shifted from a competency framework to a capability model to help TD professionals build capability that will not only help them be competent performing their work today but also be prepared to face future challenges. Competence refers to having the knowledge and skills necessary to perform a job. It remains integral to performance and is one element of capability; however, capability is about adapting and flexing to meet future needs.
Our research generated a body of evidence that confirms the required knowledge and skills needed, which became the components of the model. Research showed that the new model should include:
Strategic, specialized or technical, and foundational competencies
A definition of the scope of talent development and talent development competencies
Customizability through interactive elements to expand areas and access more detailed information
Career development guidance through inclusion of proficiency levels or career paths
Simple structure easy to interpret and remember with relevant labels that conveys how structural elements are connected/integrated
Common language to support role of talent development in both organizational and individual performance
3 Domains Of Practice
The current study reflects practice today and five years into the future. The new model is structured around three domains of practice:
Building Personal Capability: Capabilities that derive from interpersonal skills
Developing Professional Capability: Capabilities that come from building professional knowledge related to developing people and helping them learn
Impacting Organizational Capability: Capabilities that affect an organization's ability to drive toward results and mission success.
In addition, 23 capabilities detailing the core components of the field are included within these three domains. This model is the foundation of ATD's certifications.
The Importance Of TD Certifications
By supporting your employees' pursuit of certification in talent development, organizations are guaranteeing that their talent development professionals have the cutting-edge industry knowledge and best practices to ensure that their workforce is ready to tackle all future challenges. Certifications are more than just education; they test on the most current best practices in the profession and validate competency of critical knowledge and skills that TD professionals need now and in the future.
Individuals who go through the rigor of becoming certified understand the many benefits of lifelong learning, which is something that many companies also are beginning to understand and appreciate, especially in the increasingly fast-paced world of work. When employees develop new skills and—especially for young ones—zero in on an area of specialization, they become more confident in their knowledge and skills.
Conclusion
Supporting an employee who is preparing for a certification exam is an investment. Certification provides many benefits to HR, the hiring manager, and the employer, especially in terms of greater job satisfaction and lower turnover, increased industry reputation, and higher quality of work.
Download the eBook Ensure Your Team Has The Knowledge And Skills To Succeed to dive into more industry research and top TD trends.