How To Develop Leadership Skills In Online Training With Business Simulation
Business simulation encourages risk-taking, mistake-driven learning, and self-analysis. Team leaders interact with virtual characters to build vital skills they need in the workplace. As well as experience new challenges and figure out how to overcome them using the available resources. It's all about practical know-how and exposing themselves to stressful situations that require cool, calm and collected leadership. Instead of cracking at the first sign of trouble. After all, co-workers rely on them during their hour of need to set the example and navigate the choppy waters of customer service. Let's look at some tips to use business simulation for developing leadership skills in online training.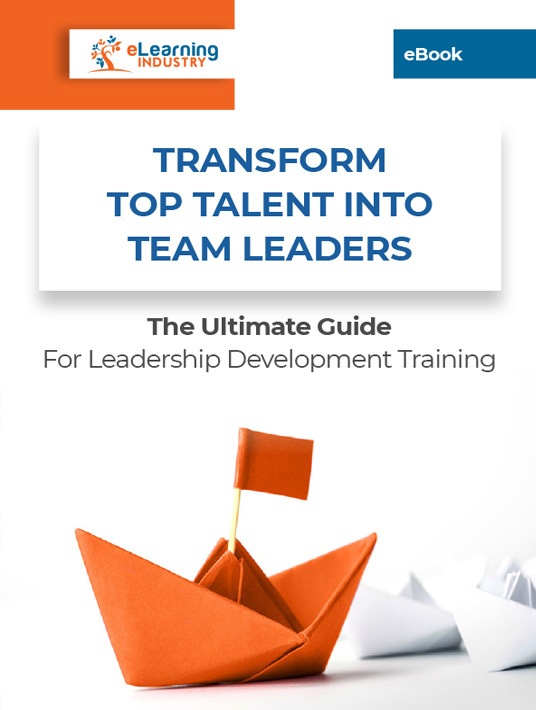 eBook Release
Transform Top Talent Into Team Leaders
Discover how you can spot emerging leaders in your organization, and much more.
1. Pre-Assess To Identify Pertinent Skill Gaps
Pre-assessments should be conducted before simulation development so that you can spot hidden gaps and performance issues. Focus on pertinent skills that employees need to manage the team, overcome customer service challenges, and uphold company policy. Then incorporate these abilities into your business simulation to foster real-world application. For example, employee training participants fall short in the communication department. So, add a few customer personas who require active listening and nonverbal communication skills. Employee training participants must identify the problem based on their expression, body language, and complaints. Then reach a resolution that everyone's happy with—which also builds conflict resolution skills.
2. Incorporate Real-World Challenges To Bolster Self-Confidence
Employees face a litany of challenges every day. Particularly leaders who must not only contend with their problems but those of their team. Every time a customer or client utters the words "I want to speak with your manager," they must spring into action. Which requires some degree of self-confidence and assurance. So, incorporate realistic obstacles into your leadership development online training business simulations. This allows them to develop skills in a contextual setting without narrowing the applications. For example, hone their problem-solving abilities during a co-worker conflict simulation. Then apply this skill to appease customers and build a stronger team dynamic. Survey employees regarding their dilemmas and what they feel is lacking. For instance, they need more service experience to improve satisfaction stats and calm irate customers.
3. Encourage Calculated Risk-Taking
Risk-taking is essential for developing leadership skills. As long as they're calculated risks the employees learn from. Include key decision-making points where they must make the tough choices and experience the outcomes. A negative outcome highlights the fact they need to cultivate related skills. While favorable outcomes tell them, they're on the right track and disclose hidden strengths. Give them enough information to assess the situation from various angles. Then determine if the risk is worth taking or if they should play it safe.
4. Use Personas To Build Soft Skills
Personas are an integral part of business simulations as they build soft skills that are crucial for team leaders. Your managers and supervisors must be able to navigate tricky situations with tact and work well with others. Even if they don't see eye to eye or have challenging personalities. For example, a co-worker who likes to brag about all their accomplishments. Or a customer who doesn't take 'no' for an answer, even though they're totally in the wrong. Personas expose them to unique traits and behaviors so that they're prepared for real-world interactions. They build interpersonal skills, such as empathy and open communication. Just make sure that personas reflect true-to-life characters and aren't too over the top. Their reactions, motivations, and quirks must be believable to enhance the immersion.
5. Immerse Employees In Virtual Team Environments
Since we're on the subject of immersion, you can also use team-building business simulations for developing leadership skills. Put them with a group of virtual co-workers who have an ax to grind. Maybe one of the employees tries to push their beliefs or opinions on the others. Or there's a collaborator who can't seem to play nicely with others and continues to shrug off their ideas. These team environments allow employee training participants to build one of the most crucial talents for leaders—human resource management. They learn how to be more compassionate, empathetic, and communicative with their team. As well as bring out the best in everybody and identify hidden assets/talents. Which prepares them for on-the-job situations that call for time management, conflict resolution, and stress management.
6. Provide Immediate Personalized Feedback And Support
All successful business simulations have built-in feedback and follow up resources. You can't simply ask employees to complete the simulation and draw their own conclusions. As many are unaware of the gaps, limiting beliefs, and lack of experience that hinders their performance. So, give them targeted eLearning feedback regarding areas for improvement, as well as resource recommendations. For instance, they managed to complete the task, but it took longer than expected. Thus, they may need to work on their time management and organization skills to achieve the best outcome. Present them with a list of JIT tools they can use to hone these abilities on their own. Then invite them to redo the simulation to see how they've progressed, and identify new gaps.
Business simulation helps your leadership team identify weak points and shore up their strengths. They can put their skills into practice to build experiential knowledge and learn from mistakes. As well as bolster their self-confidence so that managers are ready to take on new challenges and support their peers. Just make sure you don't overdo the stressors to the point that employee training participants simply give up or fend off a panic attack. The goal is to facilitate real-world application, not to make them an emotional wreck.
Leadership online training benefits every member of your organization, from new hires to higher-ups. Download the eBook Transform Top Talent Into Team Leaders: The Ultimate Guide For Leadership Development Training and find out how to create outstanding leadership development training—along with the pitfalls you should avoid, and more.