Using An LMS To Engage Your Employees In 70 20 10
By investing in a system that supports workforce learning through the 70 20 10 model, you're showing your employees that you understand learning happens in many different ways, and you want to give them the tools they need to successfully fulfil and progress, in their role.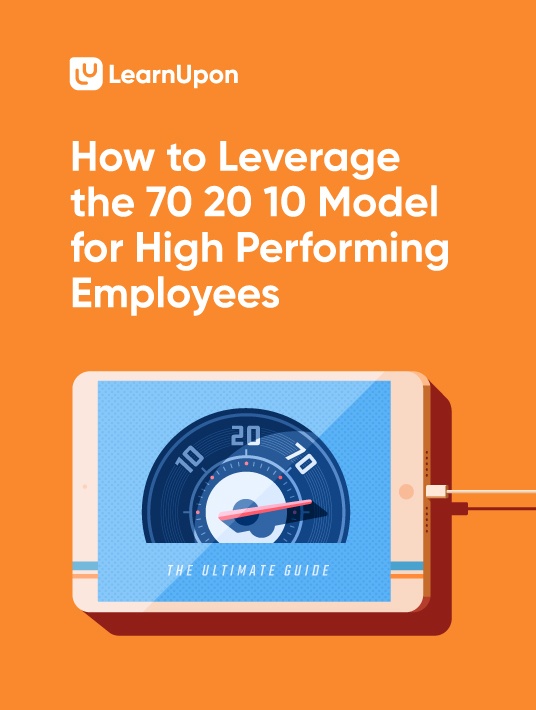 eBook Release
How To Leverage The 70 20 10 Model For High Performing Employees
Discover what the 70 20 10 model is, its benefits and how to implement it, in this complete guide.
Here's the most important LMS features and functionality you'll need to successfully deliver 70 20 10 learning to your workforce.
Accessible
First and foremost, regardless of the learning model you're using, your LMS has to be easy to access for every single employee. If employees find it difficult to get to the courses and resources they need, they're going to abandon training before they've even started. It's frustrating for them, and all that time you spent planning and creating courses and resources will go to waste.
Ensure your employees have friction-free access to your LMS with a feature like SSO. Each employee has their own credentials (email and password) with which they can access multiple applications. This is achieved by integrating your LMS with the business tools your workforce is already using.
Getting into the LMS is just the first step. Ensure your employees know exactly what training they need to complete with notifications. These triggered emails notify an employee of the courses they're enrolled in and any approaching due dates.
And finally, accessibility should also encompass when and where they complete training. By providing them with a mobile-friendly solution you're empowering them to choose when, where, and how they learn.
Learner-Friendly Experience
Having an easy to use LMS is key. Once your employees can easily access the learner dashboard and get around, they'll spend less time figuring out where everything is, leaving more time for learning.
Courses that each employee is enrolled in appear right in their learner dashboard. They'll see the essential learning they need to complete as soon as they log in.
A feature like Learning Paths enables you to group a set of related courses together. As your employee completes a course on a specific topic, they are automatically moved forward to the next relevant one.
Not only is this a learner-friendly way to train, but it also gives your employees a sense of achievement. This encourages them to learn more so they can further expand their knowledge on a given topic or area.
Informal Learning
70% of the 70 20 10 model is all about learning through experience. While the majority of this learning happens outside of an LMS, there are features you can use to support this self-directed learning style.
You'll want an LMS that lets you create a catalog filled with courses, which your employees can browse by category to select the optional training they're interested in. Providing this 'add-on' training, on top of their mandatory training, empowers them to self-direct their learning. By making these additional courses available, you're indicating to them that learning is a vital part of their day to day role.
Collating resources within your LMS is another way to provide your employees with a place they can go to to learn more about a specific subject that interests them, or relates to their role.
Social Learning
For social learning, 20% of this model, your LMS should support interaction and knowledge sharing between learners and instructors. An LMS forum is a great way to achieve this. Your employees can not only talk to each other, but they can also give you feedback on their learning experiences.
Encouraging employees to share their knowledge, thoughts, or recommendations in this way should be a top priority. After all, if you're not aware there's an issue, how can you fix it? Through consistent feedback, you can improve the training process, with both you and your employees reaping the benefits.
Gamification is also a great tool that can be utilized to support social learning. Put simply, this enables employees to see the learning progress of their peers. This can take the form of points, badges, leaderboards or levels. Using this feature supports learning through observation, as they're able to see how others are progressing. It instills a healthy sense of competition and motivates your employees to learn more.
Formal Learning
Formal learning, 10% of the model, is the most conventional form of learning. Training delivered, managed and tracked through an LMS, is a flexible way to learn. Your team can train and learn in their own time, at their own pace, wherever they are.
You're also less likely to lose employee engagement as you can use a variety of content, such as webinars, video tutorials, and interactive elements, to keep their interest throughout the training. And you have the ability to track each employee's training progress, so you can measure the impact it's having.
Building A High-Performance Workforce With 70 20 10
An LMS supporting the 70 20 10 model can help make introducing this new way of training more efficient and trackable. It's important to remember that this isn't just a new way for you to train your workforce. It's also a new way for your employees to actively engage with learning. Support your employee learning and development with 70 20 10 and you'll soon see the benefits for your entire organization.
Download the eBook How To Leverage The 70 20 10 Model For High Performing Employees and get to discover all about the 70 20 10 model, an L&D theory that encapsulates all of the different ways that people learn. Join the webinar, too, to find out more insightful information about the 70 20 10 model.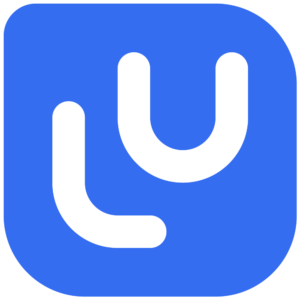 LearnUpon LMS
At LearnUpon LMS we're on a mission to help you unlock the power of learning. Combining our award winning LMS and our industry-leading Customer Experience team, we pride ourselves on being a trusted partner to over 1,300 businesses.