70 20 10 For Effective Employee Training
Before we jump in, let's explain what 70 20 10 is. This blended learning model proposes that:
70% of learning is experiential, which happens through completing daily tasks, challenges, and practice. This learning is usually self-directed and allows employees to learn through on-the-job experiences.
20% of learning is social, which occurs through interacting with others, by completing tasks and overcoming challenges together..
10% of learning is formal, which can be achieved through face-to-face training or engaging online courses.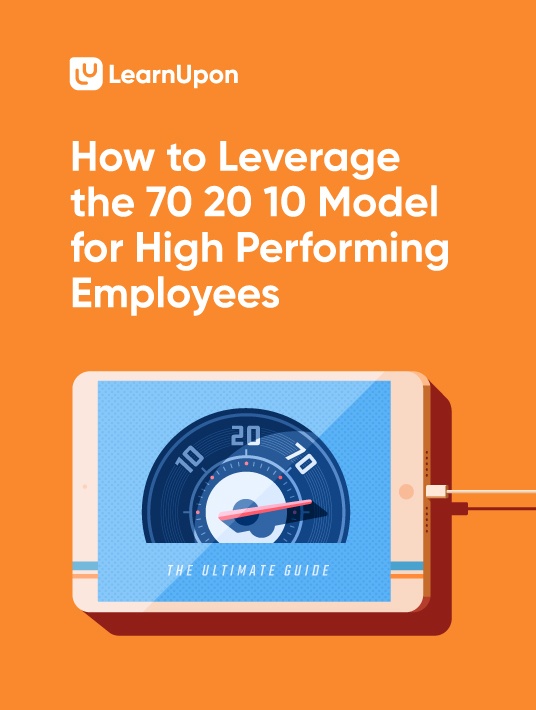 eBook Release
How To Leverage The 70 20 10 Model For High Performing Employees
Discover what the 70 20 10 model is, its benefits and how to implement it, in this complete guide.
Designing effective 70 20 10 employee training for your organization takes time. So it's important not to feel too overwhelmed; you're not going to get it completely right the first time. Keep it simple to start: make a plan, develop a strategy, and invest in the tools you need.
Step 1: Create Your Plan
It's difficult to complete a task if you don't have a plan in place. So, before you start designing employee training with the 70 20 10 model, you should look at how you're currently delivering it. You may even find that you're already supporting informal and social learning without intentionally doing so.
Clearly identify what you want to achieve by applying 70 20 10 learning. This can be one or multiple outcomes depending on the knowledge and skills your workforce needs.
If you're unsure about what the outcome or objective of delivering employee training should be, ask your peers. This is particularly important if you're creating training programmes for teams or roles you're not familiar with.
Ask managers what resources they recommend or give to employees. And ask employees where they feel there's a gap in their job-based knowledge. Getting input from others will enable you to create a plan with clear outcomes, making it easier for you to identify the strategy you'll need.
Step 2: Develop Your Strategy
The best way to develop a strategy is to identify the learning objectives you want or need to achieve. You can use the plan you've already created to inform your strategy. At its most basic, your strategy is a more detailed version of your plan in which you establish exactly how you're going to achieve your goals. It's important to tie the different ways of learning within the 70 20 10 model, back to these goals. These may vary depending on whether they're the desired outcome of an individual course, a group of courses, or a combination of different learning methods. The goals you set should all work towards improving your employees' performance to meet your organization's growth targets.
So, if one goal is to improve employee presentation skills, consider how you can relate this objective back to the three learning styles of the model. For example, you could create a formal training course for employees that shares tips on how to speak clearly, how to keep nerves at bay, and how to stay on topic. Socially, you could set up a forum where employees can share their fears, ask others about their presentation experiences, and get tips. Lastly, employees could be assigned a presentation to deliver either to their team or to the wider organization via a live webinar so they can put their newly acquired knowledge into practice, and learn from the experience of doing so.
Step 3: Identify The Tools You Need
Before investing in the right tools, you need to figure out what purpose each tool will serve for you and your employees. Realistically, you're not going to need every single tool out there, and you may already have your core tools in place. Depending on your organization and its needs, there are a number of software options that will help you to support and deliver effective employee training through the 70 20 10 model.
1. Project Management Tool
There's so many great project management tools out there that can help collaboration between employees, allow group leaders to effectively communicate, and keep their teams on task. They can assign roles, monitor group progress, and share any important documents employees need to see the project out.
Project management software also allows you to assign tasks and send automatic reminders. Everyone has access to their to-do tasks. And these can be categorized by teams, departments or level of importance. Managing projects in this way facilitates a culture of collaboration that you'll really benefit from when you start to roll out the 70 20 10 model.
2. Messaging Software
Messaging software, like Slack, can be found in just about every organization. It's important not to take this software at face value. Instead, look at it as another way of cultivating collaboration within your organization. You can create groups for each department or for a specific task or project. Messaging software allows your employees to ask questions they may find difficult to raise face-to-face. There's also a more informal tone when communicating in this way thanks to the use of emoticons, memes or gifs, making it a great tool for having some fun while building employees' trust with each other.
3. An LMS
A Learning Management System is one of the most powerful solutions you can use to build a strong culture of collaboration. An LMS helps you to effectively deliver, manage, and track employee training. Purpose-built LMSs like LearnUpon allow you to create engaging courses, set exams and assignments, collate resources, create a forum, automate the day to day management training, and much more.
An LMS supports the 70 20 10 model by:
providing employees with the opportunity to share and access resources easily whenever and wherever they are,
encouraging employees to interact with each other via an LMS forum where they can ask instructors and peers questions and engage in learning-related discussions,
enabling you to create, manage, deliver, and track formal learning in the form of courses, live webinars, learning paths, self-selected learning, and much more.
Getting Started With 70 20 10 Workforce Training
When it comes to trying anything new, there'll be some trial and error, it's all part of the learning curve. This rule also applies when it comes to designing impactful 70 20 10 workforce training. Start small and build from there. Once you've got the groundwork in place you'll be off to a great start.
Download the eBook How To Leverage The 70 20 10 Model For High Performing Employees and get to discover all about the 70 20 10 model, an L&D theory that encapsulates all of the different ways that people learn. Join the webinar, too, to find out more insightful information about the 70 20 10 model.