Tips To Use An Online Directory For Responsive Learning Management Systems
Short of hiring a personal LMS consultant, the only way to choose the right LMS vendor for your needs is some virtual sleuthing. This usually involves exhaustive online searches, contacting multiple vendors, and signing up for—numerous—free trials. Fortunately, there is a way to reduce the stress and simplify the process. Online directories and user reviews give you an in-depth look at product info, pricing, and Customer Experience. Of course, you still have to follow up with demos, vendor meetings, and/or test drives. However, these online research tools offer a valuable head start. These 8 tips can help you maximize online directories and reviews to find the best responsive LMS at the best price.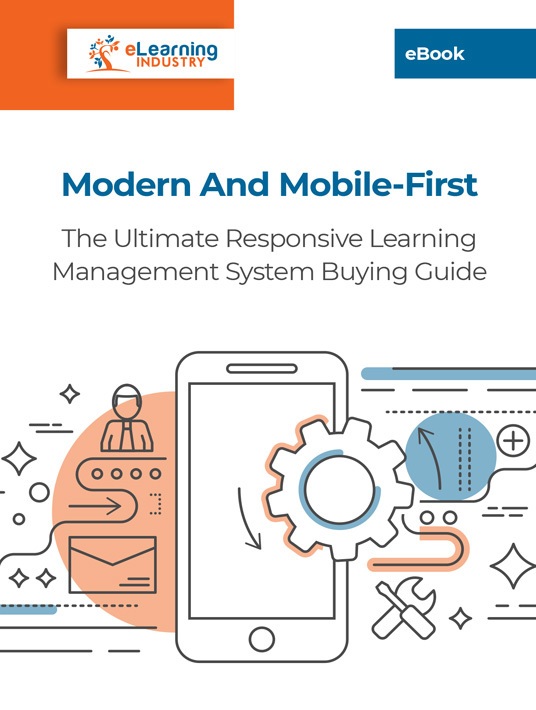 eBook Release
Modern And Mobile-First: The Ultimate Responsive Learning Management System Buying Guide
Discover how investing in mobile training solutions will help you stay ahead of the competition.
1. Set Your Sights On The LMS Use Case
Every directory listing should include the LMS intended use case. For example, it's geared toward employee development or compliance training. This tells you that the product is designed with your target audience and online training requirements in mind. It might include relevant eLearning templates or out-of-the-box reports. It should also mention the industries or niches the platform caters to, from retail and sales to information technology and services. If your use case isn't cited, contact the LMS vendor to see if they've worked with companies in your niche before.
2. Analyze The Features Menu
Take a close look at the list of features the product includes and compare it to your own. Is there a broad range of authentication methods? Does the tool support multiple formats and delivery options? Which reports are included in the package? Are there eCommerce features available, such as an integrated shopping cart? The online directory listings should cover all the major selling points, ranging from gamification to interface options.
3. Evaluate The Pricing Options
Price isn't the most important evaluation criteria, but it's definitely high on the list. Assess the vendor's pricing model and options. Do they require a one-time licensing fee or monthly subscriptions? Are there different membership levels or packages? What is the starting price? Do they charge per active user? What about free trials or demos? The responsive LMS online directory usually doesn't include specific estimates, as that depends on your LMS needs. However, you do get a general idea of their payment structure and flexibility.
4. Assess Both Ends Of The Review Spectrum
We've all read reviews that seem to bash companies seemingly out of spite. Just as we've seen those glowing reviews that rave about the product or service with exaggerated claims. These are usually sponsored reviews. This is why it's crucial to evaluate both ends of the spectrum. Assess the online reviews as a whole and then zero in on the ones that align with your use case. Concentrate on honest reviews that offer the complete picture instead of focusing solely on the pros or cons. Even the harshest critics should be able to cite at least one positive selling point.
5. Compare Your Top 3 Solutions
You've whittled it down to a handful of choices, but how do you know which mobile LMS edges out the others? Top online directories feature a free comparison tool so that you can see how they stack up against the competition. It should offer a side-by-side look at all the evaluation criteria, from features to pricing options, as well as user ratings to help you cross contenders off your list.
6. Look At Supporting Documentation
Online directory listings might also showcase demo videos and screenshots of the platform, though it's not as personalized as a trial or in-person demonstration. It does give you a feel for the platform's UI, layout, and key functions. How does the LMS look on different devices? What are the key features and specs? Does the overall aesthetic align with your brand image and online training requirements?
7. Consider Support Services
Support services are usually an afterthought. Something that's "nice to have" if there's still room in the LMS budget. However, they should be a high priority if your team lacks the necessary experience or you simply want an implementation safety net. At the very least, the LMS vendor must provide online training resources to help you familiarize yourself with the tool, such as video tutorials and forums. More advanced options include phone, email, and live chat support. Use the responsive LMS online directory to assess their options, then test them out during the free trial.
8. Don't Stop At The Performance Overview
Most review sites feature an overall score which indicates user satisfaction. Dive deeper into the rating and break it down based on your evaluation criteria. For example, does the product receive high marks in Customer Experience? Is the user likely to recommend it? The performance overview consists of multiple factors. So, review them one by one to ensure that the platform fulfills your mobile LMS expectations. Then visit the vendor's website directly to learn more about their offerings. You can also come back once you've tried the platform to leave a review and help others make a wise investment.
All of this is a moot point if you're using unreliable online directories and review sites that unfairly sway your opinion. So, verify that your references are credible and well-established. How long have they been around? Do they feature paid reviews? Do users have to provide basic background info to leave their opinion? Lastly, does the site specialize in online training and LMS implementation? You need a platform that understands the selection process and criteria, which features deliver maximum returns, and what your organization needs from a responsive LMS to achieve the best results.
If you want to provide quick, convenient, and meaningful learning experiences to your workforce, download the eBook Modern And Mobile-First: The Ultimate Responsive Learning Management System Buying Guide. You will find insider secrets that will enable you to choose the ideal mobile training platform in order to provide top-notch mobile training and JIT support even when your employees are away from the office.