Can A Remote Workplace Be Both Personal And Professional?
Virtual Onboarding can help your career and even improve the way your team works. Whether it's a first date or a first day on the job, first impressions matter. Onboarding is your opportunity to set the tone for what those impressions will be.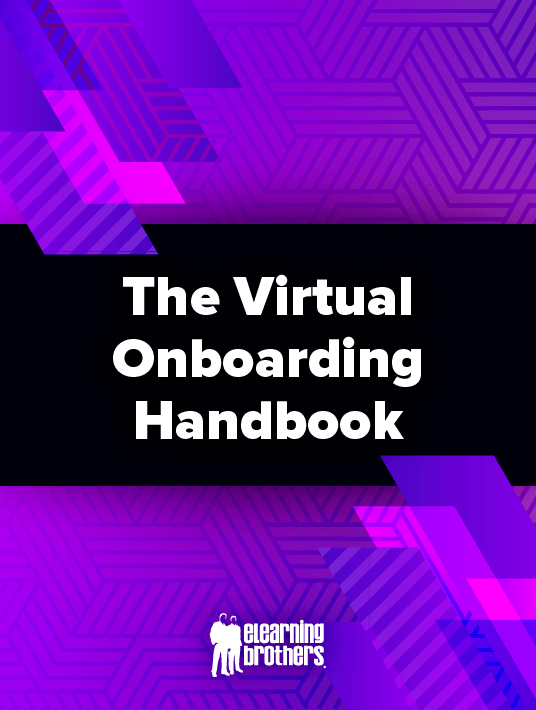 eBook Release
The Virtual Onboarding Handbook: How To Set Up Remote Workers For Success
Get the ultimate handbook for efficient and effective onboarding.
An effective onboarding process boosts productivity, engagement, and retention. When it comes to virtual onboarding, communication, and face-to-face interactions with your remote employees are more important than ever.
Your Career
Showing your new hires how their position at your company aligns with their personal career goals is key to retaining talent. Motivate
your employees by providing growth opportunities through training and development, along with mapping out stepping stones that
show how they can grow with your company.
Assess the skills and knowledge the new hire must build to be successful in their new role, and provide training to develop any skills they might not have yet.
The right learning management system is essential to help build employee skill sets and personalize their learning paths. Choose a user-friendly learning management system or learning experience platform that will make it easy for new hires to explore how they can grow and develop within the company.
Coaching
Assign a coach or mentor to every new hire. Have the veteran employee ask open-ended questions about the new hire's goals and what they want to get out of the virtual onboarding program and their career. You may be surprised to learn about the effectiveness of automated chat or video coaching delivered through a modern Learning Experience Platform.
Contributing Value
In order to become a contributing member of the team, your new hire needs to understand how the company as a whole measures success and how his or her role impacts business success. This might include how the company makes money, important metrics to hit, and how the new hire's role contributes to those metrics. Because this virtual onboarding is woven into the day-to-day tasks of a new hire and helps them with their career, you will have chances to provide regular feedback on how they are doing and guide them if adjustments are needed. Remember to balance critiques with observations of early wins—you don't want your new employee to feel micromanaged and disengage!
Your Team
Feeling confident and fitting in at a new company means building friendships and networking with peers. Find ways for existing team members to welcome and get to know your new hire, whether that's through short video greetings, virtual happy hours, or other activities. These get-togethers encourage networking and help build a team culture. These aspects of the virtual onboarding will motivate the members of your team to help each other with their careers.
Team Building
According to the American Psychological  Association, communication, and shared identity within a team can mediate the effects of physical separation. By delivering a structured, strategic onboarding plan, your new hire will fold into your team and start building a bond right away, no matter where everyone is located.
Schedule time for the new hire to meet one-on-one with their manager, as well as virtual team meet-and-greets and cross-department job shadowing, so the new hire is introduced to the whole company. These scheduled meetings should include a mix of purely social, icebreaker calls, and specific project-related meetings.
Here are a few popular icebreaker activities for virtual teams:
Highs and Lows
This quick icebreaker only takes a few minutes. Everyone takes a turn and recaps the best and worst moments of their week. By sharing their highs and lows, your team shows that everyone goes through the same struggles, and there's always a bright side!
People Trivia
This is a great option to help new hires learn more about their new team. Select a team captain and have everyone send an interesting fact about themselves to the team captain. At the beginning of your meeting, read the facts out loud, and challenge everyone to match the fact to the correct employee.
Meme Chat
Everyone loves a good meme! Pick an overarching theme and then message your team a meme related to the theme. The rest of the conversation must continue only through memes! This is especially easy to do in messaging tools like Slack or Skype, which make it easy to share gifs. Set a time limit for the meme chat, so you're not spending all day sending silly memes. Getting to know each other better creates more open lines of communication and collaboration on projects!
Team building is an ongoing process that will continue long after the formal onboarding is over, but schedule manager check-ins after the new hire have been with the company for a month or two to touch base and see how well the employee fits in with the team and the company as a whole
Conclusion
Virtual onboarding is something every organization will need to invest in. Your remote workforce is the backbone of your company.  Download the eBook The Virtual Onboarding Handbook: How to Set Up Remote Workers For Success and acquire the ultimate guide to training these people.
Originally published at blog.elearningbrothers.com.