How To Enhance Recruitment HR Training Programs In The Face Of The COVID-19 Crisis
The global pandemic has changed the way we do business in many respects, that includes the recruiting process. As a result, HR training programs need to adapt to expand your talent pool and retain top performers. You might have a running tally in your head at this point, however, you don't have to roll out all recruitment-boosting activities at once, particularly if you're dealing with a cash crunch or tight time frame. The key is to focus on your top training priorities, then start with resources that enrich your HR training programs and fill specific gaps. And, you can always chip away at your to-do list when the budget allows. Our eBook can help you streamline your recruitment strategy from the ground up and choose the most cost-effective solutions for your organization, whether you develop in-house, outsource, or purchase off-the-shelf solutions.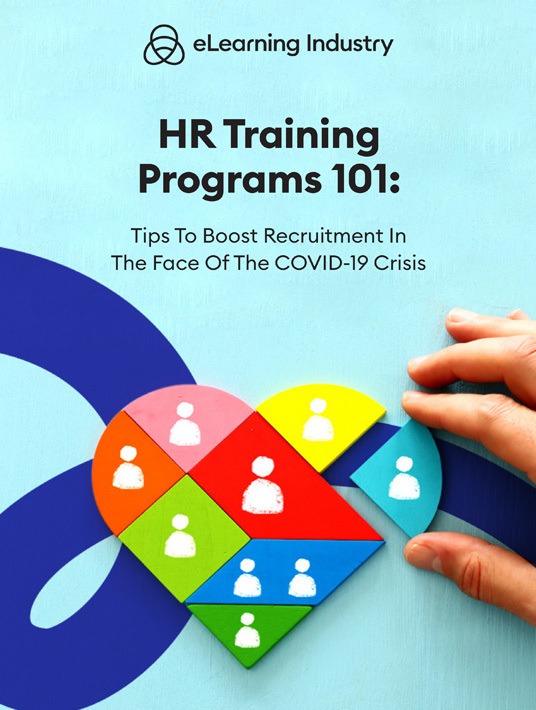 eBook Release
HR Training Programs 101: Tips To Boost Recruitment In The Face Of The COVID-19 Crisis
Expand your talent pool and attract top performers with the help of creative recruitment strategies!
What's Inside This Guide...
1. Common HR Training Implementation Pitfalls
First things first, let's get the sticking points out of the way. There are a variety of common mistakes that organizations make when launching their HR training strategy. Mistakes that, unfortunately, put a dent in their profit margin and cost them top talent. So, here are 6 common HR training implementation pitfalls and tips to avoid as you move forward.
Trying To Cover Too Much HR Training Ground
You need to address the basic HR training topics, but that's a lot of ground to cover, especially when you're racing the clock. Thus, you need to prioritize. Start with the essential gaps and core competencies, then work your way out. This also makes it easier to outsource because the vendor can tackle one activity or objective at a time. Plus, it's more cost-effective since you gradually expand your recruitment training library instead of biting off more than the accounting department can chew.
Underestimating The Timeline
You set aside just enough to develop content and launch an internal marketing strategy, but things don't go according to plan, which puts you over budget and delays your HR training program. It's always best to leave a little room in your HR training solutions schedule. Think of it as a buffer that accommodates all the unexpected hurdles, whether it's a big software learning curve or surprise content revisions.
Not Knowing When To Outsource
There are times when outsourcing is the more prudent option, maybe it reduces L&D spending or turnaround time. But many organizations opt to develop in-house instead of hiring an eLearning content provider. This is due to the fact that they don't know when to bring in the external experts. For this reason, you need to evaluate all the options. Develop a pros and cons list for every project, then decide which HR training solutions are best for your bottom line.
Not Offering JIT Support
HR training courses are just the foundation. You still need to reinforce behaviors and refresh knowledge. And that's when JIT support enters the picture. Bear in mind that employees have a lot on their plates, from heavy workloads to personal commitments. And bite-sized online training tools help them address gaps whenever it's most convenient, even if that's right before a job interview and they need to brush up on interpersonal skills or recap the questions they should ask to assess job applicants.
Overlooking Off-The-Shelf Solutions
There are many pre-built HR training programs available online. These off-the-shelf resources are ready to launch, which means you can improve the recruiting process rapidly, rather than waiting for bespoke content or developing HR training courses internally. Pre-built solutions often get a bad rep because of their lack of customization. However, there are vendors that allow white labeling or you can create branded JIT tools that tie into the pre-packaged course.
Excluding Employees From The Process
Employees use HR training courses to optimize the recruiting process. It only stands to reason that they should be involved behind-the-scenes. Get their input regarding gaps, goals, and online training areas for improvement so that you can find HR training solutions that align with their needs and preferences. Another way to involve them is to invite employee contributions. That way, you expand your JIT library without spending a small fortune, not to mention, employees get a sense of ownership, which boosts their online training motivation.
2. How HR Training Programs Can Expand Your Talent Pool
The HR department plays an integral part in online training development. They work hand-in-hand with L&D to analyze needs and onboard new hires. But these staffers require support resources of their own to fulfill their job duties, especially when they need to recruit the right people and qualify candidates. After all, you can't let the COVID-19 crisis stand in the way of business growth, not after you've weathered the storm. You must implement new policies and tackle fresh challenges, which means that it's time to expand your talent pool. Here's how HR training programs can help you boost recruitment efforts and fill those empty spots.
Identify Gaps In Your Current Strategy
There's always room to improve. A successful HR recruitment training plan helps you spot hidden gaps, namely pain points that hinder your recruiting, hiring, and onboarding processes. You can even disclose HR training areas for improvement, such as JIT tools or certifications that focus too much on theory, instead of letting employees put their skills into practice.
Cover Every Step Of The Hiring Process
HR training courses outline every step of the hiring process so that staffers know how to handle each phase, as well as potential challenges that lie ahead. For example, what is their role? How do they handle job candidates that have all the experience but lack the necessary skills? In fact, you may want to develop tutorials and infographics that show the flow, from recruiting top talent to enrolling them in new hire training, that way HR employees can visually map out the process. Plus, it's a great reference tool for new human resource staffers.
Highlight Crucial Qualifications To Look For
Ideally, the people you hire fill a hole within your organization, maybe they're top-notch sales employees who can boost your monthly figures or amazing customer service managers who motivate and inspire their subordinates. The catch is that HR employees need to know what they're looking for, specifically, which core competencies, qualifications, and personality traits you need. HR training programs keep them up-to-date. They know exactly how to screen job applicants based on your hiring criteria.
Build Relevant HR Training Recruiting Skills
The hiring process requires a whole host of skills, and a recruitment training strategy helps HR employees hone their talents. From communication and empathy to problem-solving and data analysis, they're able to focus on skillsets that pertain to their job duties and roles. For instance, simulations and branching scenarios build interpersonal abilities, while demos and case studies help them build their analytic skills.
Offer Your HR Team Just-In-Time Support
Even experienced employees need help from time to time. HR training programs should offer JIT support to improve on-the-job productivity. But these resources also make life easier for your human resource team, particularly during the recruiting and hiring process. They can use bite-sized demos, cheat sheets, and real-world examples to overcome common obstacles. As an example, they forget how to post a job or which forms job applicants must complete, a microlearning checklist is there to refresh their memory.
Ensure HR Staffers Know Company Policies And Compliance Protocols
Every member of the HR department needs to know about company policies and compliance issues. Well, every employee should have a basic understanding, but HR often sets the example for everyone else. Effective online training ensures they stay on top of recruiting trends. They learn about new protocols and rules that streamline the process as a whole. For example, you've devised creative ways to find new job candidates on social media, you can host a live webinar to spread the word so that HR staffers can apply the techniques right away to expand your talent pool.
Show Employees How To Maximize In-House Talent
HR training programs go beyond recruiting and onboarding, they also focus on talent management. For example, you may already have the perfect person for the job in-house, maybe they're working in a different department or it's time for them to step into a leadership role. Your HR team must be able to spot these hidden gems and polish them up with effective training, such as certifications that bridge relevant skill gaps and prep them for the future. That said, talent management also helps with recruiting because your employees can see through the personal points. For instance, a job candidate may not have experience, but all the core competencies are there.
Retain Top HR Talent
It's no good to expand your talent pool with new employees, only to lose your top HR staffers. HR training courses help you retain top performers because they give them ongoing support. Skill development doesn't stop at orientation. For example, they have access to the performance management library as well as certification paths, live events, and self-assessments. Thus, you keep your experienced HR employees right where they are instead of losing them to companies that do value personalized L&D.
3. Crucial Recruitment Training Topics To Cover In Your HR Training Courses
You've already decided that your current HR training courses need polishing, or maybe you're launching a brand new online training strategy for your remote team. So, where do you go from here? One of the first steps in training implementation is prioritizing gaps. How can you enhance performance behaviors and build core competencies? This all boils down to subject matter; you must choose recruitment training topics that resonate with staffers and align with business objectives. Every organization has its own employee development approach. However, there are a few talking points every human resource strategy should address. Here are 8 crucial topics to cover in your HR training programs:
Recruitment Process And Protocols
What is the recruitment process from start to finish? HR training courses should cover every aspect of employee recruiting, including the compliance protocols and selection methods involved. Develop simulations and scenarios that walk employees through the process. This also gives them the opportunity to put things into context and build real-world experience. Another option is infographics that highlight every step in a more visual format. For example, the first phase is choosing the best job marketing method.
Job Marketing
Half the battle is attracting the right job applicants. As such, one of the most crucial recruitment training topics is job marketing. This covers everything from posting sites to brand integration. For example, what should HR employees include in marketing materials so that it aligns with your image? And are there any mistakes they should avoid? Checklists and real-world examples are ideally suited for job marketing training, as are infographics and video demos.
Candidate Assessment
Many organization use psychometric testing to evaluate job applicants. This ranges from cognitive to personality assessments. Thus, your HR team must know how to qualify candidates based on the position. For instance, certain jobs might call for contextual judgment or creative reasoning skills. As such, assessments must cover these core competencies so that you can determine which person is the perfect fit.
Interview Protocols
Recruitment training topics should also go beyond the search process. HR staffers must be able to interview applicants and read between the lines. For example, which questions should they ask to verify experience or expertise? Use simulations and tutorials to show them how it's done, as well as identify personal areas for improvement. In addition, incorporate microlearning refreshers for on-the-job support. For instance, quick demos or cheat sheets that recap the entire interview process.
Interpersonal Skills
Soft skills are the basic building blocks for every human resource task, but they're particularly useful during the recruitment process. As an example, communication and active listening skills allow them to ask the right questions, then take the applicants' responses into consideration and evaluate their talents. Other fundamental interpersonal skills to address are body language, empathy, and even positivity. The trick is that these abilities are more challenging to develop since they require practical application and social interactions. However, you can use group projects, live events, and simulations to hone interpersonal skills.
HR Compliance
The human resources department is typically in charge of the rule book. That's not to say that they create all the company guidelines from scratch, but they are often the example-setters, the ones other employees turn to for guidance, especially when it comes to compliance issues. That said, HR employees must also keep up with recruitment compliance regulations. For example, data protection and anti-discrimination laws. The key is to jazz up your HR training programs with engaging and meaningful compliance content, like serious games that test employee knowledge or video demos that provide a visual example for them to follow.
Relationship Management
Relationship management and rapport-building are one of the most essential recruitment training topics because HR employees must be able to connect with candidates. Even if they don't end up hiring them for the position, they might be a perfect fit for future openings. Relationship management is also crucial for securing industry connections. For example, the HR manager reaches out to other companies who can help you recruit new hires, as they have a database of past applicants who don't suit their needs but may have experience in your sector.
Social Networking Skills
Social media isn't just for cute cat pics. In fact, your HR team can use it to recruit new talent and attract the right applicants, but that requires strong social networking skills. Unfortunately, candidates probably won't flock to your page the second you post a job advert. So, your employees must venture into the big wide world of social media to find them. For example, visit groups where talented individuals ask for advice or post their CVs. Blogs, online forums, and video sharing sites are also part of their social media arsenal. It's all about branching out and mastering social networking etiquette.
4. Recruitment-Boosting Activities To Include In Your HR Training Programs
For the most part, the coronavirus crisis has caught the corporate world off guard. Organizations simply weren't prepared for a global pandemic of this magnitude or any of the HR challenges that came with it, namely how to hire new staffers to meet growing demands and overcome new compliance issues. For example, disinfecting work spaces or ensuring that customers abide by the safety rules. However, learning technologies can help you find the perfect additions for your team. More specifically, improve your HR training programs so that staffers are ready to recruit top talent. Below are 7 engaging recruitment-boosting activities to add to your HR training library:
Recruitment Process Infographics
There's a lot on their minds. Plus, we're all constantly battling the forgetting curve. One of the basic HR training topics is the recruitment process. So, create infographics that highlight every step for quick reference. The great thing about this tool is that it's visual and text-based. Thus, it caters to different preferences and training styles. Not to mention, infographics are easy to consume. Staffers can focus on one section at a time then apply the information right away.
Soft Skill Demos
Soft skills are difficult to master because they involve so many nuances. Take non-verbal communication as an example. HR employees must know how to read body language and facial expressions during an interview. Thankfully, soft skill demos can help them recruit with confidence, as well as build a rapport with job applicants. Try to keep videos brief and focus on specific behaviors. For instance, a 2-minute video covers active listening and negative habits employees should break, like interrupting the job candidate mid-sentence.
Interview HR Training Programs Simulations
Interviews aren't the first step in the recruitment process, but they're one of the most crucial assessment tools at your disposal. Therefore, HR training courses should equip staffers with a broad range of experience. In other words, they must be ready to interact with different personality types and ask the right questions. Simulations are an ideal fit because they put everything into context. Trainees can immerse themselves in the situation and disclose areas for improvement. Just make sure to keep it real and relevant. In other words, avoid quirky characters or far-fetched storylines that devalue the experience.
Shortlisting Serious Games
Who can turn down a recruitment game? This serious game is all about shortlisting. Specifically, how to find the right candidate from the applicant pool. You can even include cut-out characters and brief background stories that way employees have enough information to base their hiring decision. For example, the first job candidate meets all the educational criteria, however, they lack real-world experience. Should they hire this applicant, even if it means more on-the-job training? This serious game builds analytical thinking skills, as well, given that trainees must weigh all the options and consider the pros and cons for each persona.
Employee Assessment Scenarios
Applicants highlight all their skills in resumes and online portfolios. However, it's the HR department's job to ensure they check all the boxes that new hires have all the necessary qualifications and experience. Thus, employee assessment scenarios are the perfect addition to your HR training courses. You can incorporate branching scenarios that test their decision-making abilities or story-based demos that show them how to use assessment tools to qualify candidates. For instance, they need to use personality tests to evaluate the person's disposition. That way, they're more likely to mesh with your team and handle the pressures of the job.
Live HR Training Program Round Tables
HR training programs aren't complete without live events because these real-time activities offer peer feedback, not to mention, employees have the opportunity to share personal experiences. Host weekly or monthly round tables where they exchange ideas and bridge gaps. You can even ask for their input regarding future recruitment training activities or to streamline your strategy. Granted, you may need to invest in a video conferencing tool that features breakout rooms, especially if your current LMS doesn't support live events. Conferencing platforms allow you to host mini-sessions that are more private. For instance, a few HR staffers can break off to discuss the next wave of new hires or create a job marketing game plan.
Bite-Sized Policy Recaps
Your human resource employees wear many hats. Fortunately, you can give them bite-sized knowledge refreshers to lower stress levels. These microlearning policy recaps cover basic HR training topics, but the primary focus is compliance. As an example, what is the standard hiring package? And are they able to add more perks to attract top talent? These policy recaps can also address role-specific challenges, like brief troubleshooting guides to help HR managers enforce the rules. Finally, they're perfect for interdepartmental knowledge sharing since human resources is often associated with employee advocacy. For instance, they help staffers understand their rights and access job benefits.
5. Core Competencies Every HR Training Program Should Cultivate For Recruitment
Recruiting is just one part of the human resources job description—but, it's a big one, as it sets the entire employment cycle in motion. After all, you can't have onboarding and employee advocacy without the recruitment process. You must expand your talent pool to bring in fresh perspectives and skillsets. So, how do you equip your HR team with the tools they need? The solution is effective online training to build strengths and fill personal gaps. But, there are abilities that all HR staffers must develop to streamline your hiring strategy. Here are 8 core competencies that every HR training program should cultivate to optimize its recruitment process.
Communication
The recruitment process is based on communication, and it starts long before candidates apply for the job. HR employees must know how to sum up the position and attract the right people. After they receive applications, it's time to screen, assess, and conduct interviews, all of which require communication skills. For example, they must be able to read the person's body language and facial expressions, as well as actively listen to their responses. Demos are great for this purpose because employees can see communication skills in action, then mimic positive behaviors in the workplace.
Teamwork
Teamwork is essential in the HR department; everyone must work together to achieve common goals. Plus, they have to present a united front to the rest of the organization and ensure everyone is on the same page, particularly when it comes to policies and protocols. However, it's also important for new hires to feel like they're part of the team even before they officially join your organization. For example, job applicants need to know that there's a support network in place—it's one of the hiring perks.
Problem-Solving
If you really give it some thought, human resources recruitment is all about problem-solving. How are you going to fill the gap in your organization? And how can you attract the right professionals without going over budget? As such, creative problem-solving is one of the most integral core competencies for HR training. Employees must be able to analyze the situation to identify the need, then decide how to bring in the talent as quickly as possible. Simulations and real-world examples are ideal training tools since they give staffers the chance to experience challenges firsthand.
Data Analysis
Every HR training program should include data analysis, which ties into the problem-solving I just mentioned. Employees have to evaluate all the metrics to find holes in your organization, holes that require specific skills and expertise. They must also be able to analyze the data to improve your recruitment plan. For instance, reports show that there are too many steps involved in the process or that some job roles or tasks overlap.
Talent Management
Employees are your most valuable asset, but you need to know how to cultivate their talents and maximize potential. Now, every team leader should play a role in talent management, but HR employees are often on the front lines, as they help to recruit and onboard new staffers. They're also responsible for finding in-house talent to fill existing gaps. For instance, experienced employees who can cross-train and join another department or those who are ready to step into management roles.
Social Networking
Many organizations have moved their recruitment process online, as it allows them to reach a global talent pool and reduce hiring costs. Unfortunately, this means steep hiring competition. Your employees need to know online etiquette and the fundamentals of social networking, such as how to build relationships and reach out to prime candidates. One of the best ways to achieve this is through social media training groups.
Empathy
The HR team must maintain professionalism without pushing their human instincts aside. For example, they have a "gut" feeling about someone, but they also need to back it up with assessments and interviews. Above all, they require strong empathy skills, which allow them to connect with applicants and build a rapport with new hires. They must also understand the emotional impact that recruitment has on candidates and how to look beyond "interview anxiety." HR employees are often seen as the enforcers. That they've memorized every rule in the book. However, in many respects, they're also the heart of the company, especially in regard to the recruitment and onboarding program.
Creative Recruitment
Way back when, companies would post a job advert in the newspaper. Then, came online job boards. Today, job marketing needs a creative spin, especially if you want to generate interest in your job opening and secure top talent. As a result, an HR training program should focus on innovative recruitment strategies, not just where employees market job opportunities, but how they engage with potential candidates. For example, launching social media contests to draw in the right people without going against your brand image and messaging.
6. 7 Tips To Streamline Your Current HR Recruitment Process With Learning Technologies
Authoring tools, Learning Management Systems, and video conferencing platforms create a solid L&D foundation, but you can also use these tools to keep your HR team in the know so that they're able to recruit the right candidates and onboard with ease. Or, at least, with minimal headaches. But how do you use all these systems to broaden their experience and boost in-house collaboration? The following 7 tips can help you optimize your current HR recruitment process with learning technologies, whether you choose to outsource HR training programs or tackle the task internally.
Evaluate LMS Metrics To Identify Hiring Needs
You're not just trying to fill an empty job position. Ideally, you need new hires who possess certain skills or talents. Evaluate your LMS metrics to identify pain points. This includes employee assessment scores, survey results, and task proficiency metrics. Then use the data to create candidate profiles. Which competencies are you looking for? Do you need to have experience with certain tools or processes? LMS reports also allow you to avoid job redundancies, like hiring applicants whose skills or expertise overlaps with other team members'.
Build HR Core Competencies With Certification Paths
Certification paths ensure that every HR employee has the necessary skills and core competencies, especially when it comes to the HR recruitment process. For instance, the first certification covers candidate assessment, while another delves into the interviewing process and all the compliance issues involved. Staffers can revisit the course to refresh their knowledge whenever the need arises. Or you can even have them expire and employees must renew every year. In which case, you should set automatic reminders so they can prep in advance.
Host Live HR Recruitment Process Training Events To Fine-Tune Your Plan
Live events for HR training programs serve two key functions. First and foremost, you can keep employees up to date. They learn about recruitment plan changes right away, instead of having to wait until the next training session. Secondly, it helps you gather valuable team feedback. You can pick their brains about the current recruitment strategy and areas for improvement. Bear in mind that HR staffers have to apply all the policies and protocols on the job. Thus, they have unique firsthand experience regarding real-world applicability. In short, is recruitment still effective and efficient? Or is there a better approach?
Move Your Application Process Online
Reviewing job applications is time-consuming. It's not simply a matter of reading and sorting them into piles. HR employees must also apply evaluation criteria and compare candidate qualifications. However, learning technologies can make life easier. Essentially, applicants fill in the online form and it's sent directly to the hiring manager. This is all done within the LMS. As a result, staffers can compile and analyze all the information in one centralized location. Plus, applicants can link to their online portfolios and CVs.
Update HR Recruitment Process Training Resources To Bridge Emerging Gaps
You remember those gaps I mentioned earlier? Well, you also need to consider HR team sticking points, such as skill, knowledge, and performance gaps that hinder the recruitment process. Fortunately, learning technologies allow you to quickly update content and get your team back on track. For example, expand your JIT support library or revise a certification course. You can even assess HR staffers periodically to spot emerging gaps. Then develop training interventions to nip them in the bud. Another approach is to purchase off-the-shelf HR training courses to bridge gaps. For instance, pre-built modules or activities that help trainees improve interpersonal skills.
Launch An Internal Job Marketing Program
You may already have employees who fit the bill, they just aren't aware of hidden talents or how they can use them to benefit the organization. However, learning technologies give you the opportunity to launch an internal marketing campaign. Think of it as an in-house talent search. To illustrate, invite your employees to participate in a simulation or serious game. These real-world activities are actually diagnostic tools to see who has the skills and experience you're looking for. You can also post job announcements and resource links to help them prep for the new position.
Use Training Systems To Vet Job Candidates
Most organizations use online training portals for employees already on the payroll, but you can also use them to qualify applicants. Of course, access is restricted to the "candidate" section of the system. Just make sure all your behind-the-scenes training info is secure. In short, all applicants receive a guest username and password. You can even send it to candidates who've already passed the first recruitment round. This section of the LMS is populated with assessments, simulations, and demos. You know, all the L&D goodies they need to evaluate their skills and determine if they're the right person for the job. Likewise, your HR managers can review their performance and gaps using LMS reports.
Conclusion
The coronavirus outbreak wasn't really on anyone's radar, but organizations must rise to the challenge and move forward, granted with new guidelines in place. This guide can help you enhance your recruiting process, whether that involves bespoke content, pre-built HR training courses, or in-house development. Search our free online HR training solutions directory to find the best human resources outsourcing partner for your SMB. You can filter by industry and solutions to speed things up, as well as evaluate the pros and cons for each vendor thanks to user reviews.
It's a bit ironic that you have to recruit an outsourcing partner to recruit the right job candidates, but our new eBook can help you avoid all the pitfalls and enrich your current HR training program. There are even tips to use virtual training tools for creative recruitment and streamlining your strategy. You'll find all the insider secrets in HR Training Programs 101: Tips To Boost Recruitment In The Face Of The COVID-19 Crisis.