Benefits Of Implementing Rapid eLearning Software For SMBs
Rapid eLearning software is not the golden ticket for your SMB. It won't magically create attention-grabbing courses at your behest. Nor will it help you deploy or track your initiatives—that's the LMS's job. However, rapid eLearning authoring tools can give you the templates, graphics, and interactions you need to develop engaging online training content. Contrary to popular belief, you do need a certain degree of design experience and tech skills. But combining in-house expertise with the right authoring tool can cut costs and improve workplace performance.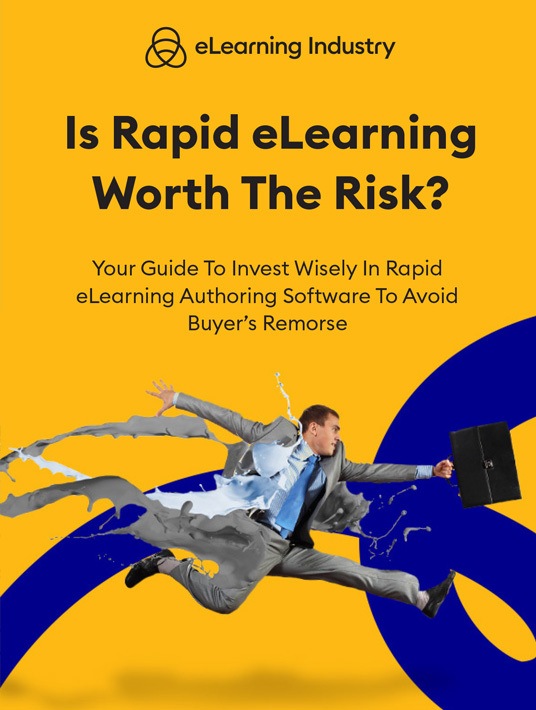 eBook Release
Is Rapid eLearning Worth The Risk?: Your Guide To Invest Wisely In Rapid eLearning Authoring Software To Avoid Buyer's Remorse
Is rapid eLearning the right approach for your L&D program? Discover insider tips to choose the best authoring software for your budget.
8 Surprising Perks Of Rapid eLearning Authoring Tools
1. Shorten The Learning Curve For Your L&D Team
User-friendliness is the most popular rapid eLearning software selling point. These platforms usually have intuitive UIs and embedded design tools that simplify eLearning content development. As such, your L&D team can quickly acclimate instead of spending a month mastering the new tool—and eating up payroll hours. Just to be sure, sign up for a free trial to gauge the functionality. Reviews might claim that the software is hassle-free, but your team has unique talents and experience levels. "User-friendly" is a relative term. You don't want to spend hard-earned cash on a tool your employees are too apprehensive to use.
2. Streamline Content Maintenance
Online training templates, themes, and other media assets are usually part of the deal. Most rapid eLearning tools have built-in resource libraries you can use to develop online training content quickly. But that also streamlines maintenance and content upkeep. Sales policies change or new products come onto the market? Your SMB can modify activities or support online training resources right away to keep employees in the loop. Thus, they're able to improve service scores, boost sales, and broaden your profit margin.
3. Improve Knowledge Retention
Rapid eLearning tools are ideal for bite-sized online training activities. Use an eLearning template to develop microlearning serious games or simulations that reduce cognitive overload. No graphic design experience is necessary. Working with eLearning templates also ensures that you stick to the basics and don't forget crucial design elements. The placeholders are there as a reminder for your L&D team. You can even use the tool's image and video library to make content more engaging and easier to assimilate.
4. Repurpose Company Assets
Your online training objectives evolve, as do the employees' expectations. As a result, online training resources that were once popular now sit idly in your online training library. A rapid eLearning tool gives these activities a new lease on life. You can repurpose outdated PowerPoint presentations or video demos to achieve current goals and outcomes. For example, add video clips and voiceovers to your customer service slideshow. Or use triggers to turn that task tutorial into an interactive demo.
5. Quickly Update Online Training Content To Mitigate Risks
Rapid eLearning tools help prevent compliance violations that dig deep into your bottom line. For example, new local regulations come into effect that impact your warehouse team. They need to know about the updated safe handling protocols or documentation requirements to prevent costly fines. Worse yet, it could be a matter of life or death. Rapid eLearning authoring software allows you to reduce potential risks thanks to pre-built assets. You create the framework for your compliance course and make minor adjustments to stay current. Like using the audio editing tools to record a new voiceover. Or incorporating relevant photos from the image library.
6. Ensure Less Seat Time
Organizations usually equate rapid eLearning software with back-end benefits since it simplifies content upkeep and revisions. However, it also applies to your front-end online training experience. Rapid eLearning reduces seat time because it typically focuses on a single topic or task. Employees concentrate on a certain skill before moving to the next. This enables them to absorb the information more quickly and retain it more effectively. In addition, the elements in your online training activities center on thematic images, templates, and videos to improve cohesion. Employees can see the relationship between ideas or concepts instead of trying to identify the common thread. Less seat time means more time doing the job they're paid to do, thereby, improving your profit margins.
7. Utilize In-House Talent Instead Of Outsourcing
Many SMBs choose to outsource because they want to stretch their budgets and don't have the resources to hire a full-time team. However, rapid eLearning authoring tools help your in-house experts share their knowledge and insights. They don't need to be tech gurus or full-fledged instructors. The software gives them the opportunity to focus on their area of expertise without having to worry about their design prowess. For instance, your top sales employee is an adept negotiator. They can record a sales pitch demo to show off their skills. Then use the editor to record a voiceover and add transitions. If they know how to drag and drop design elements, they can offer their words of wisdom to your entire sales department.
As is true for all online training endeavors, these benefits hinge on a solid game plan. Before you begin the search, create a budget to see how much you have to work with. You should also clarify the outcomes and the rapid eLearning software's role in your strategy. Will it be your go-to tool for all development projects? Who will use the tool and what is their level of tech experience? Which assets do you need and which can you curate on your own cost-effectively? Rapid eLearning software can offer your SMB numerous rewards, including a wider profit margin, but only if you know how to wield correctly it in the war against L&D overspending.
Download our exclusive eBook for tips to find the right rapid authoring tool for your team. Is Rapid eLearning Worth The Risk?: Your Guide To Invest Wisely In Rapid eLearning Authoring Software To Avoid Buyer's Remorse covers every step of the process, from vendor vetting to asset repurposing.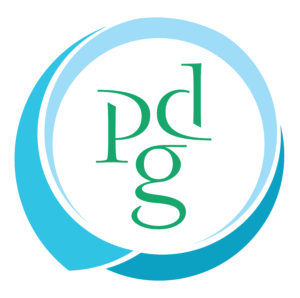 Performance Development Group
We make people better at making their business better.