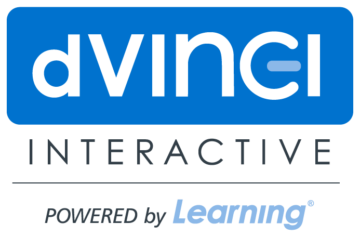 Instructional Designer—Project Manager
d'Vinci Interactive
The learning solutions Instructional Designer—Project Manager works with clients to create custom learning solutions. They will develop multimedia scripts and storyboards for the course developers. The candidate will lead and manage learning solutions projects following d'Vinci's established Project Management process.
Requires 5+ years experience

Full time

United States

Requires Bachelor's degree
Responsibilities
Interview and consult with key business leaders and Subject Matter Experts (SME's)
Analyze target audience and learner needs
Design creative, interactive, and instructionally sound training solutions (Instructor-Led and eLearning)
Develop content outlines and multimedia scripts and storyboards for course developers for a variety of topics
Apply adult learning principles to learning solutions projects
Define technical approach to learning solutions projects
Manage project teams of Instructional Designers, graphic designers, eLearning coordinators, and developers to deliver online and blended learning programs, and oversee project budgets and timelines
Coordinate cross-department projects to maximize communication among team members
Manage multiple projects and multiple client relationships concurrently
Define and develop systems for efficient development of technology-based training modules
Identify, troubleshoot and correct technical issues with development
Assist in evaluating and developing learning management solutions
Qualifications
Bachelor's degree and two years of experience in the Learning and Development field
Or, 5 years of experience in the Learning and Development field
Or, any equivalent combination of experience, training and/or education approved by the department manager.
Articulate Storyline knowledge is a plus
Who We Are
d'Vinci Interactive is a custom learning solutions provider and develops learning experiences, educational websites and web and mobile applications for learners of all ages. Based in Hagerstown, MD and Harrisburg, PA, d'Vinci has been providing high-quality, innovative, and immersive eLearning solutions to clients for more than 25 years. d'Vinci has been recognized by Training Industry and eLearning Industry on their top content development watch lists. Learn more at www.dvinci.com. 
The learning experiences we create inspire, inform, and support people all over the globe in different industries and institutions. Bring your unique skills and strengths to d'Vinci and help us create compelling learning experiences that use the latest tools and technology.
We foster a diverse and inclusive agency culture.
We approach experiences, ideas, and work collaboratively and inclusively. We appreciate, include, and respect everyone and deliver the most successful outcomes as a result. We advocate for diversity, respect and accessibility in our work and seek out partners who have the same commitment.
d'Vinci is an equal opportunity employer. When making any employment decisions, we don't consider race, color, religion, national origin, sex (including pregnancy and childbirth), disability, age, genetic information, sexual orientation, gender identity, gender expression, veteran or military status, marital or partner status or any other protected status covered by Federal, State or Local laws.
Job Function
Educational Technology
eLearning Content Author
eLearning Project Manager
Instructional Designer