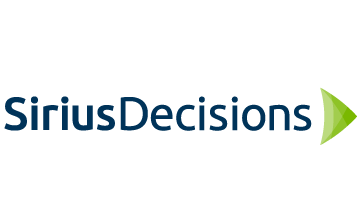 Practice Director, e-Learning
SiriusDecisions
Oversee the overall strategic direction for our b2b adult e-learning product line, including business planning, new offering creation, positioning and certification structure. Interact with SiriusDecisions clients to gather and understand their feedback on the current product and future learning needs. Collaborate with our learning sales team and leadership on pipeline achievement, enablement tools, sales training, client service and feedback.
Requires 9+ years experience

Full time

United States

| Remote

Requires Bachelor's degree
Responsibilities
Are you an experienced B to B digital learning and development leader who is ready for the next stage in your career? You could be the next addition to our team at SiriusDecisions.
Do you...
Have a passion for e-learning product development and business management at an executive level?
Love to serve as a product evangelist with an organization's sales force and marketing teams?
Enjoy interfacing with e-learning clients and prospects to understand their needs and support the actualization of these needs?
Like building new and exciting online deliverables especially those that help b-to-b marketing and product practitioners improve their competencies?
Have you spent a lot of time thinking about...?
Taking a strategic approach to managing e-learning resources and capital improvements?
Truly enabling sales with focused and timely sales training, tools, client service and feedback (instead of just sending an email and hoping they figure it out)?
Optimizing client interactions so you may best understand feedback regarding current products and their future needs?
Would you jump at the chance to...
Work with a rocking great team who loves what they do and are great at it?
Serve as a trailblazer in the emerging b-to-b e-learning market?
Collaborate with some of the most brilliant minds in b-to-b?
If you answered YES to many of the questions above, let's talk. We're looking for a Practice Director, E-Learning to oversee the strategic direction for our e-learning product line, including business planning, new offering creation, positioning and certification structure.
Qualifications
You will have 10+ years experience in B to B e-learning industry with at least a few years in a strategic leadership role .
Who You Are
The Practice Director, E-Learning we hire will be a seasoned learning and development or digital product management practitioner with significant experience in a SaaS environment guiding Operations Management and/or product marketing including P&L responsibility and resource management.
Why join us? SiriusDecisions is respected and fast-growing company. Our highest satisfaction comes from helping our clients achieve impressive results. Our culture is built around collaboration, camaraderie and originality.
Location: Virtual + 25% travel
Who We Are
SiriusDecisions is an Equal Opportunity/Affirmative Action Employer committed to the value of workforce diversity. SiriusDecisions helps business-to-business companies worldwide improve sales and marketing effectiveness. Management teams make more informed business decisions through access to our industry analysts, best practice research, benchmark data, peer networks, events and continuous learning courses.
The company is based in Wilton, CT with offices in Waltham, MA, San Francisco, CA, Staines, United Kingdom,Toronto, CAN and  Singapore. 
For more information about SiriusDecisions visit:http://www.siriusdecisions.com.
Job Function
Sales/Marketing/Business Development
Industry
Information Services
Management Consulting