10 Must-Have Web Conferencing Software Features
Whether it's a new Learning Management System or a replacement CRM, getting the best value for money is the main mission. Especially when the market is flooded with learning technologies for every niche and use case. Web conferencing software can boost team collaboration and reduce online training expenses but only if you invest wisely in solutions that deliver all the must-have features in your price range. You must vet web conferencing software vendors, search online directories, and read online reviews to evaluate their key selling points. So, which features should you add to your shopping list and why? Let's look at 10 top web conferencing software features that your SMB simply can't do without.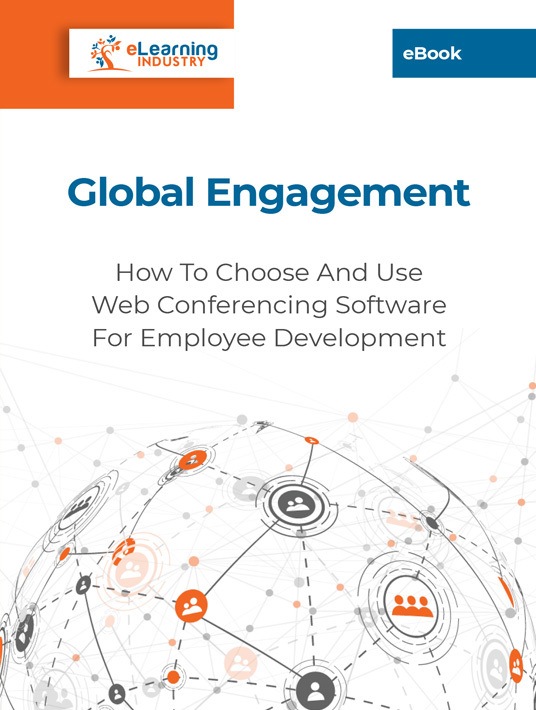 eBook Release
Stay Locally. Engage Globally!
Looking for a web conferencing solution? Read this guide and make the best choice according to your needs!
1. Presentation Support
Presenters share their slideshows or video clips with the group in a more polished format. This is ideal for webinars that require visuals, such as charts or graphs. The web conferencing tool should support a broad range of formats to ease compatibility issues. Check with the web conferencing software vendor to see which multimedia they support and gauge the level of interactivity. For example, can the presenter make notes in the margins during the event or circle crucial info to improve comprehension?
2. Built-In Whiteboard
Staffers doodle, diagram, and draw inspiration from fellow attendees with the built-in whiteboard feature. Sometimes collaborators just need to unleash their creativity and go beyond the prepared online training materials. For instance, jot down eLearning feedback notes or create an impromptu pros/cons chart to weigh all the L&D options. Then save the whiteboard contents for future reference.
3. Group Calendars
Everyone must be aware of scheduled events, who's invited, and which topics/benefits are involved. Thus, your new online meeting platforms should have integrated group calendars to keep everyone in-the-know. Are there planned webinars or workshops that can help them bridge gaps? What about L&D revision sessions to ensure the online training content is ready to launch on time? A tie-in feature to look for is reminders or push notifications to prevent memory slips.
4. Instant Messaging
There are some topics that should be addressed one-on-one. Hence, the instant messaging feature that allows employees to chat discreetly without having to leave the online meeting platform. This is also ideal for quick eLearning feedback and tie-in topics. For example, one of the attendees may ask a coworker about the task protocols via instant message instead of publicly addressing it during the live event and populating the board with a string of replies. The main conversation stays on track so that the presenter can focus on relevant questions or ideas.
5. Screen Sharing
Event attendees are able to see everything on the presenter's screen, which is ideal for software demos and product tutorials. For example, hosts show employee training participants how to log in to the sales processing system or online training platform as well as narrate the step-by-step walkthrough to clarify any confusion. However, this feature should be easy to turn on/off to protect sensitive info.
6. File Transfer
Participants can transfer online training resources quickly for peer-based support and project collaboration. The online instructor can also use this feature for direct follow-up. As an example, send interactive guides, video clips, and other supplemental online training resources to attendees who struggle with the topic. Once again, verify which formats the digital meeting solutions vendor supports to avoid costly compatibility obstacles.
7. Recording
Record the session for future reference or to provide the same benefits to those unable to attend. Among the web conferencing software features should be stress-free streaming and recording capabilities for the host. With the click of a button, they can capture every minute of the event, including screen shares, links, and participant dialogs. Bonus points for editing tools that allow you to polish the presentation and add special effects such as transitions or interactive hotspots.
8. Customizable Branding
Incorporate logos and adjust the web conferencing layout to reflect your image. The webinar becomes a cohesive part of your online training strategy because it features your branding elements. Employees regard the web conferencing software as an extension of your LMS platform, another online training resource that is at their disposal. For example, they can access the web conferencing software to host an impromptu event of their own or set up a meeting with their peer coach.
9. Email Invites
The system automatically sends an invitation to everyone on your online training guest list. You can even assign user groups to send mass emails to relevant employees, such as everyone on your customer service or sales team. Or people who've signed up for related events. For example, external partners who signed up for the product launch event might benefit from your upcoming negotiation skills workshop.
10. Attendee Management
Who has already confirmed attendance? Do you need to follow up with users who still haven't sent their virtual RSVPs? What are the demographics of event participants? Management web conferencing software features are essential because they allow you to track engagement and boost attendance rates. You can also streamline payroll processing in the case of mandatory online training since you know which employees logged in for the event.
Even cash-strapped companies shouldn't have to compromise when it comes to remote team-building and employee engagement. You may have to add to this list based on your online training objectives, outcomes, and budget, as well as your L&D team workflow and collaborative pursuits. You should also account for the experience level and skills of your employees. Is the web conferencing tool intuitive and easy to navigate? Can admins quickly edit recordings and upload them to the JIT online training library? Sign up for free trials or demos to test the functionality and avoid long learning curves. Invite your team to host events and behind-the-scenes meetings to evaluate every aspect of the platform and then get their eLearning feedback.
Want to learn more about the benefits web conferencing software can offer to your organization? The eBook Global Engagement: How To Choose And Use Web Conferencing Software For Employee Development is full of helpful tips and innovative solutions that will help you retain the effectiveness of your online training strategy and build a strong company culture even if your workforce is working from home.