How To Launch A Mobile Learning Strategy For Skills Development
Mobile learning is all the rage, and for good reason. Modern learners expect training that travels with them and doesn't confine them to a desk. Furthermore, greater accessibility allows them to broaden their educational horizons at a moment's notice instead of having to chart their entire L&D course ahead of time. But how do you kick-off a mobile learning strategy that's personalized and cost-effective? An L&D Manager's Mobile Learning Guide To Leveraging Personalized Content For Skills Training has insider tips that every team leader can use to maximize team potential and bridge crucial gaps.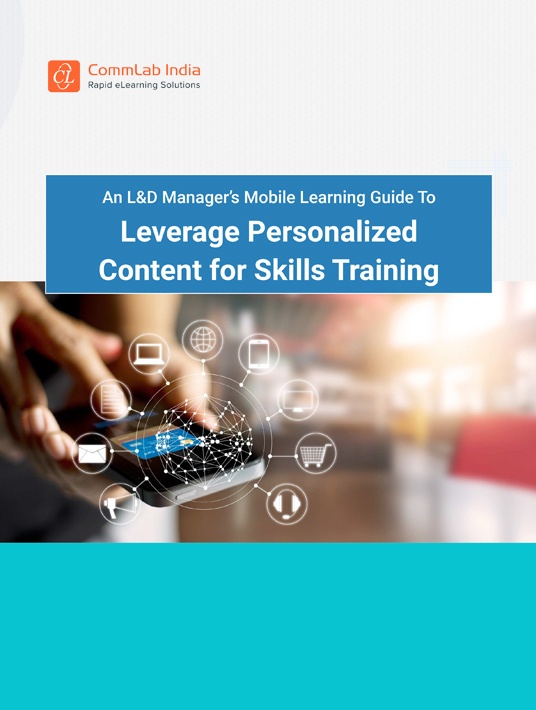 eBook Release
An L&D Manager's Mobile Learning Guide To Leverage Personalized Content For Skills Training
Explore how you can utilize mobile learning for skills training.
Why The Modern Workforce Expects Mobile Learning Support
Most modern staffers don't regard mobile learning as a privilege. It's an absolute must. Remote teams are more likely to give it their all and stay with your organization if they have ongoing support. Specifically, mobile learning support that is always available and quick to consume. Here are just a few reasons why employees expect mobile learning support, and why you need to launch a personalized plan of action.
Busy Work Schedules Call For L&D Flexibility
Employees should be able to train when it's most convenient for them instead of allocating a large block of time to L&D. Mobile learning gives them the chance to fit skill development into their busy work schedules. For example, they can participate in simulations or watch recorded webinars in between tasks. They no longer need to attend on-site training events or even VILT sessions when it's time to expand their skills. Instead, they simply log into the mobile training app to get individualized content that resonates with them and their L&D requirements.
Employees Must Bridge Skill Gaps On The Spot
Another crucial factor that every organization must consider is personal pain points. Every employee has their own strengths and areas for improvement. Personalized mobile learning resources help them bridge skill gaps immediately. More importantly, they're able to focus on specific competencies that tie into their job duties and tasks. For instance, sales staffers can access product knowledge resources and branching scenarios to build their negotiation skills.
Ample Opportunities For Upskilling
At the other end of the skill spectrum you have employees that want to seize new opportunities. As an example, a top performer is ready to train for a leadership role. Thus, they can use the mobile learning resources to upskill and prepare for their new role and all the challenges that come with it. They have the opportunity to pursue new career paths and contribute even more to your team. That said, you should have measures in place to prevent burnout. For instance, employees are able to pursue certifications only if they complete a list of perquisites, which ensures that they scaffold their knowledge.
Reduce On-The-Job Mistakes
Workplace mistakes lower employee morale, reduce customer satisfaction scores, and dig into your profit margin. This mobile learning guide shows you how to implement personalized online training solutions to mitigate costly risks. For instance, how to get team leaders involved and tap into mobile learning trends in order to find the best skills training strategy.
Facilitate Remote Knowledge Sharing
Mobile learning fosters remote employee engagement and peer support because everyone has quick access to the training platform. Staffers can share their personal experiences and expertise with co-workers anytime, anywhere. They're also able to engage in social learning activities, such as live events and discussions. These collaborative learning activities bring teams together and allow them to exchange ideas that, ultimately, benefit your organization.
Improve Knowledge Retention
Mobile learning tools are generally quick to consume. This means that employees can absorb and retain knowledge more effectively. For example, your library includes a 3-minute tutorial or video demo that shows them communication skills in action. They can get the targeted information they need and apply it right away, which further improves memory retention.
Provide Frequent Knowledge Checks
One of the most valuable applications for mobile learning is assessment. Employees are able to see how far they've come and where they need to go with bite-sized quizzes. A perfect example of this is post-activity knowledge checks. Staffers complete a brief evaluation to identify gaps, followed by recommendations to help them continually hone their skills.
About This eBook
From prime examples to innovative use cases, An L&D Manager's Mobile Learning Guide To Leveraging Personalized Content For Skills Training explores every aspect of mobile-first training. Here's a brief glimpse of what you'll find in this mobile learning guide:
4 Reasons L&D Leaders Need To Take Part In The Mobile Learning Revolution
5 Benefits Of Personalized Content And How To Leverage It In Your Mobile Learning Strategy
Win The L&D Bet With These 5 Mobile Learning Trends On Skills Training
5 Ways Mobile Learning Apps Can Help Your Workforce's Skills Training
Mobile Learning Formula: 5 Steps To Create Effective Personalized Learning Paths
Skills Training Made Easy: 3 Mobile Learning Examples And Use Cases
Mobile Learning Solutions To Overcome Challenges Of Skills Training And Maximize Training ROI
Whether you're just starting to brainstorm mobile learning ideas or already have a framework in place that needs optimization, this guide can help.
Start Your Mobile Learning Revolution Today
Mobile learning is the ideal approach for every organization that wants to cultivate talent and reduce employee turnover. Download the eBook An L&D Manager's Mobile Learning Guide To Leveraging Personalized Content For Skills Training to discover how to implement a mobile learning strategy for ongoing development. Also, join the webinar to find out how a mobile-first approach benefits your sales teams.