Cut Costs By Reducing LMS Implementation Woes
Training, while being the most important function in any knowledge economy, is often looked at as the first avenue to cut cost on. So, training people effectively within a budget and yet achieving great performance is a key HR challenge. Be it new people, experienced people, and even top management, training is important and has to happen within defined time, budget and resources. How does an organization make it happen? By making training a part of the strategy and bringing in the system and therefore accountability to the training function. And implementing the LMS is definitely a shot in the arm then.
eBook Release
The Complete LMS Implementation Guide To Ensure Employee Training Success
Learn how to successfully implement an LMS for greater effectiveness.
The costs organizations incur with face-to-face, and can save with LMS, are tangible and intangible, both. Let's look at these cost heads.
Tangible
Trainers, venue, logistics, resources, administrative
Intangible
Sales people's time away, delivery/operations/production time away, no tracking and monitoring
Tangible Costs
Trainers
While very effective on the day of the training and a few days after the event, trainers become a cost center as they need to keep repeating the training and keep doing hand-holding with follow-ups. Many times, trainers are outsiders, and good trainer fees tend to be prohibitive for the organization. And when trainers are in-house Subject Matter Experts, their time away from their core job is also a cost.
Venue
When a large number of people come together for training, companies need to book training rooms, banquet halls, etc. and have to pay daily rentals to accommodate people and to offer a professional and conducive learning environment.
Logistics
When employees from different regions travel, the organization spends on airfare, trains, hotels, food and internal transportation. The spend is huge and many times unaffordable when repeated.
Administrative
The entire HR/Admin time and money spent on resources like training material, equipment, etc., also adds tremendously to the cost, every time you train people.
Intangible
Time Away
Ιmagine your salespeople are losing contact with your prospects and customers while attending a face-to-face training session away from their office/home town. Imagine key production staff being away from the machines and their team while the production batch of a critical delivery is underway. This can lead to loss of revenue, quality, and output. And this is unaffordable to any enterprise.
Lack Of Monitoring
With face-to-face training, it is not easily possible to track what has been delivered and what has been consumed. The trainer delivers, people claim to have understood, and then everything is forgotten in a fortnight. The organization also runs a risk of personal biases of trainers, non-standard way of delivery and factors like human errors, tiredness of a trainer and dependency. All this leads to intangible losses and costs.
How does an organization prevent these tangible and intangible costs from soaring high?
eLearning brings in some amazing features to take care of these costs by using the LMS.
Administrators of training function can create, curate, distribute content via computers and mobile phones. People can have virtual meetings and virtual classrooms and still experience the beauty of face-to-face, without the trainer's availability. Employees can learn anytime, anywhere and repeatedly, the same topic.
All types of content that is interactive and experiential can be made available. Scientific and complex concepts can be explained better via animations and videos through the LMS. Updating the content is easy and quick as there is no printing involved.
So, the organization saves on trainers, venue, printing, equipment, travel, logistics and most importantly, save on time. This time, with the help of self-paced LMS-based training, can be best utilized for the employees' KRAs and KPIs.
While eLearning can't completely replace classroom training in all aspects, there are quite a few compelling ways to reduce the spend and trouble that you incur with face-to-face training. As a part of the L&D team, you can pick out the training material/workshops where classroom training is essential; and upload the remaining training material as learning nuggets on your LMS. You would need to strike the right balance—ensure you move as much of your content to eLearning as possible, allowing your trainers to spend quality time with their learners on the more essential engagements.
Download the eBook The Complete LMS Implementation Guide To Ensure Employee Training Success to discover more about the successful implementation of an LMS for achieving better effects in your organization. Join the webinar to delve into the secrets behind a victorious LMS implementation.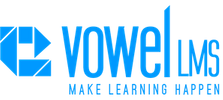 Vowel LMS
Vowel LMS is a flexible learning management tool that allows you the freedom to manage every form of learning within your organization – be it online, or in the classroom.