Onboarding Reflects Your Company's Identity
Does your onboarding process reflect your company's culture and expectations? What are the mission and goals of your organization, and how will your new hire be expected to contribute and add value? Understanding how your company works is essential for any worker to be successful.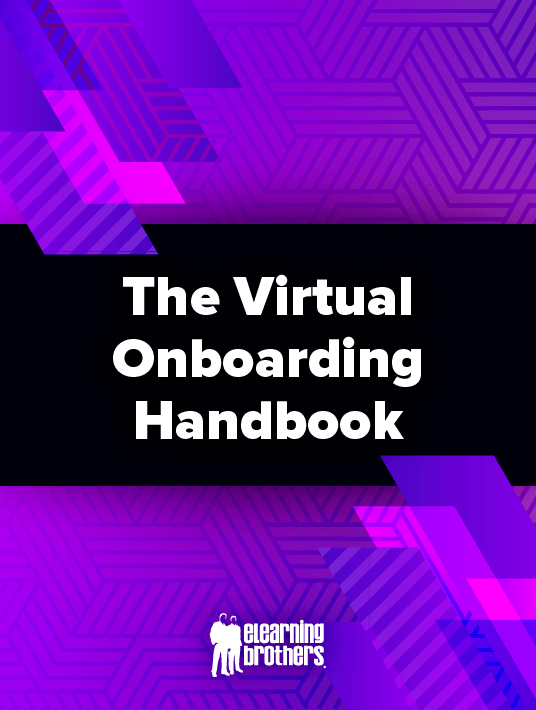 eBook Release
The Virtual Onboarding Handbook: How To Set Up Remote Workers For Success
Get the ultimate handbook for efficient and effective onboarding.
A 2017 Career Builder survey reports that 36% of employers lack a structured onboarding process, leading to lower productivity, higher employee turnover, lower morale, and lower employee engagement. Spelling out rules and expectations clearly from day one of onboarding is especially important for remote workers, who don't have the benefit of watching and following coworkers. Likewise, schedule checkpoints to make sure they can access and use required communication and productivity tools that will help speed productivity and head off potential frustration.
Benefits And Compliance
Of course, you need to get the essential paperwork completed as soon as possible. This includes benefits enrollment, company handbook review, and any other human resources topics that apply. Any items that cannot be completed in advance of hire are typically scheduled for day one or within the first week.
Some items you may even be able to complete via email ahead of time, in between the offer acceptance and your new hire's start date. If something can't be signed digitally, be sure to mail it in advance. Getting the paperwork out of the way gives your new hires time to focus on making interpersonal connections. With virtual onboarding, in particular, it's important to emphasize the human element from the very beginning.
Spread out your compliance training throughout the first month of onboarding. Compliance training is important, but trying to pack it all in the first week will slow down productivity. Depending on your location, you may be required to provide anti-discrimination and anti-harassment training to every new employee. Additional compliance training topics to consider are cybersecurity training—especially important with remote employees—and unconscious bias or diversity and inclusion training.
Systems And Tools
Technology can connect coworkers around the world, but learning new systems and tools can be overwhelming, especially for a first-time remote worker. To get your new hire working productively, you'll need to ensure they're set up with accounts for all your interoffice communication tools (email, video conferencing, instant messaging, etc.) and that they know how to use them.
The easiest way to do this virtually is through screen recording videos with step-by-step demonstrations of each tool. Then go into more detailed processes like file management, time tracking, and any company-specific systems like product lifecycle software, customer relationship management systems, and your learning management platform. Many kinds of software feature built-in online knowledge bases and help guides for new users that are perfect for remote workers. Begin this training on day one, and continue throughout the first weeks of onboarding.
Products And Positioning
What product or service does your organization offer? Who do they serve? Whether it's education or patio furniture or software, everyone in your organization should learn during onboarding what are the expectations on how to talk about and use your products or service, as well as see the value of your mission and goals.
All new hires should be trained on:
Product features, benefits, pricing, and at least an overview of technical data
Customer segments
Competitor information
Frequently asked questions or concerns customers have about the product and how to respond
Who the go-to person for each product or service is
Your Learning Management System (LMS) or Learning Experience Platform (LXP) should make it easy to deliver product training virtually. Along with formal training and product sheets, don't overlook recorded demos, webinars, or presentations. In addition to product info, share rules for interacting with the public, and how to talk about the company itself.
Does your company encourage employees to share product and company news on social media? Do you have specific language and policies for how to do that? Do you expect employees to participate in online message boards about your product or industry? Provide links to examples of posts by other employees. This part of onboarding could include formal media training or just a quick overview of company social media accounts to reshare.
How To Exceed Expectations During Onboarding
To quote Daniel Newman, "For technology to be applied successfully, it has to interface with business structures, culture, and people. The best asset for any business to have is people who can quickly and insightfully interpret the data that technology provides, and use it to make smart decisions." Download the eBook The Virtual Onboarding Handbook: How to Set Up Remote Workers For Success and acquire the ultimate guide to training these people.