Which Personalised Learning Outcomes Should You Expect From Your LXP?
But what about personalized learning outcomes that concentrate on the individual learner? And what role can an LXP play bring them into force?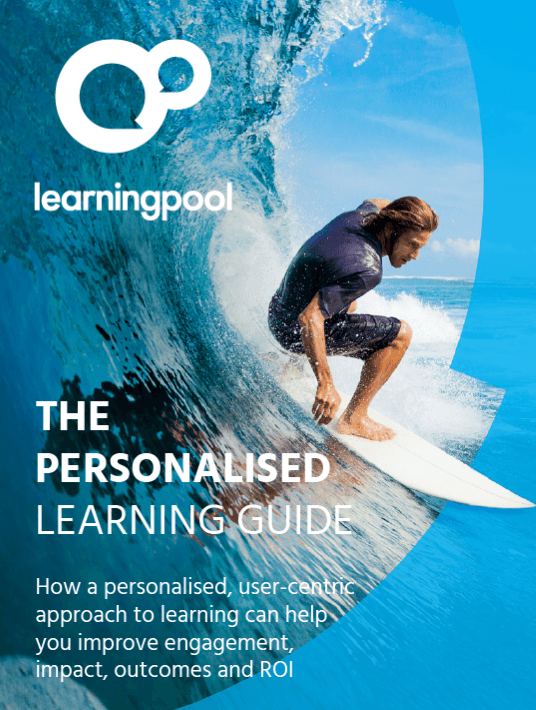 eBook Release
The Personalised Learning Guide
Define your strategy to personalise learning within your organization.
Different Outcomes
The appeal of learning outcomes is that they offer a standard set of objectives, like a set menu. If you consume the relevant training, it will equip you and deem you competent to perform the skills you've studied. It's not clear how much attention learners pay to these outcomes or, more critically, how true those outcomes turn out to be. In the end, are learners actually able to do what the outcomes claim they should be able to do?
There's more than a suggestion that these outcomes are really written for learning designers. They attempt to link learning to performance, and they can be used to categorise and manage groups of learners. If a group of learners has completed a course, L&D can certify them as ready for the tasks ahead.
The reality is naturally more complex. Outcomes don't necessarily take account of the level of a learner before he or she takes a course. They tend to be aspirational. There's little substantive follow-up to check that learners meet the outcomes when they're asked to put training into practice. So, it might be better to phrase outcomes differently: 'After this course, we hope you will be able to...'
Personalized Learning Outcomes
It's not that learning outcomes aren't potentially useful, it's that they need to be more about enabling rather than managing learners. Hence the idea of personalized learning outcomes that measure and cater to individual learners and their learning paths.
But personalized learning outcomes only make sense if you've got a way of actually personalizing learning. The introduction of LXPs offers learners and organizations just that: a way of personalizing learning so that each individual learner is on his or her own learning plan. LXPs offer an array of learning resources that allow learners, L&D, and managers to implement a programme of learning that suits individuals. It recognises what they know, identifies what they need to know and provides them with the resources and mentoring to move them on. LXPs not only offer more choice and more means to learn, but they also allow for learning to be a continuum and for people to chart their position and progress along with it.
With the resources of an LXP plus the data monitoring and reporting that a Learning Record Store (LRS) offers, personalized learning outcomes become a reality. You can genuinely tie learning to a particular job role or performance task, analyse the readiness of an individual to meet them, and then design a learning plan with a measurable outcome to ensure he or she gets there.
What Are The Outcomes For An Organization?
This all sounds wonderful for the individual learner who becomes the focus of learning development, but where does it leave the organization? Aside from the prospect of training becoming more effective and leading to better qualified and more motivated employees, the adoption of personalized learning delivered via an LXP has implications for an organization's productivity and its bottom line.
Let's look more closely. Here are 5 main learning outcomes that will benefit an organization using an LXP.
1. Individual Learning Paths
Personalized learning paths are a way of taking account of what individual learners already know, their experience, and a way of setting individual learning goals and performance objectives. They offer an alternative to the standard, one-size-fits-all objectives. They emphasise practical and personal solutions so that you can focus on learning what you need to know to do what you need to do.
From an organizational perspective, learning paths can be used to bridge critical performance gaps, identifying and projecting a clear direction forward to mastering new skills. The learning objectives behind a pathway can be continuously amended to keep the objectives and learners' learning relevant to their work.
Pathways can be planned as a series of interventions in key areas where gaps are identified. Learning pathways can be a way of fast-tracking employees to proficiency. Organizations can use learning pathways not only as a way of upskilling their employee base but also as a planned approach to identifying and remedying skills deficiencies.
2. Greater Independence Of Learning
The personalization of learning leads to greater learner independence. Instead of waiting to be training an employee can work and learn at the same time. The LXP environment is designed to encourage self-sufficiency. Using AI recommender systems and the collaborative culture of Social Media it helps learners manage their own learning in a fail-safe environment, supported by fellow employees and L&D.
From the organization's point of view, you have employees learning as they work and learning just what they need to know to do that work. Instead of having to drive learners, they're taking up the reins themselves. This makes learning objectives more focused and less aspirational and makes training more relevant and learners self-motivated.
3. Learning In The Workflow
The effect of this is to move learning closer to the area of work, into the workflow. Learning paths are about bridging performance gaps. The LXP delivers makes learning accessible and flexible, using mobile connectivity and microlearning. It means that rather than have learners train in the classroom or in front of the computer screen, they can learn on the go. And each individual learner can access a unique combination of learning resources and assets that allows the learner to know what they need to know to perform.
Breaking down the artificial barriers between training and working is one of the biggest learning outcomes from the introduction of personalized learning. Learners begin to see that learning is part of work, continuously, and not something you need to have consumed before you act.
4. A Different Role For L&D
If learning moves into the workflow, what about L&D? With personalized learning, L&D becomes less about managing learners and ticking boxes and more about enabling learners to develop their potential. It moves L&D closer to the action as it needs itself to be part of everyday working life and organizational culture and not as something removed that is required only occasionally.
LXPs require iteration. The resources they offer are not one-events but in constant need of refinement, moderation, and evaluation. Like any Social Media site, new features appear, new content is added, feedback is given, and the evolution continues. L&D needs to be at the heart of that process as part of quality assurance and maintaining standards and relevance.
The integration of L&D into the workflow combined with more accurate analysis of learning needs delivers a better overview of what's needed and give L&D the ability to make more targeted interventions.
5. Collaborative Learning
The emphasis of personalized learning is on the individual learner, but one of the consequences of implementing a personalized learning strategy with an LXP is the growth of collaborative learning. LXPs facilitate and encourage the sharing of knowledge, whether it be in uploading learner-generated content, posts or feedback and likes. The LXP works like a Social Media platform accommodating personal preferences and encouraging personal connections.
But when aggregated this sharing of knowledge and information between individual learners amounts to a valuable repository of in-house expertise. So instead of seeing valuable information trapped in the heads of experienced employees, there's now a way and a culture to liberate and share that experience and knowledge for the benefit of all. It has the potential to create a new culture of learning in the organization.
The Best Outcome
LXPs allow the development of personalized learning outcomes that are more closely aligned with what individual learners need to do their work. They focus on the practical rather than the aspirational. These outcomes concern not only the development of individual learners but also have profound implications for the way organizations operate and their entire approach to L&D.
These personalized outcomes are designed to deliver enhanced performance and greater efficiency benefiting individual learners and the whole organization alike. Download the eBook The Personalised Learning Guide and discover how to frame a business case for personalized learning, and deploy appropriate technology to help implement it effectively. For more valuable insights on personalised learning, join the webinar.
Stream LXP from Learning Pool
Our LXP delivers the best learning outcomes for modern workplaces by using AI to enhance all aspects of the learning experience, driving improved performance.