Sales Operations Training Activities For Your Online Training Library
Sales is one of the most challenging job roles in any organization. It requires a broad skillset, real-world experience, and product know-how. However, sales enablement training isn't reserved for your top pitch-makers. Every department and position plays a role in the sales process, from warehouse staff who monitor inventory to customer service employees who handle returns. The primary objective is to ensure that consumers have the best possible experience so that they keep coming back for more. To achieve this, your workforce must have all the support tools they need to bridge performance gaps and reinforce knowledge. They need to know about new sales techniques, company policies, and compliance protocols. Here are 7 sales enablement training activities to add to your online training library.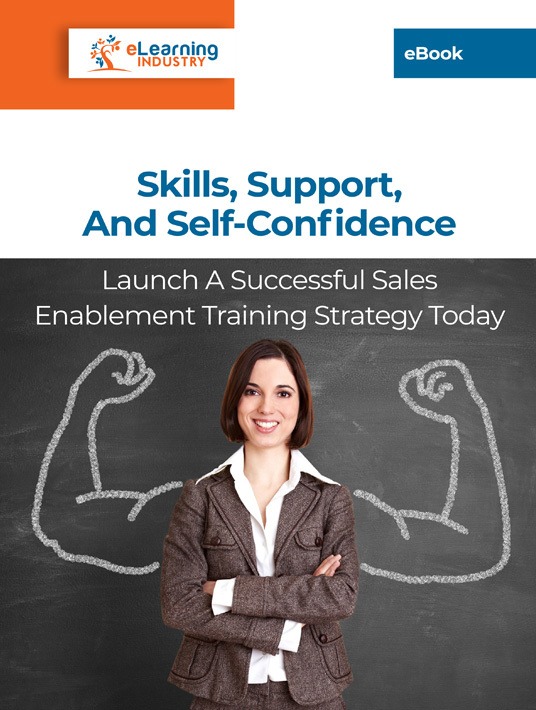 eBook Release
Skills, Support, And Self-Confidence: Launch A Successful Sales Enablement Training Strategy Today
Leverage the benefits of a successful sales enablement plan.
1. Skill-Based Video Demos
Some skills are more difficult to master than others. They call for real-world examples to show employees how it's done and give them clear traits or processes to follow. Produce demo videos that showcase skills in action. For example, how to persuade customers to make the purchase without using coercion or making them feel uncomfortable. Staffers should know how to apply these behaviors on the job and identify relevant skill gaps based on the scenario.
2. Service Simulations
Develop simulations that immerse employees in real-world challenges so that they know what to expect and build practical experience. The goal should be to foster service skills and maximize their exposure to customer personality traits—and quirks. For instance, what should they do if the customer asks a million questions, only to walk away before making a purchase? Should they follow up with them the next day to provide more info? Is it better to offer them a discount or upgrade on the spot to seal the deal? How do they determine if the buyer is serious or just looking around?
3. Customer Profile Infographics
There are distinct customer groups your employees must interact with on a regular basis. Develop sales enablement training profiles based on these demographics, then transform them into engaging eLearning infographics for Performance Management support. For example, one infographic covers reluctant buyers who don't know much about tech. How should employees explain the selling points in a way that's easy to understand? What real-word benefits are important to these consumers? Are there any product add-ons or service plans that will help them maximize functionality? Profiles should include brief recaps of their common characteristics so that employees can quickly spot personas in the workplace.
4. Product Pop Quizzes
Skills and customer interactions are crucial. But employees also need to know about the products they pitch. After all, customers won't be happy if staffers mislead them just to seal the deal. Or if they know absolutely nothing about the new product line, despite the fact it's being marketed aggressively online. Offer pop quizzes that test employee knowledge regarding product specs, features, benefits, and maintenance. Include immediate sales enablement training feedback and resource suggestions so that they can bridge gaps right away.
5. Peer-Based Sales Coaching
Social interaction is a cost effective way to provide eLearning feedback and continual support. Launch a peer-based coaching program with sales enablement training activities that pairs top talent with inexperienced staffers. Of course, experience is relative. Some employees may excel in communication skills while others struggle to carry on a conversation with customers. Thus, they may be able to step into the role of peer coach for that training topic and become the mentee in other situations. Assess their abilities to identify qualified coaches and invite them to host events, social media discussions, etc. Customer service, warehouse, and other key departments can also benefit from sales pros because they offer unique insights.
6. Warehouse Prep Games To Keep Inventory In Check
Your sales employees rely on other groups within the organization to do their job effectively. For instance, they may lose a sale if a customer call center employee drops the ball and makes the person feel undervalued. Likewise, they can't sell products that aren't available or properly stocked on the sales floor. Create strategic sales planning serious games for warehouse employees. How do they use the inventory software to track shipments and verify that items are in stock? Do they know the safe handling procedures? How often should they do a thorough inventory and what is the process? All of these elements can be incorporated into your gaming experiences to improve proficiency and work practices.
7. Real-World Examples And Anecdotes
Give employees examples, stories, and anecdotes they can use to put information into context. This also allows them to assign meaning and build on their pre-existing knowledge as well as see that work-related challenges and task sticking points aren't unique to them. Others have faced similar obstacles in the past and have learned from them. For example, the anecdote features a difficult customer who doesn't know which product they want. The narrator explains how they used their communication and problem solving skills to identify the consumer's needs and expectations. Then they tapped into their product knowledge to promote the main selling points and stress-free maintenance. Include tips and techniques in the sales enablement training activities to facilitate application and prevent common mistakes.
Performance Management support is an ongoing pursuit. Employees must continually reevaluate their strategies and skills to achieve their true potential. Staffers who settle for the status quo and are content with professional stagnation often see their sales figures slip. But more importantly, they can't give customers the service they expect from your reputable brand. So, encourage everyone to reassess their behaviors and talents to fill gaps and improve on-the-job productivity.
If you want to learn more about implementing successful sales operations training, download our eBook Skills, Support, And Self-Confidence: Launch A Successful Sales Enablement Training Strategy Today. You will find all the information you need to train your sales team so that they gain the expertise and confidence they need to skyrocket their performance and offer unparalleled Customer Experience.