Compelling Stories Bring People Skills To Life With Leadership Training
PMQ (People Manager Qualification) is an SHRM (Society for Human Resource Management) leadership training program for new people managers that features scenario-based learning practices. In this case study, we will binge into this virtual learning experience that has a lot to offer.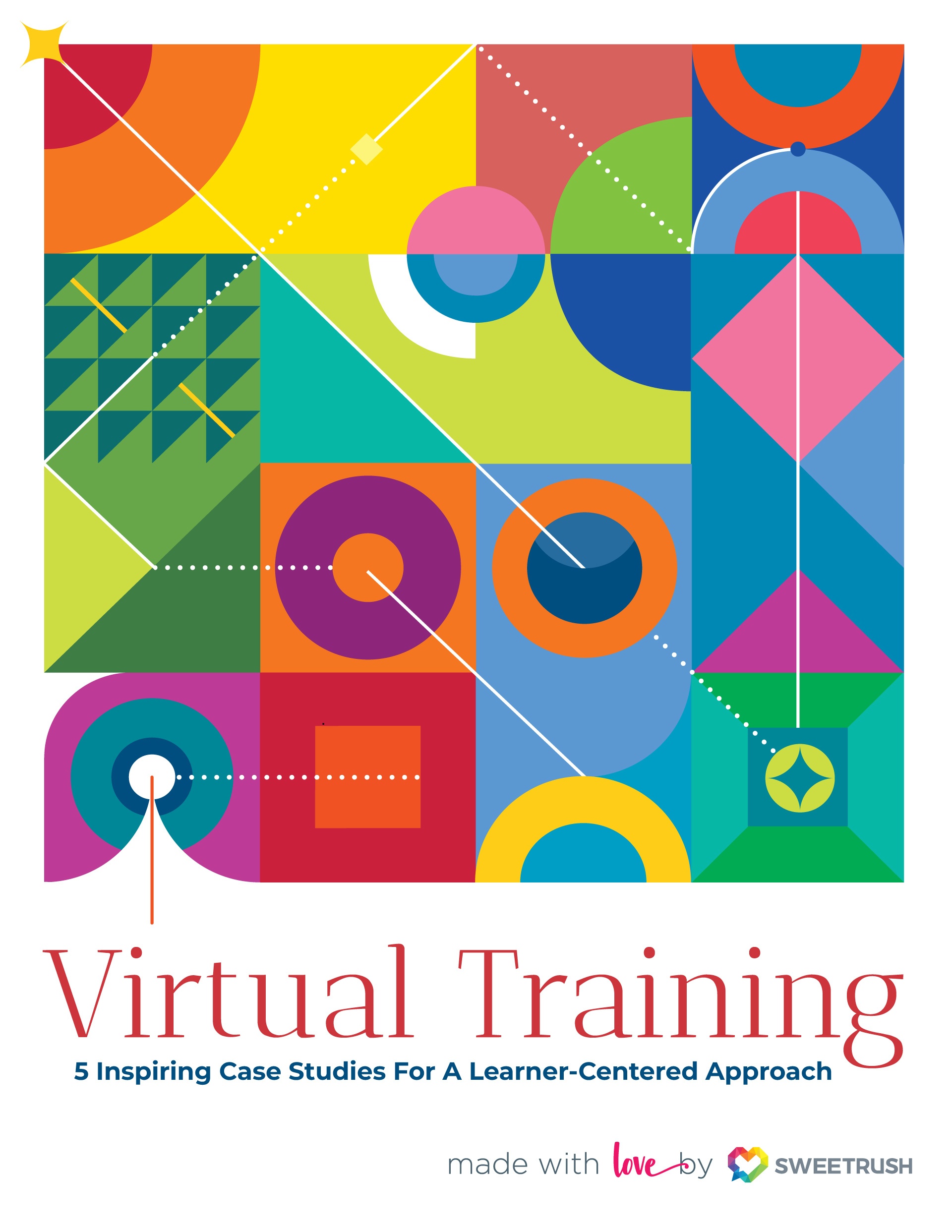 eBook Release
Virtual Training—SweetRush Style: 5 Inspiring Case Studies For A Learner-Centered Approach
Discover 5 virtual training case studies to spark inspiration for your learning portfolio.
The Audience: Brand-New People Managers
It's one of the oldest stories in the book; you're great at your job, so you get promoted to a management position. Never mind the minor detail that you've never managed anyone in your life.
If you've been there—or are there now—you're not alone. Forty-two percent of the 12 million people managers in the United States were promoted based on their performance as individual contributors.
Brand-new managers are typically in their late 20s or their 30s. And more often than not, they've had no formal training in people management. Leadership training, coaching, and mentoring resources are limited or unavailable in many organizations. New managers are forced to sink or swim—and in the process, they risk alienating their team members, feeling unprepared, and hurting productivity.
Enter the new People Manager Qualification [1], a self-paced, scenario-based, virtual learning experience that uniquely combines interactivity, gamification, and edutainment to engage learners and build solid people management and team leadership skills. Let's go behind the scenes to see how PMQ came to be.
The Producers: SHRM And SweetRush
The Society for Human Resource Management, a professional association focused on advancing HR practices and maximizing human potential, wanted to help new people managers overcome the challenges they faced. And with over 300,000 members in 165 countries, they knew the opportunity to make a positive impact was significant.
SHRM wanted a best-in-class leadership training program to reach this international audience of new managers in every industry—so it also needed to be virtual. They needed a robust, highly engaging program that would speak authentically to an audience consisting primarily of millennials—and would challenge and test new managers with real-world situations. What they didn't want was a click-through experience leading to a cursory assessment.
The team knew that speaking authentically to the audience was critical, and they needed a way to deliver instructional rigor in a way that resonated. The SweetRush team was excited to collaborate on solving this challenge and creating a new way for people managers to learn.

The Pitch: Raising The Stakes With Scenario-Based Learning
Because effective people management is a combination of skills and behaviors, SHRM wanted to put learners in real-world situations and then assess their ability to practice the appropriate behaviors. The people management situations in the assessments needed to make the learner sweat a little—just as they do in real life.
Real-life situations don't only raise the stakes of an assessment; they also help illustrate material that involves behaviors, emotional intelligence, and responses to complex situations. With 27 performance objectives and 110 behavioral indicators identified by SHRM, the new people management program was a perfect use case for a scenario-based learning solution.
The Premise: 6 Friends Meet In A Coffee Shop
With the team in agreement on the method, they moved on to another interesting question: What if, instead of modules and lessons, the leadership training program was presented as seasons and episodes?
The team knew a lot about how their audience consumed information and entertainment outside of work. Streaming movies and shows consistently topped the list. Why not offer the PMQ leadership training program in a similarly appealing format?
Early brainstorming meetings hit on a premise for the series. What if the program followed 6 friends, all new managers, who meet at a coffee shop, share their experiences, and support each other? The team was game to explore the idea, but not everyone was sold.
Could this idea be made new and fresh? The team took to the (virtual) whiteboard to find out.

Casting: Representation Matters In Leadership Training
As character details and backstories began to emerge in virtual whiteboard sessions, the team considered life experiences, work history and industry, personality traits, goals and desires, likes and dislikes, ethnicity, gender identity, sexual orientation, body types, and abilities and disabilities.
Diversity mattered: the team knew that learners would connect more to the content if they saw themselves—and their peers—in the characters. And the characters needed depth; the team wanted the characters to be as cool and eclectic as the millennial learner audience.
Finally, after numerous iterations, the characters began to jump off the page. Details like tattoos, piercings, and creative hair color brought personality and individuality to the cast of characters. It also brought a major change of direction—from photos to illustration.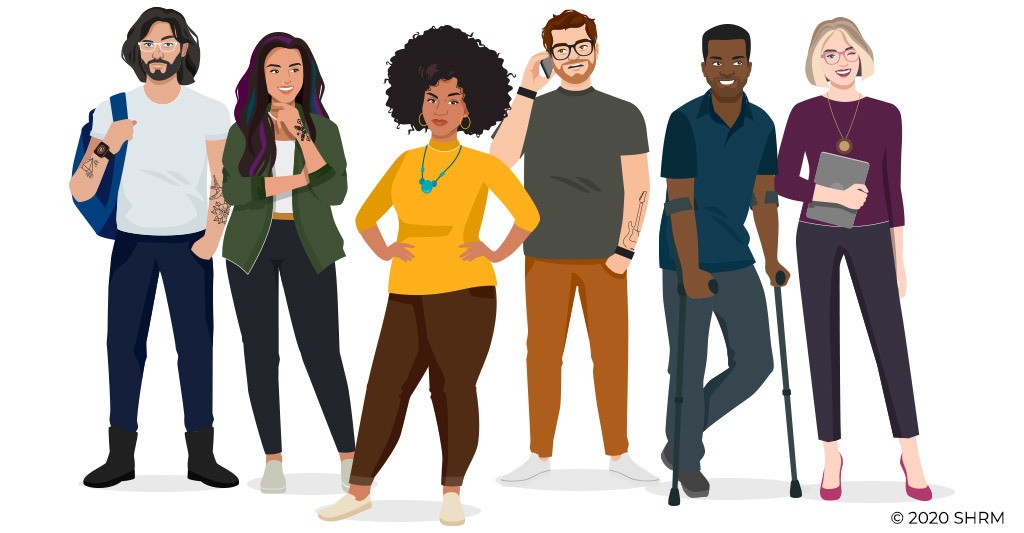 Originally, the team had planned to use photo-based avatars. But they couldn't find enough usable stock photos to cover 10 hours of virtual training. The only way to find imagery for the cast they wanted was to create it. Moving from photos to illustrations also expanded the scope of the project—but hitting the mark with representation was worth the investment.
Voice was another key to bringing the characters to life—and maintaining the authentic tone. The script and dialog needed to be great, but the voiceover actors also needed to make sure that humor landed, and disappointment, confusion, and relief came through.
Of course, the group chemistry—so key to a successful series—also needed to be palpable.
Season 1 Spoilers: Creating Bingeable Content For Leadership Training
Like our most beloved sitcoms, each episode features a story related to one of the core topics in the leadership training program, "starring" one of the friends. Other friends and supporting characters round out the story. The plot of each episode unfolds through a variety of learning activities. Here's how the team made the series binge-worthy.
Episode 1 opens on The Daily Grind, the group's home base. Elle announces her recent promotion, and her friends react to the news. Everything is going great—until Elle's fear of messing up (FOMU) sets in and she starts to worry.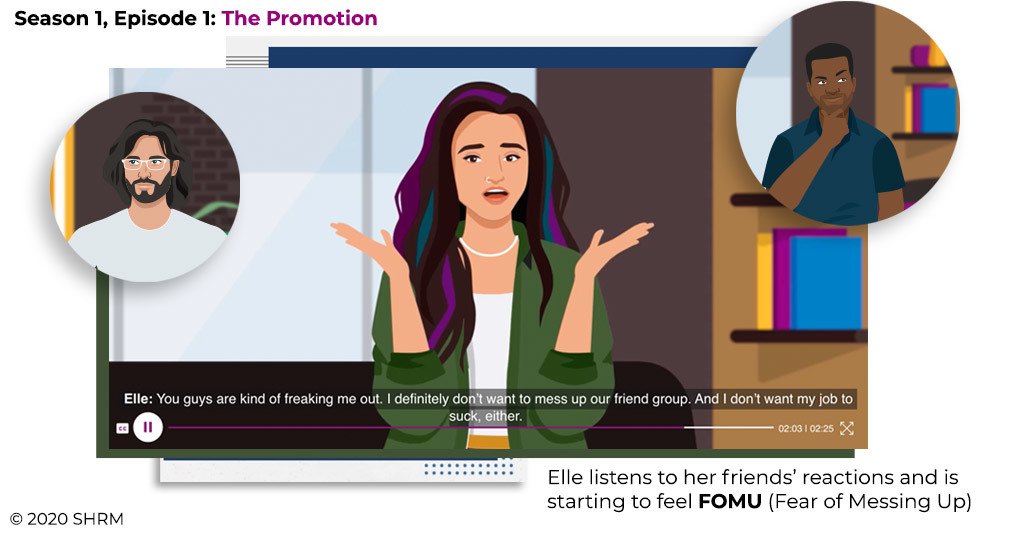 FOMU makes the perfect antagonist: it allows the characters to explore a range of negative outcomes without introducing too much negativity into the plot.

Elle's friend Laney interrupts Elle's FOMU moment with some sage advice about achieving quick and early wins—which just happens to be the performance objective for this episode. The other friends then weigh in.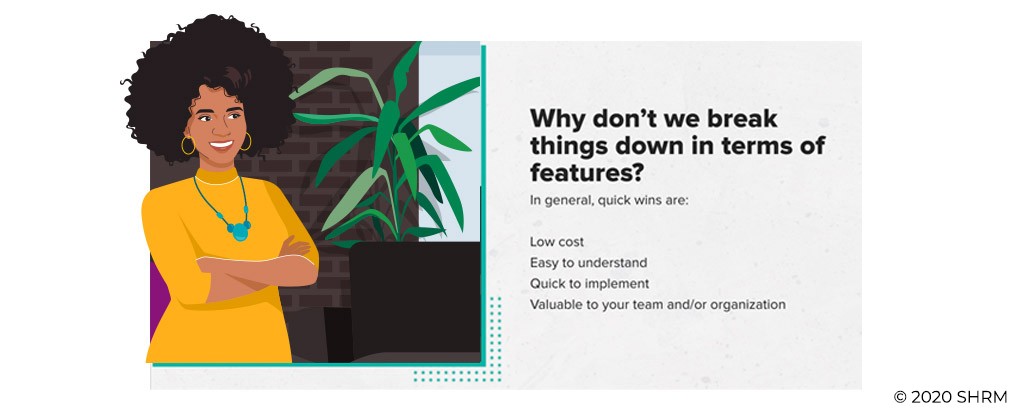 Now it's time for a text-to-self connection (Remember those from English class?) as the learner notes a few opportunities they see for quick wins in their own workplace.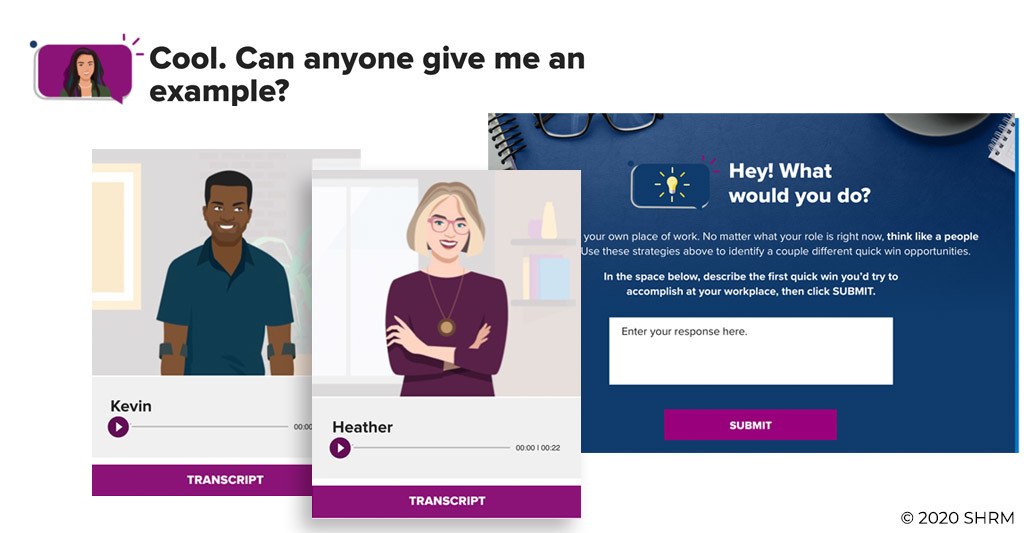 After Elle tries out her quick win, she reviews her team's reactions and morale with the Team Health Meter. In Episode 1, the truth hurts!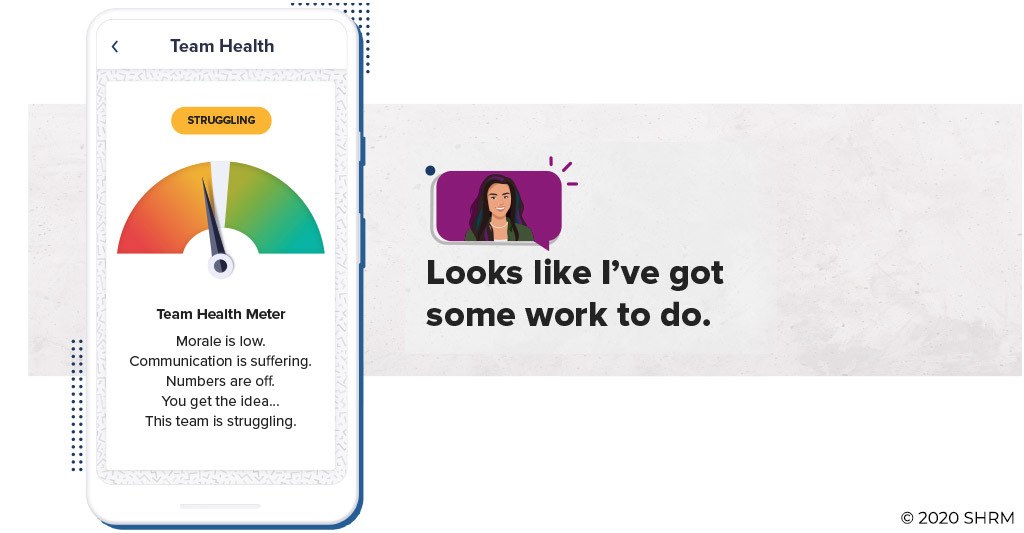 Elle's not alone with her problem, though: her friends wrap up the episode with encouraging words and a summary of key points.
Keeping The Storyline Fresh Without Jumping The Shark

Create Story Arcs That Span Across Courses
Cliffhangers keep us clicking to view the next episode of our latest Netflix series, and PMQ episodes pack the same addictive punch. Episode 1 opens with tension between Elle and Travis, longtime friends and coworkers, after Elle announces that she's been promoted—and is now Travis's supervisor. Later episodes revisit their struggle with this power dynamic at work. Will their friendship survive? You have to keep watching to find out!

Introduce New Supporting Characters And Locations
The 6 friends aren't the only characters. Each episode expands the "world" of PMQ by introducing family members, coworkers, friends of friends, mentors—even a pet parrot and a UPS worker. These extras support the storyline, posing new challenges or advising the main characters—and help increase representation in the program. With all of the care that went into their development, some of our extras might be destined for a spinoff series of their own!

Use Graphic Design Techniques To Add Variety To Your Leadership Training Program
The team balanced the predictable and the variable by defining color palettes for each character and applying that palette to episodes starring that character. Doing so added variety to the look and feel of each episode and served as a reminder of who had the spotlight—while also honoring the theme.
Scenario-Based Assessments: The Learner As Guest Star
The storyline was flowing and the characters were developing. But were the learners learning? With SHRM's brand on this qualification leadership training program, the team needed to be sure that learners had truly mastered the content. And with 27 performance objectives and 110 behavioral indicators, assessment would be no small task.
The team wanted to align the assessments with the episodes—but how? Would the assessment serve as a season finale? Would learners be lost if they moved on to the next season before taking the assessment?
To maintain the narrative thread, the team decided to make each assessment stand alone. In each, the learner walks into the scene as a friend or coworker of one of the main characters. They observe a scenario and must provide advice and suggestions to the character on which actions would create the best outcome.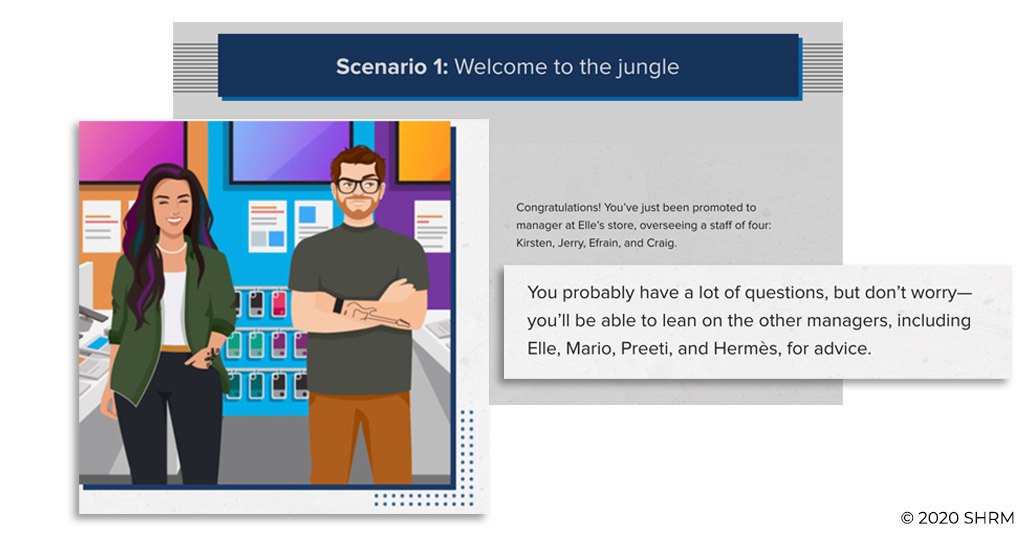 There's even a bit of magical realism: the learner can click on each team member to read their minds. Now that they know what their direct reports are thinking, they have to choose a path forward.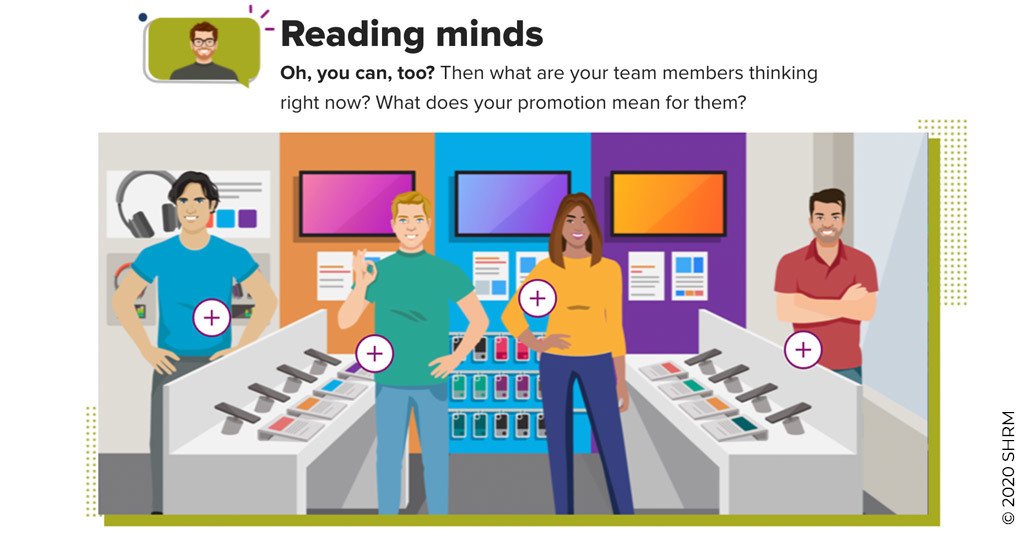 The Team Health Meter makes a comeback in the assessments to measure how well learners are doing in the assessment scenario. The right choices bring the Meter score up; the wrong choices bring it down. After completing the scenarios, learners see their results and receive feedback, so they can revisit the areas they missed and retake the assessment if needed. The best thing about creating binge-worthy content is that no one minds rewatching an old episode.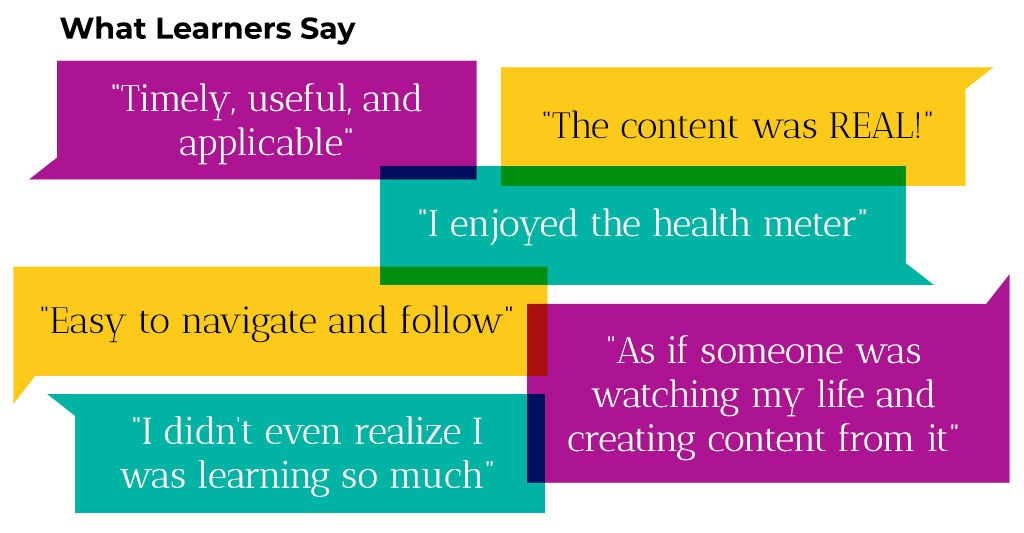 Ready To Script Your Own Scenario-Based Learning Series?
Do you have a learning need that's too complex for a straight "tell"? Whether you're preparing managers for difficult conversations or customer-service representatives for difficult customers, behavioral and interpersonal skills are a natural fit for narrative treatment and scenario-based learning.
If your team is ready to try their hand at a season-long story arc and some in-depth character sketching—based on extensive learner interviews, of course—your learning solution might be ready for the studio treatment.
For more backstory on SHRM's leadership training program—and a peek into PMQ—claim your spot in our virtual audience for our December 8th webinar, Leadership Training Like You've Never Seen: SHRM's PMQ Virtual Learning Program (It's Binge-Worthy!).

In the meantime, check out our eBook, Virtual Training—SweetRush Style: 5 Inspiring Case Studies For A Learner-Centered Approach. Let the stories of five different organizations and their creative solutions inspire and guide you on your way to the writers' room.
References:
[1] SHRM PMQ

SweetRush
Our job is to help you achieve your objectives and be successful. Engage us at any point, from analysis to custom development (including e-learning, mobile, gamification, and ILT) to evaluation.