One Way To Stand Out In The Corporate Training Market (And It's Big!)
So, how can you stand out in the demanding corporate training market? Let's see.
Keeping employees interested in continuing their careers by using training is a way to demonstrate that the company values them. Training is a bridge that can lead to employee satisfaction and a higher retention rate for companies. Did you know that losing an employee can cost the business from 20% to over 200% of that one salary? Ineffective training is another expense faced by businesses - estimated per 1000 employees at over $13 million annually. Train, retain, and save the company money.
What every employer knows is that they want gamification in their corporate training, but they may not be able to articulate why. It sounds good, check. It's a quality benchmark, check. Let's help them out. What every employer wants is the lessons to be applied in the workplace. Employees who disengage during training will not apply the lessons: They learned nothing. Attention spans are getting shorter. Seven seconds is an average. You need to feed that knowledge with quick swift bites and the gamification makes it stick. We call it a lesson, but they think strategy.
The Ladders recently reported that the average employer scans a resume for six seconds. Sounds familiar? Even your LinkedIn profile needs to be sticky.
Add Your Portfolio To Your LinkedIn Profile
The good news is that within your LinkedIn profile, you can add media within two sections: Experience and education. You can add your portfolio.

Don't lead prospective employers away from your LinkedIn profile by taking them to YouTube or another site that will host your examples. It's natural to explore. Whether the hiring agents took a turn at what is showing up in their subscriptions or they decided to search for similar presentations by other trainers, it was a distractor that could cost you a new career.
There are instances of layoffs where you are not allowed to return to your computer. Even if you work remotely, your work computer or laptop can be inaccessible. You cannot even start it. My point is that you should never keep your portfolio at your workplace. Keep it safe. Now share the best.
Create examples that your current or previous employer would not consider under their ownership. There are copyright issues as well as secret sauce issues that apply to every company. You do not want to hurt a company by sharing with the competition how a certain company addresses issues or what issues they may be experiencing.
Design Your Examples
Begin with something easy. Open PowerPoint and plan to create two slides.
For the first slide, begin with the title of the example. For eLearning, insert the interactivity (A handy tip: Interactivities created using tools like Raptivity can be embedded quite easily using their Power Point add-in). Trainers provide a description of the exercise and include diagrams or photographs of the props. You should not include pictures of people that you do not have their written permission to use.
For the second slide, tell the rest of the story:
1. The Intent Of The Lesson.
Describe the challenge, the audience, the budget, and time constraints. Add how you deemed it was successful.
2. How You Built It.
Explain which software was used; include an overview of the steps, which will reveal your skill level.
3. Prove Your Success.
Explain how you measured success. Did you meet the impossible deadline by improvising? The challenging deadline and ability to improvise tells an employer that you are dedicated and resourceful. Do you have a quote from a happy boss or client? Did you have a result that was particularly outstanding? Did you win an award?
You may want to keep the examples separate or group together by type. Show off your talents, but display the range. Training a group, a webinar, eLearning, all require unique and common skills. Audience demographics, too, are a factor.
Once you are satisfied with your presentation, you may want to record and add narration and timings to a slide show. You can also turn your mouse into a laser point.
Save your final version.
Navigate to the File menu to display its options.
Select Save and Send to display its menu options.
Select Create a Video.
View image below: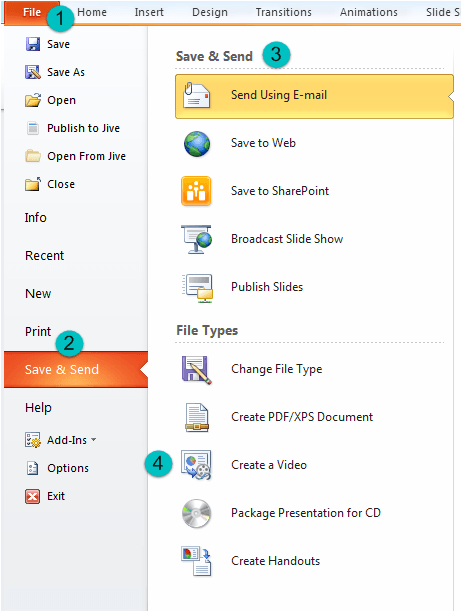 As you grow in your skills, update or improve your examples. Your LinkedIn profile can help you significantly in standing out in the corporate training market because it is not only a way for prospective employers to find and evaluate you; it's a way for like-minded trainers who want to network to interface with you. Keep it up-to-date whether you are happily employed or taking a break, as you never know what the door of opportunity will present.
I wish you much success.