Is It Time For eLearning Project Outsourcing? 4 Tell-Tale Signs To Consider
Whether you're a large company or a small start-up, deciding to control the eLearning content development process can be a challenge. You may even have concerns about sensitive company information falling into the wrong hands, or that you are robbing your eLearning team of the chance to build their skills and experience. These are understandable concerns. However, you may be at a point where the rewards outweigh the risks and it's time for eLearning project outsourcing. Here are 4 tell-tale signs that you're ready to hire an external eLearning professional.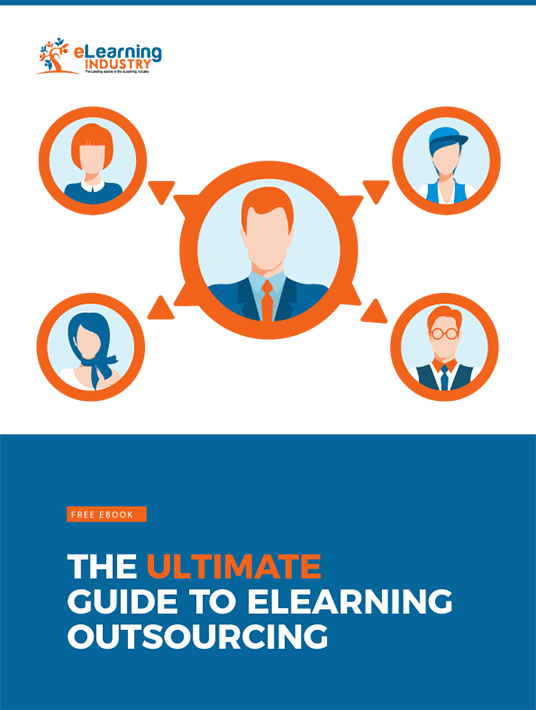 eBook Release
Get a Free PDF Download on eLearning Outsourcing!
It's time to find an eLearning outsourcing content provider who meets all your needs.
1. You Aren't Even Sure Where To Begin
Taking on the task of eLearning content development has many layers of complexity. It requires a great deal of expertise, technical know-how, content creation, and curriculum planning. Your in-house Learning and Development department may be very well-versed in the curriculum planning and eLearning content creation side of things, but lack the essential technical skills. Alternatively, your IT department might be fully capable of designing a technically savvy user interface. However, they struggle to package the eLearning content in a way that would make sense to an online learner.
Forcing your employees to venture out of their comfort zones to handle every aspect of the eLearning course design may be imprudent. It takes away time from their regular workload and causes undue stress. Thus, it may be wiser to consider eLearning project outsourcing. eLearning outsourcing companies have already established an eLearning team to handle the various complexities of designing and creating an eLearning course. All you need to do is work with them on the eLearning content, and then let their experts handle the delivery.
Also, you can ask potential partnering eLearning vendors to provide you with samples of their work in similar fields. This allows you to get a true sense of where to start. For example, the look you want to achieve and which online training activities to include in your eLearning course design, as well as other features you may not have known were available to you. Enlisting the help of an eLearning outsourcing company can give you direction, even if you end up deciding to go ahead with the eLearning content development in house.
2. You're In A Time Crunch
While you may have some very talented employees who could eventually produce high-quality eLearning courses, chances are that these staff members are already doing the job they were hired to do for your company. Additionally, there may be a bit of a learning curve, since new technologies change so quickly. Therefore, eLearning project outsourcing to an eLearning vendor that is organized and efficient leads to faster turnaround times. The key is to agree upon terms in advance. Meet with an eLearning vendor to create a precise schedule with specific requirements based on your expectations. Be clear about what you're trying to achieve and which resources you already have on hand. This includes current eLearning authoring tools and assets you've developed for previous eLearning courses.
3. You're Struggling To Match Expectations With Reality
You have employees who are experts in the field. They know what information you need to include in your eLearning course and have already narrowed down the desired outcomes. However, they may not be experts at using eLearning authoring tools and LMS platforms or deploying the eLearning course from an IT perspective.
A good eLearning vendor will provide you with an expert eLearning team who has the knowledge and experience that you need. This gives you the ability to turn your visions into reality. You can convey your goals, objectives, and outcomes, then let them create a sample before they dive into the eLearning project. Working together in a partnership with open communication should result in an eLearning course that benefits all parties involved.
4. Your Human Resources Are Already Maxed Out
You've spent numerous hours on planning, designing and curating eLearning content for your eLearning course. You've already allocated a significant amount of resources, such as manpower, wages, and research and development time. But the eLearning project isn't progressing as planned, or the finished product falls short of expectations.
The top eLearning vendors are tech-savvy, well-organized eLearning professionals who know how to allocate resources effectively. They specialize in eLearning course design and implementation. If you do not need to reinvent the wheel, then don't. Rely on their expertise to get the job done. Were your employees initially hired based on their ability to develop an eLearning course for your company? If not, then you may not be putting their time and talents to good use. Therefore, why not let them focus on their strengths within the company and let a partner company do the job. Letting everyone do what they do best helps you achieve your objectives and stretch your resources. In fact, you might get an even better eLearning course than if you had done it all completely in house.
Do any of these tell-tale signs resonate with you? If so, then it might be time to consider eLearning project outsourcing. While you may have some concerns, it never hurts to simply do your homework and research a few eLearning content providers. Ask for estimates and schedule interviews to see what they can offer your organization. Have a look at their eLearning portfolios to verify that their skills and talents align with your needs. Also, don't hesitate to ask them questions regarding data security and support services. For example, are they willing to help you update the eLearning course content after the fact? Communicating your expectations now can save you a great deal of time and stress in the long-run.
Want to learn more tips about the benefits of eLearning outsourcing? Download the Free eBook: The Ultimate Guide To eLearning Outsourcing to discover how to ensure a smooth collaboration with your eLearning content provider, how to prepare ahead of time, and how to set a realistic budget for the outsourced eLearning project.