How To Find The Best User-Friendly Mobile Learning Apps For Tech Beginners
Starting a new job can be hard, although orientation eases the process. But what happens when even the onboarding tools are beyond your skill level? It can make life—and work—difficult for everyone. They'll try to train you without patronizing you, and everyone's work will stall until you catch up. As a purchasing manager, you can avoid this inefficient awkwardness by getting the right mobile learning app, to begin with. And yes, it needs offline capabilities. So how do you ensure you've made the right choice? Here are 4 tips to find the most intuitive offline learning apps for your tech newcomers.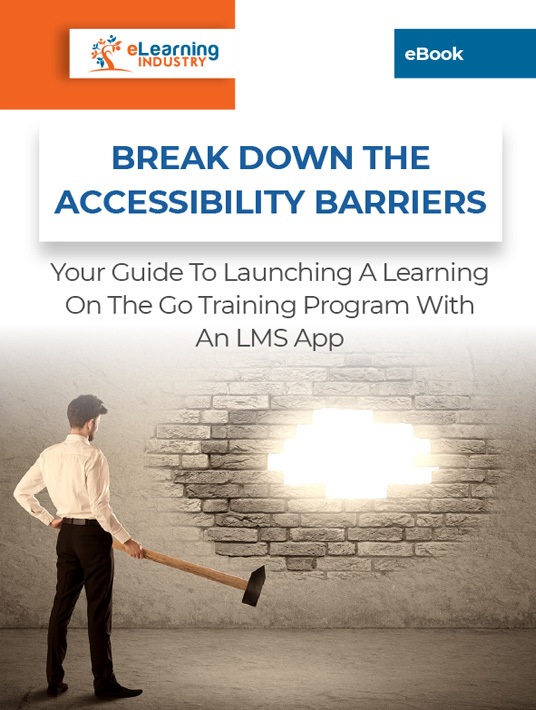 eBook Release
Break Down The Accessibility Barriers
Find out what LMS features and tools are crucial to the success of your mobile-friendly training, and more.
1. Take A Test Drive On Multiple Devices
In the old days, every computer was stuck using Internet Explorer. Over time, it became obsolete. The memes began to abound, and its primary function was downloading other browsers. But in the IT world, when developers build products or websites, they still have to think about IE, or rather, Edge. Because there will always be that one non-tech-savvy client who never upgrades, and your page won't display properly on their machine. Most of us have made the move to mobile now, and options include Android, iOS, Symbian, Windows, and BlackBerry.
Some phone models design their own OS, but they're generally a derivative of the ones above. When you buy the app, your eLearning content provider will probably say what you want to hear. Verify it yourself. Run a test on various phone models to ensure compatibility. And ask the provider if they have a guarantee. You might get back to the office and your head of sales has an obscure phone. Will your provider compensate you just in case it doesn't take? It's worth finding out. You should also ensure it has a built-in responsive previewer so that you can see how it fares on various small screens.
2. Check Your Team's Tech Stats
Mobile apps are generally self-sustaining. Updates are consistent and unprompted. Your phone might let you know there's an upgrade available. It may request your permission to upgrade, or let you know the expected time. It may ask you to leave your phone plugged in, to power the process. And these updates often take place overnight to avoid disrupting phone usage. Beyond that, they don't require maintenance. And if it crashes, glitches, or gets breached, you can call your eLearning content provider's tech support team. Offline apps don't have quite so much support, because they're offline most of the time.
So, your tech team needs the capacity to troubleshoot and resolve issues. They may have to do it remotely if the user is far away and, obviously, unconnected to the Internet. Before you make that purchase, have a chat with your IT department. Let them tell you the pros and cons of the app, and whether they can handle it. If any of your employees can influence your choice, it should be these individuals. Because when things go wrong, you'll ask them to put out the fire. Make sure they're confident that they can.
3. Confirm Its eLearning Feedback Tools
Most apps will send you endless notifications, even when you don't want them. These reminders are marketed as a customer service tool. They're meant to let you know there's new content—whether it's a cross-sell or a private message. Their primary function is user retention. Notifications have you constantly on the app. You keep logging in, and they continue gathering data. The more you use the app, the more they know about you, and the more they can sell you. However, these reminders are largely triggered by a web connection. So, what happens offline?
Your offline learning apps should have the capacity to automatically upgrade. When you are used to being online, you might not remember to manually update things. Automated synchronization saves you the trouble, keeping your online training content current. It should upgrade itself whenever it links to Wi-Fi. And updates should be so seamless the user barely notices. Still, knowing its access to the Internet is rare and limited, ask careful questions about feedback. Does it have USSD communication tools, so you can stay in touch without an Internet connection? That's essential for training.
4. Evaluate Online Reviews
A mobile learning app should have a proven track record. Even new Learning Management Systems have gone through a trial period that has allowed users to test drive the tool. Which means there should be online reviews and ratings to help you make your decision. The most important criteria to consider is UX (User Experience). Look for offline learning apps and mobile LMS solutions that are often touted as being intuitive or having a user-friendly mobile interface. You should also pay close attention to the support ratings. Does the eLearning content provider offer tutorials or one-on-one guidance from a tech expert to lower the learning curve?
Building an app from scratch has its advantages, but it can be taxing, and it takes a long time. So, when you need mobile functionality right away, you could consider pre-built software. In this case, though, you're focusing on a mobile app with offline access. It needs to work just as well when you're not directly linked to Wi-Fi, LAN, or data bundles. How do you define the right pick? Check that it works with multiple phone OSs—or at least—the ones represented in your office. Evaluate your tech team to see whether they have the skills to run it. Finally, review its eLearning feedback tools. Its primary use will be remote, so you want to be sure you can reach your team.
Are you looking for an on-the-go LMS that provides anytime-anywhere support to your entire team? Download the eBook Break Down The Accessibility Barriers: Your Guide To Launching A Learning On-The-Go Training Program With An LMS App to discover secrets to use microlearning and mobile learning apps to improve knowledge retention on-the-go.