How To Improve LMS User Experience For Your Online Learners
Many LMS buyers automatically think of their admins and content developers in regard to the overall LMS User Experience. However, your online learners must also be able to use the tool to access vital online training materials, regardless of their experience level. This involves everything from the navigation controls and learner dashboards to the content delivery method. Let's delve into 8 top tips that can help you improve LMS User Experience for every member of your geographically dispersed team.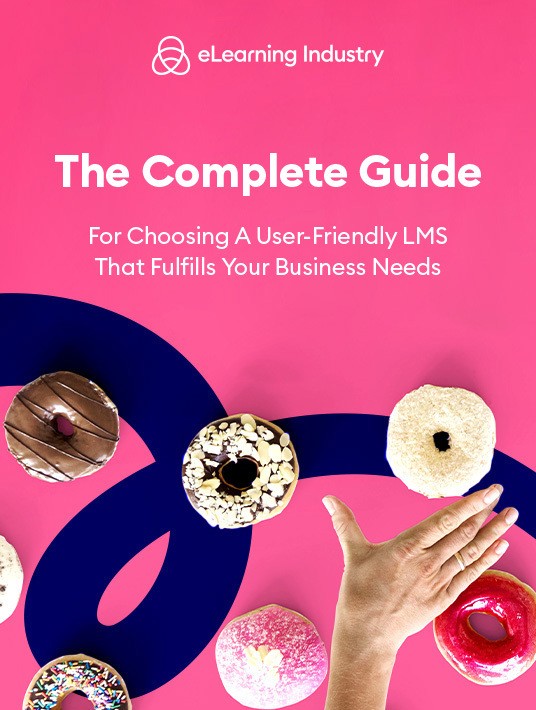 eBook Release
The Complete Guide For Choosing A User-Friendly LMS That Fulfills Your Business Needs
Discover the importance of the Net Promoter Score, how to use LMS user reviews & ratings to find the ideal LMS, the importance of LMS Perceived usefulness and its impact on work performance and L&D ROI.
1. Provide LMS Online Training Tutorials And User Support Resources
Certain members of your team may need additional support to utilize the LMS effectively. Even those who are tech-savvy require online training tutorials and walkthroughs to refresh their memory. Especially if they've never used the LMS before or aren't familiar with the information architecture. Provide them with ongoing support resources that show them how to navigate the platform and access the online training content. You might even consider more rudimentary walkthroughs for those who are new to online training. For instance, bite-sized online video demos that highlight the login process.
2. Test Their Tech Familiarity
Your employees probably hail from different backgrounds and cultures. Their tech experience spans the entire spectrum. For this reason, you need to test their familiarity with learning technologies, not just the Learning Management System. Doing so allows you to create distinct user profiles so that you can customize the LMS User Experience for each subset of online learners without making anyone feel excluded or singled-out. As an example, employees who have never used an LMS may require basic controls and functions. Like a simplified dashboard that helps them wade into the eLearning waters until they gain more experience. Then they can move on to more advanced or interactive online training resources and activities that take them out of their tech comfort zone.
3. Incorporate Your Branding Elements
Branding is a prerequisite if you are looking to improve LMS User Experience. Not only does it provide a cohesive and well-organized UX but also allows employees to take pride in ownership. Their company has gone the extra mile to incorporate branding and improve the aesthetics. You can also brand the LMS by department or user group to make it even more personalized. For instance, customer service employees get their own version of the platform that showcases all relevant online training resources in a centralized dashboard.
4. Gamify The LMS Experience
Gamification is a great way to tie the LMS User Experience together with a common theme and improve employee motivation. Online learners have the opportunity to do several online training activities (e.g. unlock content, earn badges or move onto the next level etc.), which might motivate them to do their best and will improve LMS User Experience. It also connects all online training activities, modules, and courses through a gamified LMS infrastructure. For example, the entire LMS User Experience can be transformed into a retro game show, complete with lightning quiz rounds of a point-based reward system.
5. De-Clutter The Navigation Controls
Employees simply don't have time to deal with confusing navigation controls that create accessibility roadblocks. It's wise to de-clutter your layout and use familiar icons and metaphors so that online learners can quickly get the information they need. Check for broken links and buttons that lack clear labels. Learners should know exactly how to access relevant materials without having to sift through countless pages of online training content. For this reason, you might consider an LMS with a built-in search function.
6. Make The Most Of User/Group Profiles
Role assignments are often used for administrative LMS tasks, such as granting certain permissions to department heads or managers so that they can access their subordinates' reports. However, you can also use this feature to improve LMS User Experience for online learners. Divide your corporate learners into groups based on their job duties, departments, or positions. Then assign separate learning paths or recommendations to each subset. Every employee is able to improve their performance and productivity by focusing on their own gaps and objectives instead of having to peruse the entire course catalog to search for online training resources that pertain to their job description.
7. Ensure The System Is Multiplatform-Friendly
Staff all across the globe should be able to enjoy the same LMS User Experience, no matter what device or browser they prefer. A multiplatform-friendly system allows you to deploy responsive online training that accommodates everyone's needs, instead of creating navigation problems for mobile learners who want to benefit from moment of need support tools. An LMS that gives users the option to download online training content for offline viewing is another LMS User Experience tip.
8. Test With Online Learners, Collect Feedback And Ask For Recommendations
Employees are in a unique position to tell you what works about the current system and what's lacking. It is best to conduct LMS usability tests and gather their feedback and determine what a favorable LMS User Experience means for them. This is primarily based on their backgrounds, preferences and experience levels. You can also ask for recommendations regarding platforms they've used in the past and how they felt about the UX. Their input gives you a good indication of what they're looking for in a tool and how to personalize the LMS experience.
Your online learners already have a lot on their plate. Between balancing their work obligations and personal lives, the last thing they need is an LMS that makes online training more stressful. Thus, you need to choose a system that offers the best LMS User Experience so that every member of your staff stays fully engaged instead of dreading the next online course due to an overly complicated UI or challenging navigation controls.
Does your current LMS pass the test, or is it time to look for a new system that can deliver a better User Experience? Download our free eBook The Complete Guide For Choosing A User-Friendly LMS That Fulfills Your Business Needs to choose a user-friendly LMS that fulfills your business needs. It also features tips to user ratings and reviews to find the ideal system, in addition to insider secrets to invest in an LMS that offers the best LMS User Experience.