How To Market Your eLearning Expertise
It is one thing to be an expert in your field, but it's an entirely different challenge getting clients to pick you among other potential candidates. There are a lot of eLearning professionals vying for the job. As such, you may need to get creative to reach your target audience and land your dream eLearning projects. Here are 7 helpful and actionable tips to get the word out about your eLearning expertise.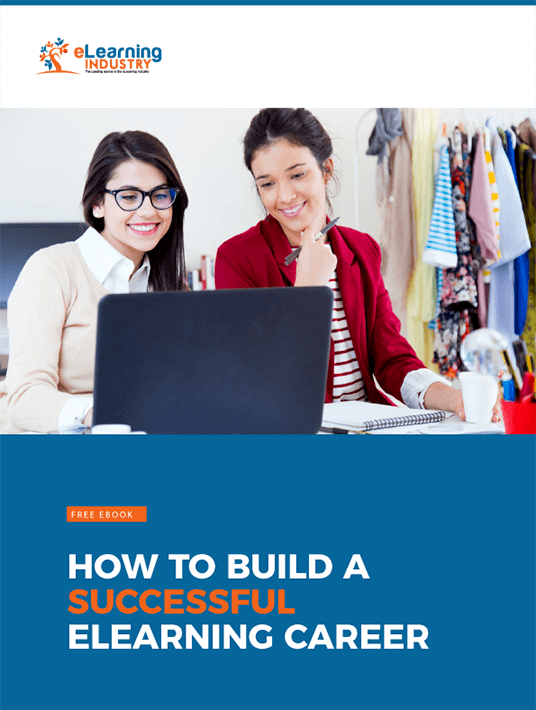 eBook Release
Get a PDF Download on How To Build A Successful eLearning Career!
It's time to find all the answers you seek about how to build a successful eLearning career.
1. Find Your Fellow Enthusiasts
The best source of clients are people who are already interested in the field. Do your research and find online discussions, clubs, and organizations that revolve around your area of expertise. Some of them might already know a lot about the field. But if you have already identified your eLearning career niche, then you might just have something new to offer them. Promote your services to these groups. Ask online discussion moderators if you can post a digital flyer or ask them to point people to your site or eLearning portfolio when they inquire. Do not spam these groups with unsolicited mail or friend requests. Instead, take a business approach and work together with them to build a lasting relationship.
2. Create A Website
It might sound simple, but a lot of eLearning professionals forget about this step. The professional blurb along with the skill and experiential overview just is not enough. If you want to distinguish yourself and really market your eLearning expertise, then you need a professional website. This site should have detailed information about your credentials, as well as a list of eLearning courses that you are currently developing. Place the link to this site in your email signature and on any professional jobs boards that you are a member of to boost your professional image.
3. Add Digital Incentives
Some clients may need a little nudge to contact you for their upcoming eLearning projects. Adding digital incentives and promoting them gives clients just one more reason to enlist your aid. For example, offer a special discount for new eLearning projects, or a referral bonus for clients who spread the word about your unique offerings.
4. Don't Underestimate Word Of Mouth
Sure, online reviews have gotten a lot of credit for decision making in recent years. But word of mouth can often be just as impactful, especially where eLearning services are concerned. Clients tend to share recommendations about contractors or vendors they've used in the past. Especially if the experience was a favorable one. They may even have regular conversations with other companies or organizations who don't realize they need your services. That is, until they learn about the top-notch eLearning course you just created for their colleague. These conversations are great ways to get new clients to give you a try. At the end of each eLearning project, encourage satisfied clients to add a brief blurb to your social media page. You may even want to create a special referral link or digital flyer they can keep handy to refer your site in just a few clicks.
5. Get Positive Reviews And Promote Them
This is a lot like a letter of recommendation. If someone really seemed to enjoy your working relationship, ask them for a short written review that you can share. It is always best to get the person's approval to publish the review first. Another way you can do this is by conducting surveys at the end of the eLearning project. If someone leaves a particularly glowing review, ask them if you can use it to promote your eLearning services. Then, place these reviews on your website or promotional information. Having a "Former Clients Say" or "Reviews" section can help increase confidence in your eLearning brand. Make sure these reviews are specific, since vague or overly enthusiastic reviews may seem fabricated.
6. Utilize Social Media
I touched on social media briefly, but it deserves its own section. Social media is an excellent and often free way to attract clients to your website or eLearning portfolio. One popular way of gaining clients is through platforms like Twitter and Facebook. Updating these feeds with useful and thought-provoking content in your eLearning field will show potential clients that you know what you are talking about. Well-maintained feeds can pique people's interest and give them an incentive to check out your current eLearning course. Then they can see your work in action and be tempted to hire you for their eLearning project. Be sure to pin a tweet or post about your current eLearning projects and a "more information" link to the top of each feed. This gives prospect clients the easiest route to contact you.
7. Circle Back
If you have had successful eLearning projects in the past, then you probably have a list of happy clients. These are the perfect people to promote your eLearning services to, by giving them a "repeat customer" discount. If your former clients have agreed to receive future emails from you, send them a nice digital flyer advertising your new-found eLearning expertise. For example, you just attended an eLearning tech workshop and have brought new skills and certificates back with you.
Marketing your eLearning expertise is an important factor in making sure you develop a successful and fulfilling eLearning career in the field. Carefully cultivate your marketing approach and don't be afraid to incorporate new platforms and approaches to attract clients. The most important thing to have is solid sample eLearning courses to back up your advertising. If you have the best eLearning content, then the marketing will flow easily and site visitors will convert into new clients.
Wouldn't it be great if there was a guide that explores the ins and outs of eLearning career success? Download our eBook on How To Build A Successful eLearning Career to learn everything you need to know about embarking on the exciting and rewarding eLearning career path.