Who Are Your Learners? Training Needs Assessment Tips To Define The Learning Audience
This article is part of a series focused on the Seven Elements of Needs Analysis. The Elements are: Curriculum Mapping, Know/Do/Believe, Defining the Audience, Designing a Learning Brand, Defining the Return on Investment, Building the Team, and Scoping the Project. Download the eBook for more training needs assessment tips.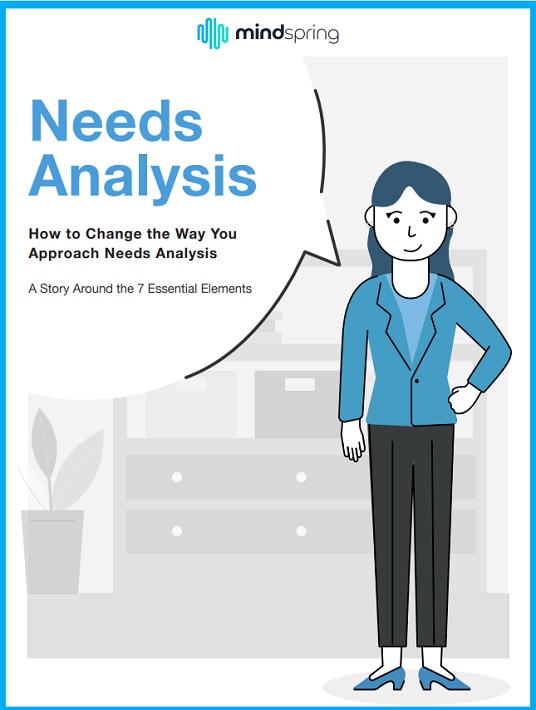 eBook Release
How To Change The Way You Approach Needs Analysis: A Story Around The 7 Essential Elements
How does the fictional company AshCom adapt to change and devise innovative L&D solutions? Discover the seven crucial components of successful needs analysis.
What you are about to read is a fable. The company, AshCom, is fictional, but the learning challenges faced by Kathryn, AshCom's CLO, and her team are real and commonly shared by learning teams in corporations, non-profits, associations, and education.  It is our hope that you will be able to connect with the characters, their challenges, and the solutions they discover.  Building and following a needs analysis system is vital to the success of the learning opportunities we create.

Training Needs Assessment: Let's Play Ball!
Winters could be harsh in Minnesota, and spring was a welcomed season there. For Kathryn, the spring season also marked the beginning of a different kind of season: softball. Kathryn and her husband, Bill, spent the weekend at a tournament for their daughter Olivia in St. Cloud, about an hour away from their home in Minneapolis. Olivia was a junior in high school and as serious about sports as Kathryn had been when she played softball and volleyball in Upstate New York just outside of Syracuse.
As the Chief Learning Officer at AshCom, Kathryn was responsible for the learning, training, and development for 4,500 people. The recent acquisition of Globex meant responsibility for an additional 2,500 people. The weight of the responsibility could be an uninvited mental guest during the weekends.
Kathryn was dedicated to being present and in the moment at Olivia's games. Sitting in the stands, she looked at the skies. The weather during the month of May in Minnesota could be just about anything. Sometimes, the players wore layers of clothes under their uniforms while parents cocooned inside goose down parkas to keep out the cold. But this weekend's weather was the sort that brought joy to almost everyone: seventy degrees and sunny with a light breeze. Perfect softball weather.
As Kathryn and Bill watched Olivia, Kathryn thought back to her high school days. Like Olivia, she played shortstop. The game had changed significantly in the 30 years since she played. The equipment was the same, although some safety features had been added to protect the players. The most noticeable change is where infielders play, called an infield shift.
Weighing The Odds
Back when Kathryn played, she fielded in the same exact spot between second and third base for every hitter during every defensive inning. She was playing the odds generically and could cover equal ground to her left or her right. Kathryn was so used to this that no matter where she played, she started each game by digging her cleats into the clay so she would always return to the same spot between second and third base.
Positioning was very different for Olivia. Sometimes, she played in the same location as the traditional shortstop. Sometimes she played in the outfield. Occasionally, she positioned herself between first and second base.
The Importance Of A Solid Strategy
Kathryn smiled as she thought about the strategy that went into where Olivia played for different batters. Each batter had a tendency – a place where she normally hit the ball. Some batters were equally likely to hit in any part of the field. Others tended to pull the ball so that right-handed hitters hit to left field and left-handed hitters hit primarily to right field.
The key to the infield shift is knowing the tendency of every batter. When Kathryn played, she and her fellow athletes knew if the opposing team had a winning or losing record. But she didn't study individual tendencies or even recognize any of the names on the backs of the opponents' jerseys.
Olivia and her coaches certainly did. Olivia, like Kathryn, was born with a mind for strategy, and she spent time learning what she could about every batter. Did they pull the ball?  Bunt a lot? Could they hit to the opposite field? As each batter came to the plate, Olivia adjusted her fielding location. Kathryn was impressed.
Although present and in the moment, Kathryn's challenge at AshCom was always playing in the back of her mind. Her learning team was in the middle of an unplanned for, and somewhat chaotic, situation. They needed to greatly increase the amount of digital learning assets while, at the same time, figure out how to bring Globex's 2,500 team members into their learning culture and systems with which they were not familiar.
Training Needs Assessment Is The Key To Personalization
Suddenly, something occurred to Kathryn. She was right back in high school, positioning herself in the same spot between second and third base, playing the odds that she would be in the correct position when the batter made contact with the ball.
What if she had the kind of information on her learners that her daughter Olivia had on each individual batter and could adjust to what each learner needed? What if, like playing defense in a modern softball game, learning could be personalized to the needs of each learner?
At first, she dismissed the notion. How could she possibly know the specific learning needs of each of the 4,500 AshCom learners, to say nothing of the additional 2,500 learners from Globex who were about to be her responsibility? But the idea, like good ideas tend to do, would not relent. She rolled it around in her head all weekend.
Back in the office on Monday morning, Kathryn texted Maggie and asked her to stop by in the afternoon for a lengthy conversation. Maggie knew more about the history of AshCom than anyone else on Kathryn's team; Maggie was the first person solely dedicated to learning. She graduated with a focus in Human Relations--longer ago than she cared to admit--and later added a masters in instructional design.  She had been with AshCom for nearly 20 years, growing into her role as Senior Instructional Designer. When she started, she was involved in the hiring of every new person added to the AshCom team. As the company grew, that became more difficult, and eventually impossible, as plants were added in other states. But if there was someone with deep institutional knowledge, thought Kathryn, Maggie would be that person.
When Maggie arrived, she and Kathryn talked about the progress being made by the learning team on Curriculum Mapping. The entire team had been brought up to speed on the conversation between Kathryn and Michael, the learning team's strategist, that focused on the learning objectives buckets of Knowing, Doing, and Believing. The two women spent a few minutes discussing how helpful this paradigm was to their team.
Diving Into The Learner Data
Kathryn, typical of her direct style, steered the conversation where she needed it to go. "Maggie, I've asked for an hour because I want to know who our learners are. I'm not sure that we have spent enough time thinking about our individual learners at AshCom. And now the Globex acquisition means that there will be 2,500 new people in our system. I can see the path we've laid out from the Curriculum Mapping exercise. The Know/Do/Believe buckets help us clarify what learning is needed. But I'm not convinced we have a clear understanding of the people we are going to train and develop."
Kathryn continued, "Maggie, no one on our team knows this organization and its people better than you, and that is why I've asked you to think through this with me." Kathryn then walked through what occurred to her while she watched her daughter's high school softball team as they adjusted to the tendencies of every batter.
Maggie listened carefully. Her first thought was, "How can we possibly do that with 6,000 people?" She kept her doubts in check. Kathryn was passionate about the topic and needed to complete her thought. Maggie remembered Kathryn's methodical nature.
When Kathryn finished, she asked, "What do you think?"
Maggie respected Kathryn and did not want to blurt out her first thought. Instead, she said, "Wouldn't it be wonderful to know that kind of information about every person at AshCom!" There was enthusiasm in Maggie's voice, but a hint of sarcasm slipped out.
"Look," said Kathryn, "I realize the challenge of gathering that level of data. But how close could we get? If we created groups and spent time with a sample of each group, wouldn't we be able to get more granular?"
A Group-Based Strategy
Maggie relaxed a little and said, "Of course. We have some of that information. We know we can group our people by roles and responsibilities. Those structures already exist. We might not be able to get down to the level of a single individual, but we would have a sense of the needs of our learners in the different groups. We could even create categories within those roles for age, experience, and length of time with AshCom."
"That's a good place to begin," said Kathryn. "Maybe we could do some surveying about the styles of learning that each grouping prefers. We should also dig into their preferred learning styles. It would be interesting to know how many prefer mobile learning versus how many enjoy a classroom setting. A survey would give us some insight into that. But I would still want to talk to some individuals in each grouping. You should too. We all should. We need to do the same with the new people coming from Globex. It might be a good way to get to know some of them too."
Which Metrics To Gather?
Kathryn and Maggie spent the remainder of their hour writing what they would like to know about each learner. They knew some would be easier to attain, like role, age, education, experience. Some things more difficult might be preferred learning style or even general attitude toward learning.
After 20 minutes, the whiteboard had a healthy number of words, concepts, and questions. They agreed they needed more time to connect what was on the whiteboard to their developing Curriculum Map and the buckets of Know, Do, Believe. It was becoming a needs analysis system, and that made their time together worth the effort.
As Maggie stared at the words, a thought came to her. She took the red marker and wrote at the top of the whiteboard, "What do learners need to make them more successful?" Kathryn got it immediately.
If they were going to answer that question, they needed a lot more information about the learners, and they were prepared to put in the work necessary to answer it to the best of their ability.
Conclusion
To read the rest of the chapters in this series on Needs Analysis and to see Kathryn and her team take on the other Essentials, please download the eBook How To Change The Way You Approach Needs Analysis: A Story Around The 7 Essential Elements. You can also join the webinar to nail your training needs analysis and develop a culture of continuous improvement.

MindSpring
MindSpring is an award-winning agency focused on delivering engaging and transformative digital content. We create digital experiences using exceptional creativity, the best of learning science, and innovative technology. (Previously Inno-Versity)