How To Boost Customer Loyalty With Employee Onboarding Software
We've all heard those dreaded words: 'I want to speak to the manager!'. They're usually uttered by an angry customer who feels slighted. They think the employee lacks the authority or skill to handle them. So, they ask to speak to that person's boss. In many cases, the manager will reflect on the position of their subordinates. But they'll say it with authority and charm to appease the customer in question. How can orientation programs prevent fresh employees from feeling demoralized while keeping customers loyal? Here are 5 ways that employee onboarding software boosts customer satisfaction scores and brings in repeat business.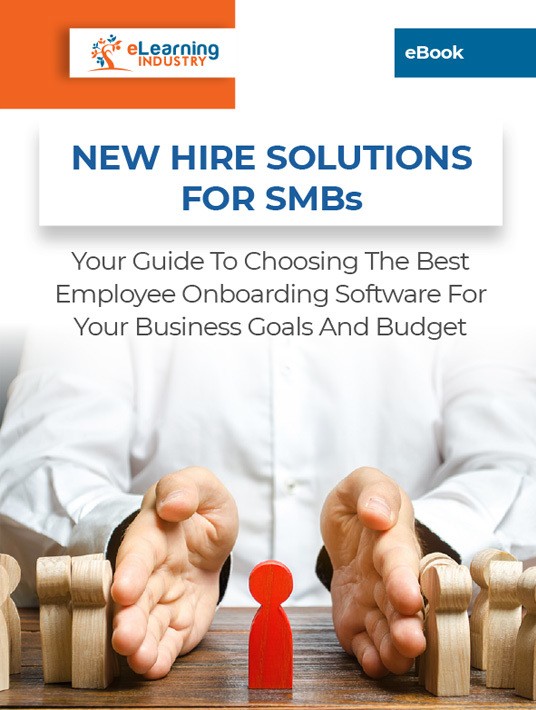 eBook Release
New Hire Solutions For SMBs
Discover the essential steps to implement a successful employee onboarding program for your diverse workforce.
1. Prepare Your Team To Handle Any Eventuality
The first day of work can feel intimidating and disorienting. It doesn't matter how old employees are, or how much experience they have, everybody feels those jitters in varying degrees. This is a new situation with unknown people and scenarios they haven't been exposed to. They have no idea what's coming. It's even more stressful when they're directly dealing with unhappy customers. Interactions are rarely cordial; they only come to you when they have a problem. As a new team member, you have a nagging fear they'll ask a question you don't yet know the answer to. Give them access to the recorded customer care cache and have them listen to calls or watch interactions regularly. They can acquire the type of demeanor and vocabulary that endears them to customers, which is a great way to inculcate brand loyalty. How-to videos and demos are another great way to set the example.
2. Equip Employees With Real-World Experience
As part of your online onboarding policy, get employee training participants to listen to recorded audio from actual service calls. It will help them gauge the kind of complaints customers might have. They can also follow-up with self-reflections. How would they have handled the situation differently? Even in their sophomore year at work, customer care agents should still have access to the call data bank, in case they need a refresher. Another approach is online simulations or scenarios that expose them to realistic customer personas. Repeated exposure to irate customers can help them take the edge off. They also learn the language and posture they need to get it right. Because it's about much more than product/service knowledge. It's about exuding reassurance and competence as you respond to upset customers. It gives them suggestions on how to calmly resolve things without summoning the manager. This keeps customers coming back because they feel properly taken care of.
3. Bridging Customer Service Skill Gaps
Positions like customer service can be challenging to prepare for because you don't know what you don't know. Until someone asks the question and you freeze, you won't be aware of that particular knowledge gap. For customer care agents who operate phone lines or chatbots, access to computer screens and databases aren't the problem. They can quickly call up the information they need while still talking to the customer. For staffers who sit at the face-to-face service desk or those who walk around your premises serving customers, it gets tricky. In their case, mobile JIT resources can be really helpful. They can discretely review an infographic. Or they can plug in an ear-bud and listen to an audio-tutorial even as they smile at the customer. It will do them both a world of good. They can even say they're calling the relevant department. In reality, their 'caller' is a step-by-step guide.
4. Product Knowledge Recaps
Your new employees need to know the products and services inside-out. From how to care for them to how to troubleshoot common issues. Such as what to do when the new device suddenly gives the customer an error code. Product knowledge recaps in the employee training LMS summarize the key features, specs, benefits, and maintenance tips. This may be in the form of an infographic, serious game, or checklist. Employees use the online training tool to quickly refresh their memory before a sales call, or even when a client asks a question that catches them off-guard.
5. Provide JIT Company Policy Refreshers
Many customer service mishaps could've been avoided had the employee simply stuck to company policy. The policies are there for a reason. To ensure that employees fall in-line with your brand image and that they benefit from the wisdom of the rule-makers. After all, the polices wouldn't have been in place unless they were tried and tested. You can increase customer loyalty by uploading refresher resources to your employee onboarding software that centers on rules, regulations, and processes. Such as how to properly handle a customer complaint or process a return.
Loyal customers are the backbone of any business. They provide revenue and free marketing by talking you up to their family and friends. Returning customers can also be a cash-flow indicator, especially if their patronage is scheduled (e.g., weekly, monthly, daily). So how exactly does employee onboarding software help with this? It gives your new hires exposure in dealing with a wide range of customer scenarios. All calls are recorded, so employee training participants can review calls at will, and should do so every day. This offers contextual guidance on the types of problems customers might present while interacting with angry customers from the 'safe' distance of an online simulation or scenario that can help build experience. They get used to the pressure and emotional intensity. It also helps your employee training participants identify gaps in their knowledge base and soft-skill set. They can work on both, which keeps the customer happy and brings them back, time, and again.
Learn the most common onboarding errors that may cost you your top talent, and tips to avoid this. Download the eBook New Hire Solutions For SMBs: Your Guide To Choosing The Best Employee Onboarding Software For Your Business Goals And Budget to check on the onboarding best practices when using a new employee training LMS, and much more.