How To Evaluate The LMS User Interface During An LMS Demo Or Trial
Free trials are essential before you invest in a new LMS. These LMS Free Trials are a great way to determine if the LMS suits your needs and offer a significant ROI. Having a well-planned evaluation saves you time in the selection process so that you can determine which solution offers the best UX. One of the crucial components of the overall LMS User Experience is the LMS User Interface. To get the most out of your LMS evaluation, you should know exactly what to look for in the UI design. Here are 7 ways to put your prospective platform to the test during an LMS demo or trial.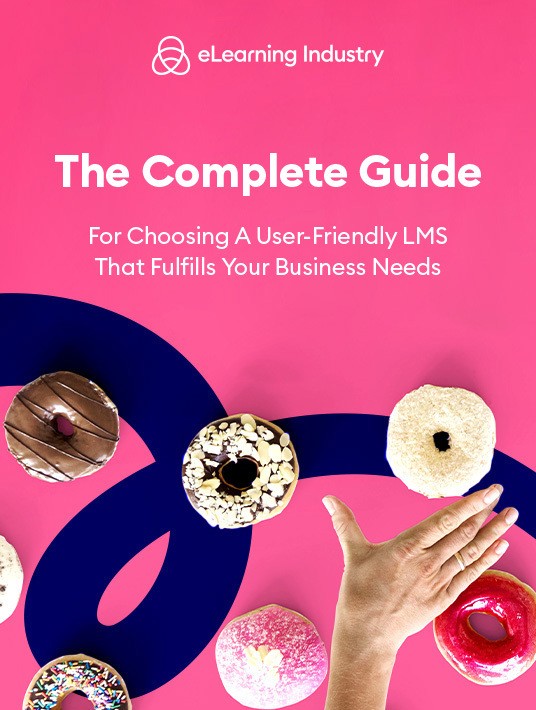 eBook Release
The Complete Guide For Choosing A User-Friendly LMS That Fulfills Your Business Needs
Discover the importance of the Net Promoter Score, how to use LMS user reviews & ratings to find the ideal LMS, the importance of LMS Perceived usefulness and its impact on work performance and L&D ROI.
1. Identify Which Features & Functions Align With Training Objectives And User Needs
For a successful LMS User Interface evaluation, you must know the features that suit your training needs best. What must the LMS you purchase have to warrant ease of use? Take some time to create a list of these essential features and functions. For instance, the capability to deliver online training in different languages improves LMS User Interface (UI). Also, write down what you need to see about these features during the free trial. During the LMS demo, have the vendor walk you through every important functionality that you need to know about. Where necessary, ask for typical user scenarios to enable you to get a good grasp of essential functionalities.
2. Involve Representatives From All Groups
Have a team to debrief you on their expectations about an LMS and give them the chance to test drive the tool. This involves online learners, administrators, and eLearning content developers. Having a team helps you gauge if the LMS User Interface matches the skill sets and experience level of your users. It is important to note that too many people might confuse the process or give conflicting opinions. Therefore, involve a couple of representative users for each group that will be using the Learning Management System. Ideally, you should also invite people who have technical knowledge on how the software operates and fully understand the work processes involved.
3. Use Real Data And Typical User Tasks To Test Ease Of Use For Your Team
Come up with authentic user tasks, use real data and upload online training content and user data. Check if the LMS allows easy integration of data and if it is compatible with other software. It should also be quick and easy to assign user roles.
Testing these factors during the LMS demo allows you to select the LMS that accommodates their specific needs and skill sets. Conduct a mini usability testing session to see if there are any deal-breakers regarding the LMS User Interface. For example, your admins believe that the dashboard is overly complicated and they aren't able to quickly access reports that pertain to business goals or training gaps.
4. Test The Support Services Offered
To test support services, you need to know the level of support that your team requires. As a rule, the less experienced your team is, the more support they require. Some LMS vendors offer support at no extra cost. Others offer basic support like FAQ and charge a fee for advanced support. Which support services resonates with your budget best? Excellent support services improve your LMS UI by enhancing the functionality of the tool. Moreover, they offer your teams the opportunity to perform better in training. For example, if they encounter a navigation glitch or are unable to access certain functions on the dashboard, vendor support is essential.
5. Assess Customization Features
Ask yourself if the LMS supports customization of online training content. Are the color schemes, designs, and fonts easy to modify? Does the LMS allow you to incorporate branding elements and customize dashboards? Answering these questions enables you to evaluate the LMS User Interface before sealing the deal. Also, determine if the LMS supports personalized training. For example, whether the LMS has a usable UI that is easily accessible and allows online learners to choose their own path. Brand integration is another crucial UI customization option to consider.
6. Develop A Sample Project
Sample projects give you the opportunity to see how the LMS UI works in a practical environment. During this project, test out all the LMS features that you deem important. Examine how the LMS handles extreme tasks and then use the reporting capabilities to analyze the results. In doing so, you will be able to determine how the analytics stack up.
7. Consider ALL Levels Of Tech Experience
It's not just your tech-savvy design team who will use the LMS, but online learners who may be less experienced. Thus, it's crucial to consider their needs, as well and invite them to try out the tool. Then solicit their feedback to determine if the platform is, in fact, usable for every member of your team. This can also help you determine if additional LMS resources are required. For example, less experienced staff members may be able to master the tool if there are online training tutorials or guides to show them how.
When evaluating LMS User Interface during an LMS demo, it is important to do typical user tasks and then ask questions and follow up with vendors. Get your team involved in the LMS demo or trial, as they can offer you a more practical perspective of the tool's functionality. Last, but not least, gauge the entire LMS User Experience that the platform has to offer so that you know what you're getting into. That includes usability, accessibility, information architecture etc.
Does your current LMS pass the test, or is it time to look for a new system that can deliver a better User Experience? Download for free The Complete Guide For Choosing A User-Friendly LMS That Fulfills Your Business Needs for tips to choose a usable LMS that fulfills your business goals. It also features insider secrets to find an LMS that delivers the best LMS user experience, as well as key UX terms that every eLearning professional should know before buying their next LMS.