Choosing The Right eLearning Outsourcing Partner
In recent times, organizations have been keen to incorporate eLearning into their training framework considering the plethora of benefits it offers. Since the time eLearning gained traction in the corporate L&D space, this has been a continuous point of discussion—whether to develop it in-house or outsource. Well, Peter Drucker, the famous management consultant, educator, and author, says, "Do what you do best, and outsource the rest." eLearning outsourcing can save your day and relieve you from the hassles of designing and developing courses in-house. Read the article to explore secret tips on what to look for in an ideal eLearning outsourcing partner.
Many questions arise when you are planning for eLearning outsourcing. L&D pros give it a second thought for several reasons. A few common reasons are quality and confidentiality issues, communication barriers, and the notion that it is economical to design and develop courses in-house. Do you also feel the same? Well, read on to put your apprehensions to rest.
What Can You Outsource?
It is not always essential to go for end-to-end outsourcing of eLearning design and development. You can take up the part you are good at in-house, and the tasks that call for specialized skills and expertise can be outsourced. Let's see the different parts of eLearning development you can outsource to your eLearning partner.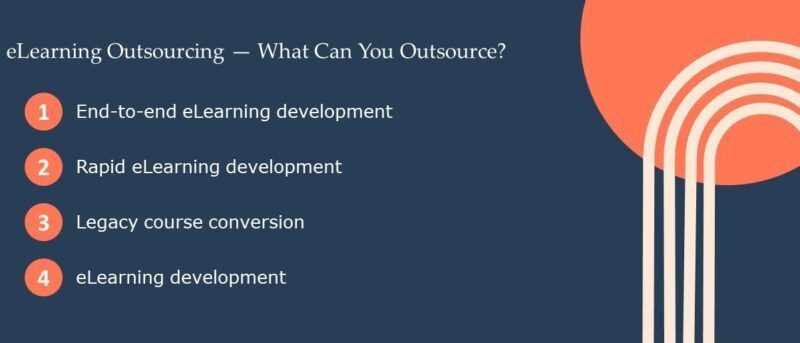 End-To-End eLearning Development
If you are new to the eLearning world or don't have the bandwidth or required expertise, tools, and technologies to develop eLearning courses in-house, you can go for end-to-end outsourcing of eLearning. Here, your eLearning partner will design and develop the courses from scratch using the raw materials that are aligned with the learning outcomes.
Rapid eLearning Development
Have you been into L&D for quite some time now? Then you might have a rich resource library of existing training materials, such as PowerPoint presentations, Word documents, videos, and other classroom training materials. You can pass on the content at hand to your eLearning partner to quickly repurpose them into eLearning courses using the rapid eLearning approach that leverages the power of authoring tools and Instructional Design principles.
Legacy Course Conversion
Are you worried about the legacy eLearning courses at your disposal? Well, you can ask your eLearning partner to revamp them. They would include interesting modern interactivities, convert the eLearning courses into HTML5, and enhance the overall look and feel of the courses. You can now reuse these courses to train your employees. It will save you the time, cost, and effort to design eLearning courses from scratch and help you get started with training in no time.
eLearning Development
If you have an in-house team that is well-versed in the intricacies of Instructional Design and Subject Matter Experts (SMEs) with experience in multiple domains but lack expertise in authoring tools, you can outsource the development part. Your in-house team can design the blueprint of your course and pass it on to the eLearning vendor with all the resources and elements for them to develop the course using authoring tools. Their eLearning development prowess yields high-quality and engaging courses.
In addition to this, you can also outsource consulting on the apt training strategies for your business needs, eLearning translation and localization, multimedia components, and digital assets for performance support.
Now that you are aware of what to outsource, you must be looking for tips to select the eLearning partner who's just right for you. Scroll down to get a refined checklist.
What To Look For In An Ideal eLearning Partner?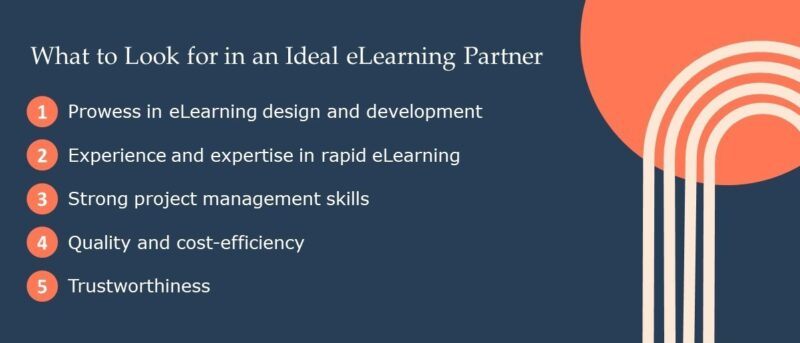 Prowess In eLearning Design And Development
In today's technology-driven world, it is easy to fall for companies that offer eLearning design and development as a part of their multidisciplinary offerings. Make sure you choose a partner who has eLearning design and development as their core strength. Go for recommendations from industry experts. Go through the reports published by eLearning Industry, Training Industry, eLearning Guild, ATD, and Brandon Hall to get an idea of the top eLearning companies in the market. Check the shortlisted companies' websites and read their reports to gauge their expertise in dealing with multiple aspects of eLearning design and development. You should look for a partner who:
Has a good number of years of experience working with companies across industries
Has a good understanding of workplace training
Has a strong foundation in Instructional Design to help you meet your business and learner needs
Has a fair idea about new-age learning trends and technologies and delivers courses that are on par with industry standards
Experience And Expertise In Rapid eLearning
Technological advancements are deciding the course of businesses in this innovation-driven world. Keeping up pace with the latest trends, tools, and technologies is crucial in staying current. This calls for businesses to chalk out Learning and Development strategies that align with their business goals to keep employees well versed with the latest offerings, be it products or services. And eLearning has been a true ally for successful businesses in facilitating continual training for the global workforce with ease. In the fast-evolving business landscape, the need to roll out training programs has increased like never before. Rapid eLearning can save your day!
Make sure your eLearning partner is well acquainted with the approach and has substantial experience in developing rapid eLearning courses. Check for their expertise in Instructional Design and prowess in authoring tools for eLearning courses that are engaging and interactive. They must also be well versed in recent eLearning trends like gamification and microlearning to meet the demands of modern learners.
Strong Project Management Skills
It's important to understand the way of working of your eLearning vendor, as it lays the foundation of a long-term partnership. After all, you are outsourcing your project to ensure seamless and timely delivery of eLearning courses. Ask for a detailed note on their project management processes to avoid confusion and ensure smooth communication. This will ensure efficient management of resources for timely and cost-efficient delivery of eLearning projects.
Look for a partner who accommodates geographical and cultural differences and has an agile and iterative project management process. It is also crucial to check if the vendor has sufficient bandwidth to undertake the project and offers the flexibility to scale up in case of a one-time requirement. It's ideal to have a single point of contact to ensure seamless communication. Well-defined timelines for reviews and status updates in advance can help you plan your schedule and ensure all stakeholders' availability, which is crucial for the timely completion of the project.
Quality And Cost-Efficiency
The quality of eLearning courses plays a pivotal role in driving learner engagement that subsequently leads to the effectiveness of training programs. It is important to choose an eLearning partner who makes sure the quality of courses is not compromised under any circumstances. Ask for sample courses and client testimonials to gauge their quality of work.
One of the basic reasons why businesses outsource their eLearning design and development is to save costs associated with doing it in-house. eLearning outsourcing can relieve you from shelling out money in hiring eLearning design experts, investing in authoring tools, and other resources that are crucial to roll out quality eLearning courses. It is always good to have price transparency. You can ask your eLearning partner for a detailed pricing structure to avoid chaos in the later stages of the project proceeds.
Trustworthiness
Trust is a crucial and indispensable factor when you aim for a long-term partnership with your eLearning partner. After all, you outsource your project as you believe it would be a better bet than doing it in-house. You expect a quick turnaround of quality courses without many hassles. Right? Well, to make this dream come true, you should look for a partner who is organized and follows set processes. You can ask them to share their process guidelines and project schedules in advance to gauge their competency.
Some businesses prefer to keep away from eLearning outsourcing due to confidentiality issues. However, these days, data security is a legal requirement when it comes to eLearning outsourcing. When you outsource eLearning, it is necessary to share relevant data with the eLearning partner to help them understand your business and learner needs. It is therefore essential to have set guidelines and data privacy policies in place to avoid security issues. Make sure you choose an eLearning partner who:
Safeguards all confidential data and sensitive information
Signs a non-disclosure agreement (NDA) to comply with your organizational guidelines
Has awareness of your IP rights and data privacy policies
Parting Thoughts
With L&D becoming an indispensable part of businesses, the need to roll out courses quickly has increased manifold. This calls for a dedicated in-house eLearning design and development team. However, it is not always feasible, as it demands time, cost, talent, and other resources. eLearning outsourcing is a better alternative considering the many benefits it offers. Outsource your eLearning projects to experienced partners and deploy your in-house team on other business priorities that scale up your ROI. Keep in mind the tips shared in this article while choosing your eLearning partner to reap expected business outcomes.
CommLab India Rapid eLearning Solutions
Working with multiple outsourcing vendors can be stressful, and a waste of time & money. With CommLab India Rapid eLearning Solutions, all your online training needs are taken care of, rapidly and economically.