...Βut I Τhought I Was Doing OK!
Continuous feedback is a relatively new practice. It wasn't that long ago that when it came to their job performance, customer service teams were operating more or less in the dark. Once they were onboarded, reps simply went through their day doing the best they could. A representative might not know that they hadn't been meeting objectives until one day, they got a tap on the shoulder—or an email—and were asked to report to the manager's office. Telling your reps after the fact that they have been under-performing at work isn't fair, neither to them nor to your customers. It's important to make sure your reps receive regular feedback, both automated and from a manager, otherwise, you will have underperforming, unhappy employees. This can only lead to a plethora of other problems.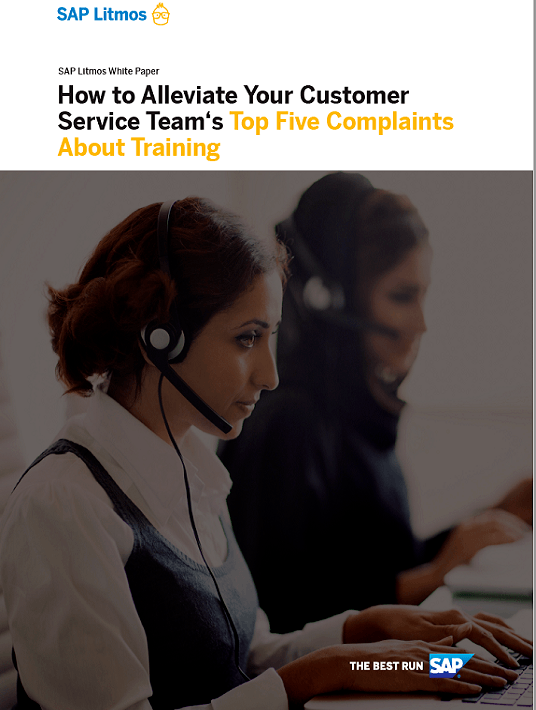 eBook Release
How To Alleviate Your Customer Service Team's Top 5 Complaints About Training
Discover practical solutions to the biggest problems in customer service teams' training.
Providing continuous feedback isn't always easy, especially if you manage a remote customer service team or a team that works in the field. Even if you've got one large team that works in-house, it can be difficult to give every rep the face-to-face coaching they need in order to be successful at work.
That face time is important. According to Gallup's most recent State of the Workplace report, only 6 of 10 employees know exactly what their managers expect of them.
That's where video assessments and online training come in.
The Importance Of Continuous Feedback
Continuous feedback is defined as a mechanism or a process where an employee receives ongoing feedback and is guided in a systematic manner by openly discussing the strengths and weaknesses of the employee. Human capital is an asset to any organization, and this asset should be taken care of. Thus, organizations need a mechanism where the employees are made aware of the things they are doing really well and also the scope of improvement in order to be able to perform their tasks well.
What Is A Video Assessment?
Video assessment is an LMS feature that can be added to a course if a manager wants to literally see how reps are doing activities like explaining a common problem or fixing a product in the field.
Take the example of a customer service representative who works for a cable company. They have just taken a product training on the company's newest router, but they're rarely in the office and can't touch base with their supervisor in person. If their training manager has added a video assessment requirement to the course, however, the rep can take a video of themselves explaining the router, as they would to a non-technical customer. Once they upload the video to the LMS, their manager can determine whether the rep understands the new equipment and is able to clearly explain it.
Used well, video assessments offer the sort of practice and one-on-one coaching that will help all reps offer the best customer service possible, even when they're not in the office.
Dealing With Customer Service Complaints
No matter your business, customer service is one of your products. Most unhappy customers won't let you know they're going to take their business elsewhere. They'll simply leave, according to research. Only about 1 in 26 complain to the company, but that doesn't mean disgruntled customers aren't complaining. They are; 13% percent of unhappy customers complain to others, both in person and online. That kind of bad publicity is hard to overcome. You have to stop it before it starts by providing exceptional customer service. Do that, and you're likely to be rewarded; research shows that 95% of consumers will stay with a company because of a positive customer service experience.
While every employee in your organization is tasked with providing an excellent Customer Experience, no workers shoulder that responsibility more than your customer service team. It's a high-stress job, and just as customer churn can take a toll on your business, so can employee turnover. It's in your best interest to alleviate complaints about training by making it engaging and valuable, and making sure your reps have the tools and support they need to do their jobs well. The eBook The Top 5 Customer Service Complaints About Training will help you achieve just that! Your customer service team supports your customers. It's vital to your business that you support them in turn.