How LearnUpon Makes eCommerce For eLearning Easy 
If you're a training company that's invested in developing great courses, you need an eCommerce platform that works just as hard. Even if your courses are the very best, they won't sell if you can't reach your audience and deliver a great customer experience. A platform with strong eCommerce features frees you to focus on your strengths by taking all of the stress out of sales and marketing. Because LearnUpon's Learning Management System was first developed for training companies, we specialize in making eCommerce for eLearning easy for everyone. It takes less than two minutes to set up an eCommerce store on LearnUpon. And then you're ready to provide a simple and secure shopping experience to customers all over the world. Our eCommerce features are used by 40% of customers. All kinds of training managers and developers use our free promotional tools to boost sales. In 2015 alone, over $2 million in course sales were made through the platform. If you want to sell online courses, choose a platform with these seven features to make the experience a success for you and your customers.
1. Create a beautiful eCommerce store in minutes. 
eLearning experts want to spend most of their time developing and delivering courses. You can't afford to waste time setting up, configuring and maintaining an eCommerce store that's frustrating to manage. Ease of use and effective design are two factors that have a crucial impact on the experience of admins and customers. Research how long it takes to install and configure the eCommerce features of the platforms you're interested in. With LearnUpon, it takes less than two minutes to setup and configure an eCommerce store. Make sure that the store looks and feels good and is consistent with your branding. For that, you'll need to check that the vendor allows you to customize a store with your logo and brand colors. Put the platform to the test. Make sure that adding new products and pages is easy. Otherwise you may end up with costs that aren't budgeted for when you're forced to pay a designer to make changes. Ask exactly how eCommerce features are costed. LearnUpon's are free on all price plans, for example. But many vendors charge a set fee (like 10% of the total cost of a purchase) for each transaction.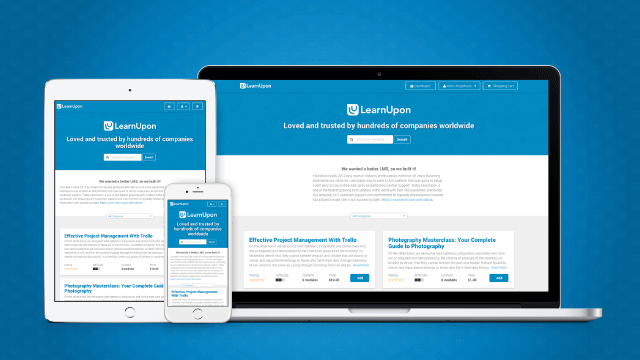 2. Make it easy for customers to pay. 
If you decide to sell courses, you must offer would-be customers user-friendly payment options. These help you to remove potential barriers to a purchase. If a visitor hesitates about a payment method and leaves your website, they're unlikely to return. At LearnUpon, we make it easy to integrate with all of the most popular payment gateways - PayPal, Authorize.Net, and Stripe. These integrations allow you to support the payment methods that are most popular with customers. Integrating with them makes it easy to deliver a secure shopping cart experience. As the world's most popular payment gateway, millions of consumers use PayPal to make online payments. Stripe Connect allows LearnUpon users to integrate their account and provide a fast checkout process without being redirected from their store. And Authorize.net has over 400,000 customers all over the world. Whatever payment method you choose, remember to test the customer journey through the store multiple times.
3. Integrate with the best eCommerce platform.
eCommerce for eLearning is even easier when you integrate with Shopify, a world-leading eCommerce platform. It takes less than two minutes to integrate LearnUpon's LMS with the platform. Then you can publish courses directly to your store. Our Shopify feature also ensures learners are auto-enrolled in a purchased course when they check out. Integration with a best-in-class eCommerce platform like Shopify guarantees you'll deliver the very best shopping experience available.
4. Measure results to boost sales.
Simply selling courses isn't enough. The platform you choose must also provide features that allow you to measure how visitors behave and convert. Connect your LearnUpon store to Google Analytics to get powerful insights about everything from the location and demographics of your audience, to the point you're losing them before they convert. The platform you choose should offer strong reporting features that allow you to use data to understand and improve customer experience and, ultimately, boost sales. LearnUpon provides a range of reports you can export to Excel and PDF easily. Sales reports can be scheduled and automatically sent to the right team members whenever you need them.
5. Make your marketing integrated.
Promotion is often overlooked by course providers. But successful eCommerce relies on smart strategies and tactics. An eCommerce platform that only allows you to sell a course at a set price won't work. The platform you choose should be flexible enough to offer promotional tools like discounts and coupons you can execute strategically. Make sure that the platform you choose supports multiple pricing tiers and shopping cart rules. LearnUpon allows you to create a discount as a fixed amount (e.g. $5) or a percentage (like 10%), to limit the number of times a coupon can be used, and set an expiry date. It's also easy to integrate your LearnUpon store with social media profiles on Twitter, Facebook or LinkedIn, helping you to communicate with potential customers and promote courses. And we offer an SEO feature that helps you to choose keywords, meta tags and descriptions that can increase your Google rankings and drive organic traffic.
6. Create loyal customers.
Your relationship with a customer doesn't have to end at the point of purchase. A good platform will provide features that help you to nurture customer relationships long afterwards. Our customers use many of LearnUpon's course features to maximize course sales, including:
Using course bundles to sell multiple courses at a discounted price.
Encouraging repeat purchases with special offers and discounts included in course completion emails.
Requesting reviews from brand advocates that you can advertise on your store.
Offering part of a course, like the first module, for free in a "try before you buy" approach. This tactic helps to maximize the number of prospects who are exposed to your course content and will ultimately boost purchases of the full course.
Award a course certificate or learning credits like CPDs or CEUs on successful completion of a course. Formal certification increases the value of an offering to interested prospects.
Because retaining customers is less expensive than acquiring new ones, these features can be the secret to successful eCommerce for eLearning.
7. Use affiliate or referral programs.
Affiliate and referral programs are a great way to expand course sales. These programs involve engaging with partner businesses and websites that will promote your courses to visitors and customers. Exposing your courses to the widest possible audience will give you the best opportunity to maximize sales. LearnUpon has some neat affiliate tracking features that allow you to easily identify which partners are sending customers and course sales your way. You can then use this information to calculate a commission rate or referral fee you can afford to offer affiliates and partners. If you're interested in setting up an affiliate program, ask your account manager or a member of our customer support team for more information.
Bonus Point: Don't Forget Support
The ROI of an eCommerce venture demands a sensible investment of time and resources. While there are multiple free platforms available, most course providers reject them when they calculate the impact of hidden costs. Good customer support is essential to the success of eCommerce for eLearning. Otherwise the time you spend trying to resolve problems may prove costly. Test the quality of a vendor's support during your trial period. Research the basics of the service, like the hours when support is covered and the range of communication channels offered. Rather than a cost, see support as an investment in the delivery of a reliable service customers can count on.
Try LearnUpon's eCommerce features for yourself. Sign up for a free 30 day trial.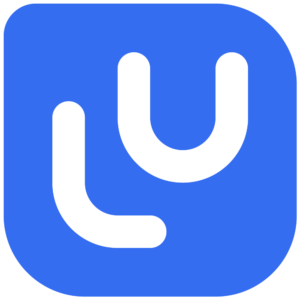 LearnUpon LMS
At LearnUpon LMS we're on a mission to help you unlock the power of learning. Combining our award winning LMS and our industry-leading Customer Experience team, we pride ourselves on being a trusted partner to over 1,300 businesses.