Why Otto Is The Ideal AI Virtual Assistant For Your Organization
Chatbots are the 'coming force' and their use is expanding. But if you're planning to introduce a bot into your organization, how do you judge whether you have the right one to fit your needs?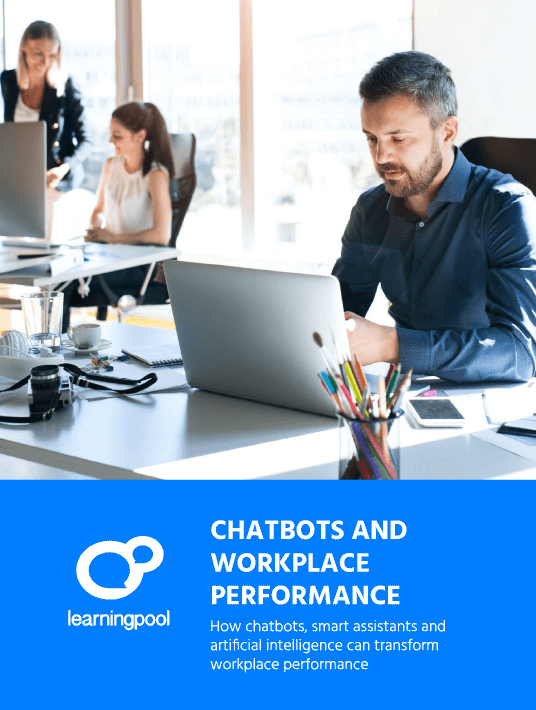 eBook Release
Chatbots And Workplace Performance
Discover how chatbots, combined with Artificial Intelligence and better data tools, can create a more productive and efficient workplace.
At Learning Pool, we have developed an adaptable smart learning assistant called Otto. Here are 7 ways in which we believe having Otto as part of your team can really benefit your organization.
Providing A Knowledge Base
Learning is about acquiring knowledge, but as we've known for a long time it can easily be a forgettable experience. Otto can help you turn learning into knowledge, giving you the basis to execute tasks better. With Otto, you have a fountain of knowledge you can always consult in times of real need: that is when you're actually working.
At Learning Pool, we often talk about 'resources not courses'. Otto makes that distinction a reality: providing the knowledge resource that you can tap into as and when you need it to address specific problems. Using Otto you can create a permanent and expandable knowledge-base from resources that are currently distributed between documents, wikis, Sharepoint and other repositories of information. And as Otto is a smart assistant, you can query it for the precise resource you need—at any time, and potentially anywhere.
Otto Lives In The Workflow
Otto highlights not only the need for access to information but also where that knowledge needs to reside. Too often, learning is inaccessible, the sanctuary of the classroom or the LMS. With Otto, you have the chance to bring that learning directly into the workflow.
Otto is there where you normally work, so you don't have to take time away to find the information you need. It's like having an expert on your team, permanently on call to assist you when and where you need help. Otto provides just-in-time learning, instantly accessible. And as you gain experience, Otto gains experience too by learning from its interaction with learners. Otto becomes part of a virtuous circle of learning support delivering enhanced performance.
Otto Provides The Right Kind Of Learning
With Google and other online resources, we've become accustomed to searching for anything we need and receiving a response (or even thousands of responses) instantaneously. This ease of access to a huge online knowledge base challenges workplace learning to replicate both the speed of delivery and depth of access within an organization.
Introducing Otto into your organization certainly gives you the ability to search for information and receive an instant response, but with a critical difference. The responses Otto delivers are contextualized. They're the right responses for the right circumstances. Otto responds as your organization responds: delivering information that is personalized for your employees and tailored to the needs, processes, and culture of your organization. It's an iterative process. Otto learns, and you learn with it giving you the right sort of learning right when you need it.
Otto Unlocks The LMS
Many of the resources employees need to carry out their work and improve their performance are buried in courses in an LMS. The LMS becomes less of an enabler and more of a barrier to accessing the specific information and necessary support in the here and now. Otto provides the key to unlocking those vital resources and delivering them to the people who need them when they need them.
People often talk about the 'invisible LMS', meaning dismantling the obstacles to accessing information created by the LMS interface and infrastructure. Otto doesn't remove the LMS but instead provides direct and targeted access to the resources it stores. In effect, Otto brings the LMS to the surface and moves learning out of L&D and directly into the working process. It means greater Return On Investment in training resources, as they are re-used in the workflow. The smart assistant also gives learners direct access and control over the information in the LMS.
Otto Integrates Easily
Otto's role is all about enhancing and making better use of the resources you have. This AI Virtual Assistant has 2 very smart features: its ability to store and access learning resources and its facility to adapt and fit into existing systems. Being system-agnostic, Otto can easily be adapted to fit in with your existing systems and process. For example, Otto sits within Slack, Facebook's Workplace, and Microsoft's Teams, and can be easily integrated into other collaborative tools.
With Otto, you don't need to make extensive changes to your systems and processes. There's no need to purchase new software tools. With minimal integration, Otto can easily become a working member of your team. And one that has the potential to develop as your organization develops.
What Otto Can Do For Your Employees
Let's look at some areas of workplace learning where Otto's access to your organization's resources and its ability to learn can make a real difference.
One key area is compliance training where it's vital that employees can check whether they're acting compliantly at all times. Otto gives employees constant access to the vital elements of compliance training on the job, at the point of need. With Otto, employees can learn while they're doing so that what they've learned is applied directly in their daily working lives. And anything they've forgotten is readily available when they need to remember it.
Otto can also help HR with the onboarding process. A new employee can easily be swamped with too much information at one go. An AI-driven Virtual Assistant like Otto can instead guide them through all the processes and information they need at their own pace where and when they need it. Otto can respond instantly to questions on procedures for expenses requests, how to order IT equipment, how to comply with health and safety and so on when they arise. So, the new employee can digest information in bite-sized chunks.
And that assistance doesn't cease when onboarding is over. You can think of Otto as your smart personal assistant, constantly available to answer queries and able to notify you of tasks to be done and suggest further learning when required. Otto can also act as a learning mentor recommending and delivering learning interventions and being always there to support your learning and performance.
Otto Supports The Organization As A Whole
Otto not only responds to the needs of individual employees; it can also act as a diagnostic support tool for the entire organization. Like other AI-driven Virtual Assistants, Otto records and feeds back data based on its interactions with users. When analyzed, this data can show how knowledge and learning are used across organizations. Effectively, Otto points to where gaps are.
Finding out what information your organization lacks or cannot access is a vital piece of learning. Working with a learning chatbot you have the ability not only to uncover the gaps in systems, processes, and resources, but also the means by which to fill them. The resources you require to address the gaps in knowledge can be made permanently accessible via Otto. Otto creates a critical feedback loop not only delivering resources but evaluating their scope and effectiveness too.
The challenge for learning technology is to provide learning that is relevant and accessible. Modern workers need very particular learning at a key moment on the job. Smart technology in the form of an AI Virtual Assistant can embed learning in the workflow and lead to improved performance and efficiency for organizations and individuals alike.
Otto harnesses the power of AI to make learning technology smarter and agiler and support modern learners by giving them what they need when they need it. Learning Pool's learning chatbot Otto is a smart assistant that lives in your organization's workflow and is always there to help people perform better. Why not sign up Otto now?