The Add Strategy App For Kids
For example, if we give three children a stack of cards with numbers zero to nine, and ask them to add to a specific number -- they will each get to the number differently. If we ask them to add to 20 using two addends they will "get there" differently. For example:
First kid will added this way: 18 + 02 = 20
Second kid will added this way: 10 + 10 = 20
Third kid will added this way: 15 + 5 = 20
Children use "Add Strategy" application to practice addition exercises with "Paul Plus", their new math buddy. Their challenge is to add to a specific number, and they get to choose what numbers they place in the values of ones, tens and hundreds of the addends to get a "Goal".At the beginning, kids will choose their level of difficulty from a menu of equations.  First graders can start with one star, second graders may start with two stars, and so on depending on their skills. "Paul Plus," their math buddy, will guide them through this fun math game.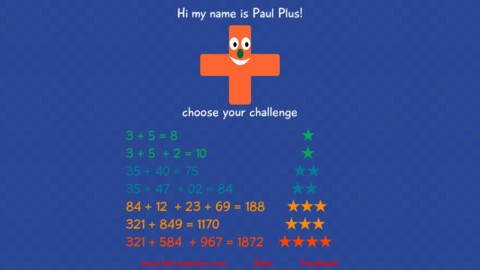 The objective of the game is for kids to add to a number goal. Kids will have a blank equation with either two, three, or four addends to fill out. Number cards from 0 to 9 are randomly given to them one at the time. Kids need to place the cards in the digits of the addends to solve the equation.
Tap the blank space to place the number, then continue to the following numbers until you have completed your work.
You can place a 0 in ones (01), tens (10) and hundreds (100).
You have the option to redo your equation by tapping on the eraser, and you can discard the cards that you do not need by tapping the trash.
Try to solve as many equations as you possibly can in 2 minutes. Strive for your accuracy and learn from your mistakes!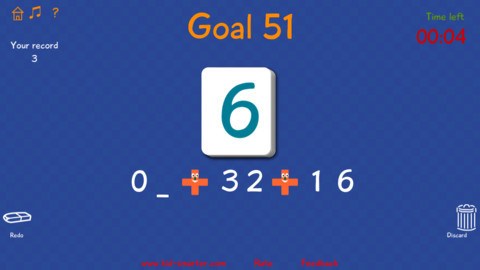 Add Strategy lets children think through the concept addition by playing with numbers. It is designed for ages 7 and up. This app encourages kids to improve their record of equations and seek a new challenge through persistence - math makes sense and kids can apply it in their daily life!  Kids like to reach a goal and do it right! They feel proud of their work when they check their results, if not, they play again to improve them. This is a great positive reinforcement that will lead to mastery of math concepts.
REQUIREMENTS
Compatible with iPhone 3GS, iPhone 4, iPhone 4S, iPhone 5, iPod touch (3rd generation), iPod touch (4th generation), iPod touch (5th generation), and iPad. Requires iOS 4.3 or later. This app is optimized for iPhone 5. KidSmarter has a lite version with a few choices of equations and a complete version for $0.99 ~ See Add Strategy in the App Store
ABOUT KIDSMARTER

KidSmarter develops educational games for iOS and Android devices. The company was founded by Alejandra Peres, a mother of three pre-teens who help her think of new educational applications.
You may also find useful: