7 Employee Development Resources For Sales Training
In simplest terms, the corporate world is all about give-and-take. Your employees get paid to do their job. In return, they lend their talents and help you meet your business goals. But there are a few essential tools they need to uphold their end of the deal. Namely, training resources that impart real-world experience and help them hone their skills, or even troubleshoot task performance and knowledge gaps that put your profit margin at risk. Are these 7 crucial employee development resources missing from your sales training strategy?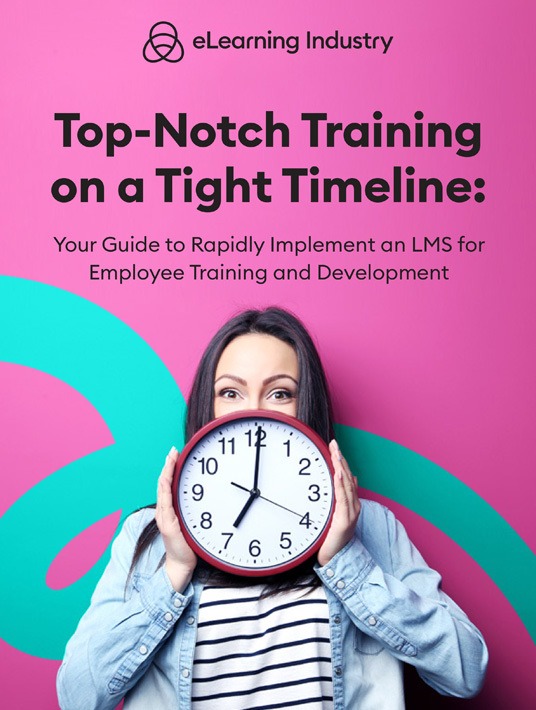 eBook Release
Top-Notch Training On A Tight Timeline: Your Guide To Rapidly Implement An LMS For Employee Training And Development
Don't let a tight timeline hinder your performance management strategy!
1. Sales Pitch Scenarios
Mastering the fine art of the pitch is one of the most challenging aspects of the sales department. You need to know what the customers want and how to sell it to them without seeming too pushy. This is where sales pitch scenarios come into play. They help your employees seal the deal by practicing on virtual consumers. They're exposed to a variety of different personalities, buying behaviors, and pain points, such as that customer who isn't even aware that they need the product to improve their everyday lives.
2. Product Demos
There are two prime reasons why your sales employees need product demos. The first is that they must understand the product's perks and features so that they can find the right buyers. For example, match consumers with the device that will best suit their needs. The second is that they must pass the information along to the customer without misleading them, such as by giving consumers incorrect maintenance tips that end up damaging the item. You can use videos, infographics, or image-based walkthroughs to show them the specs, features, and benefits. Or even create a serious game for your employee training LMS that allows them to pair the product's USPs with the best customer.
3. Live Events Hosted By Top Performers
Invite your top salespeople to host a live event to share their tips, tricks, and techniques. They can even provide personal anecdotes so that coworkers don't feel alone and can learn from their experiences. Just make sure you give them an outline to follow to keep everyone on topic. And don't forget to record the event, then add it to your sales training library for later viewing. Those who missed the real-time session can still follow the top performer's example and hit their monthly targets.
4. Company Policy Infographics
Infographics take summaries to a new level. They include images paired with brief text explainers. You can even include stats that surprise your sales staff. One of the best applications for infographics is company policy know-how. For example, a five-point graphic that maps out your sales department dress code or walks them through how to complete a sales transaction using the POS terminals. You can also use it to tackle more delicate company policies, like how to handle a client bribery scenario politely without losing valuable repeat business.
5. "Customer Excuse" Checklists
Sales employees are bound to deal with customers and clients who know they need a product/service but have their reservations. Every attempt to seal the deal leads to another "excuse" as to why it's not for them. The trick is prepping your sales staff for every roadblock, so they know how to overcome the reluctance. Your employee development strategy should include checklists for the most common customer sticking points. Each list centers on a specific buyer persona and what they might say during the transaction, as well as how the salesperson should respond to each excuse. Of course, your employees should be able to come up with a counter pitch spontaneously or customize the canned response. But the checklists are a great starting point.
6. Pop Quizzes To Gauge The Gaps
Some of your sales employees may know what they need to work on. But others are held back by hidden gaps that hurt your profits. Pop quizzes can help them spot weaknesses and address them immediately. Instead of stumbling through the sale because they are still unsure about your new product line, or directing customers to another employee when it's time to check out because they're uneasy about the process. You can also use serious games and other real-world activities to conduct a more qualitative evaluation and provide feedback.
7. Skill Simulations
Skills are your sales team's most valuable weapon against customer reluctance. Negotiation, persuasion, and communication abilities can help them win over even the most challenging client. But how do you teach them these talents without making them practice on actual consumers? The solution is simulations that test their skills and how well they can apply them in the real world. These interactive tools also allow them to try out different approaches based on the virtual customer's reaction. For instance, learn how to read non-verbal cues so that they can accurately gauge the consumer's interest. They might say that they're not in the market for a new device, but their expression says otherwise. Your trainee just needs to nudge them a bit more and use their persuasion skills to land the sale.
Conclusion
Another key area of concern for your sales team is compliance. Thus, you should also include some bite-sized knowledge refreshers to keep them in check. A great way to package all the essentials is to launch a sales certification course. It can include everything from policy infographics to skill-based simulations. Best of all, you can cap it with a final exam to gauge how much they've learned and identify areas for improvement, as well as hold them accountable for their own L&D.
Find the right employee training LMS for your team at the right price. Our online directory features the top learning management solutions for sales training. You can also look for tools with built-in authoring to create sales resources from the ground up without purchasing additional software.
Download our eBook Top-Notch Training On A Tight Timeline: Your Guide To Rapidly Implement An LMS For Employee Training And Development to expedite the implementation process and target individual performance issues with the right tools!