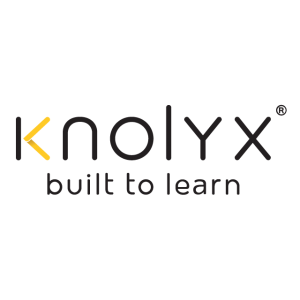 Knolyx
Bring the spark in B2B learning that focus on learners into the most engaging, efficient and fun application at workplace.
Knolyx Reviews
Read Knolyx reviews and discover how other eLearning Industry community members have experienced the software.
Usefulness

Usability

Customer Experience

Likelihood to Recommend
the platform is built with customer experience in mind
Continuous learning ● Training tracker ● Adaptive learning ● Gamification ● Chatboot ● Live
Continuous and adaptive learning.
gamification helps the overall process and makes it engaging
Knloyx provide a friendly user experience
What do you like best?
versatility; it can be easily adapt to the company needs.
Easy-to-use learning app with an intuitive interface and a very useful training tracker function.
Dynamic and interactiv platform, easely accessible information, user friendly elearning tool.
What do you like best?
User friendly elearning tool.
An innovative, effortless platform, perfectly suitable for corporate training and evaluation
I like the using of learning communities
Our new friend for eLearning
What do you like best?
The leaderboard is great, it keeps the members of my team extremely motivated.
It's great and very useful!
Very strong social learning platform that helped in our environment.
Employee is the centre piece of the platform
User friendly and very fast user interface.
What do you like best?
The streaming was very awesome.
What do you dislike?
I could not find anything that I would dislike.
A great platform to learn every day
Useful and easy to use
What do you like best?
Accesability
What do you dislike?
Nothing
Knolyx is very intuitive and user friendly
What do you like best?
We loved the gamification program!
One of the greatest experience that I have seen in an elearning platform. Very simple to use!
I love how the analytics appear on the platform
greatest experience in organising and sell tickets through the platform
easy to access and use, friendly interface but professional in the same time
I worked with a couple of e-learning platforms in the past but Knolyx is the best!
What do you like best?
It is very useful and so easy to use as other users have already mentioned.
It's definitely a must have...
the best e-learning platform in the world
Very useful and felt the improvement right away
easy to use and with great support from the team
It's useful and easy to use
Engaging and offers a great way to learn, especially in communities of learning
great gamification experience based on my specific needs and on action badges for daily quests
Knolyx enables on the job learning, making it easy for content to be shared among team mates.
Great user experience, interactive, easy to use, modern and fun interface that attracts learners.
Great content with a very friendly UI!
A complete solution with an intuitive UI.
Easy to use, helpful in our daily operations
It's a performant platform with great attention on the user experience.
What do you like best?
Easy to use.
Ease of use, straightforward delivery of the content
useful. smart. intuitive. easy to use.
Knolyx is an intuitive, flexible and effective LMS. It's ideal for high-quality elearning courses.
Fits perfectly with our needs, thankful I found this
Very well structured learning platform
Great features, very easy to use
Knolyx has streamlined our processes, reduced costs and provided our users with a intelligible LMS
What do you like best?
UI / UX