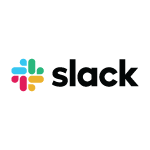 Slack Reviews
Slack is where work happens. With channels in Slack, you and your team know where to go to ask questions, share updates and stay in the loop.
Who Uses This Software?
Our customers range from two-person startups to Fortune 100 corporations. In fact, 77% of the Fortune 100 uses Slack.
Slack Reviews & Ratings 2023
Read Slack reviews and discover how other eLearning Industry community members have experienced the software.
Usefulness

Usability

Customer Experience

Likelihood to Recommend
Sep 27, 2022
Great tool for remote teams to stay in communication
What do you like best?
It is a very simple team communication tool, and the ability to create multiple group chats to enable teams to communicate about certain departments or ongoing projects. The search function also makes it very easy to find previous chats and documents.
What do you dislike?
Some of its more advanced features (beyond the basic chat functionality) require a bit of learning - and can cause problems with team members who are not as tech-savvy.
Nov 4, 2020
Slack enables communication & contributes to our success
What do you like best?
You can customize notifications, create custom channels, and integrates perfectly with all the other apps that we are using on a daily basis.
What do you dislike?
I really dislike the fact that I need to pay for a premium account in order to view past messages. However, I later found out that you would need to star important messages in order to be able to retrieve them later on.