Effective Custom eLearning Examples
Custom eLearning solutions help boost learner performance. Custom eLearning courses are designed using the content, colors, themes, and images that are unique to your organization. These solutions are specifically designed for your employees based on your organization's training needs, job roles, and business needs and strategies.
Custom eLearning content developed using modern Instructional Design and visual design principles will undoubtedly create an impactful learning experience for the learners. You can use a wide variety of learning design formats such as animations, scenarios, interactivities, gamification, and videos to keep learners engaged and involved.
There are many learning strategies available, along with the latest tools and new technologies to consider for implementation. Custom eLearning training helps improve overall productivity and creates a positive ROI by enabling your learners to develop new skills and competencies.
This article will look at 3 effective and impactful examples of custom eLearning training:
1. Use Custom eLearning To Explain The Process Better
The example shown here is a custom eLearning training module on General Data Protection Regulation (GDPR). The objective of the training is to explain how employees can ensure the security of personal data in the organization and how to fulfill all general data protection rules and regulations.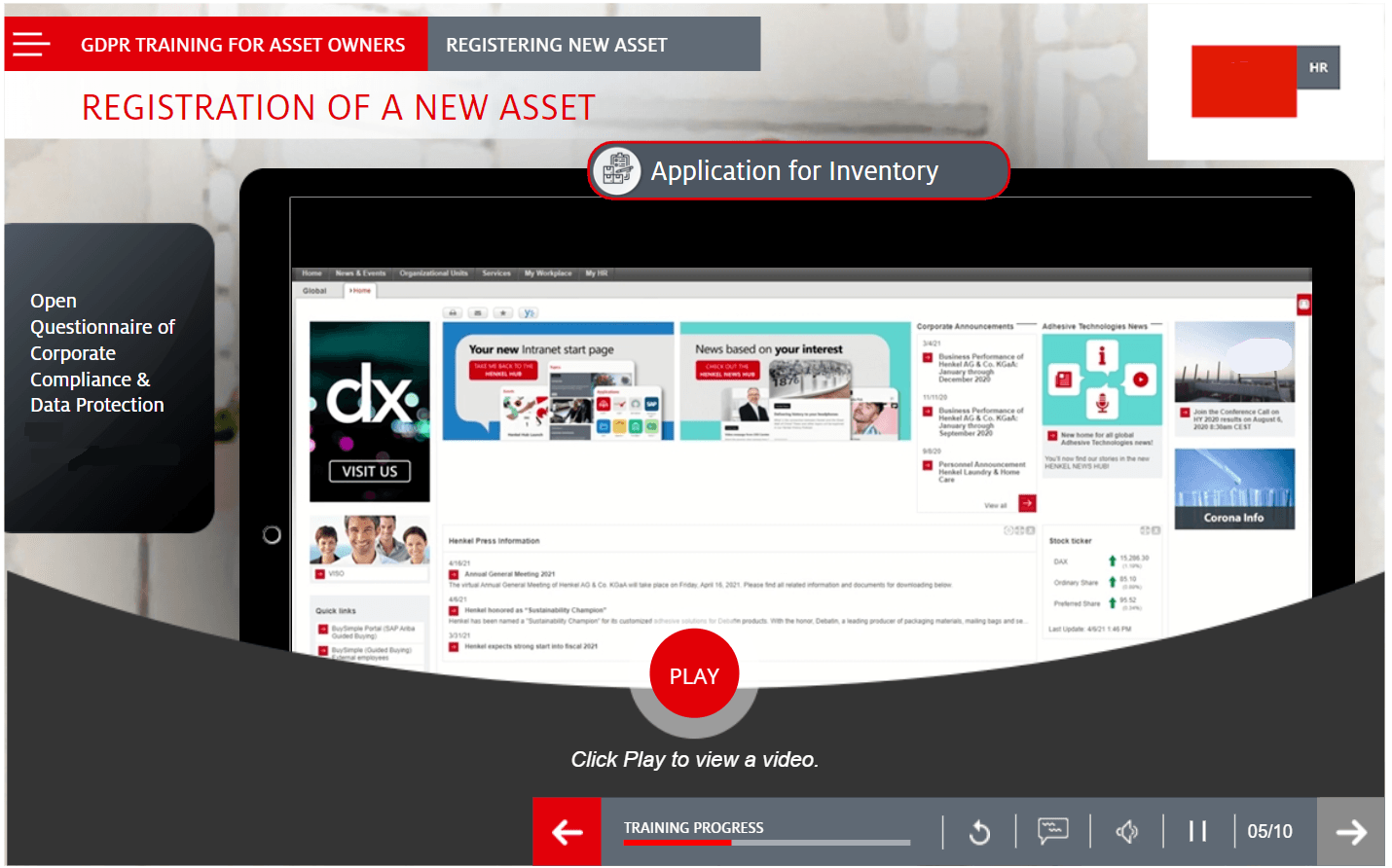 These training modules are designed to provide the employees with practical knowledge on how to perform various operations with information assets following the GDPR compliance workstream. The training modules include interesting interactivities and video clips to explain the process better. Here, registering a new asset is clearly explained in a video with a live example so that the learners can easily understand and follow the steps.
2. Use Custom eLearning To Design Visually Appealing Courses
We all know that organizations use different software applications for their business operations. Your employees should understand the importance of software licensing and why it is important to protect business operations from unethical practices and cyber threats. There was a requirement to create an engaging custom eLearning course with varied interactivities on the concept of licensing and compliance.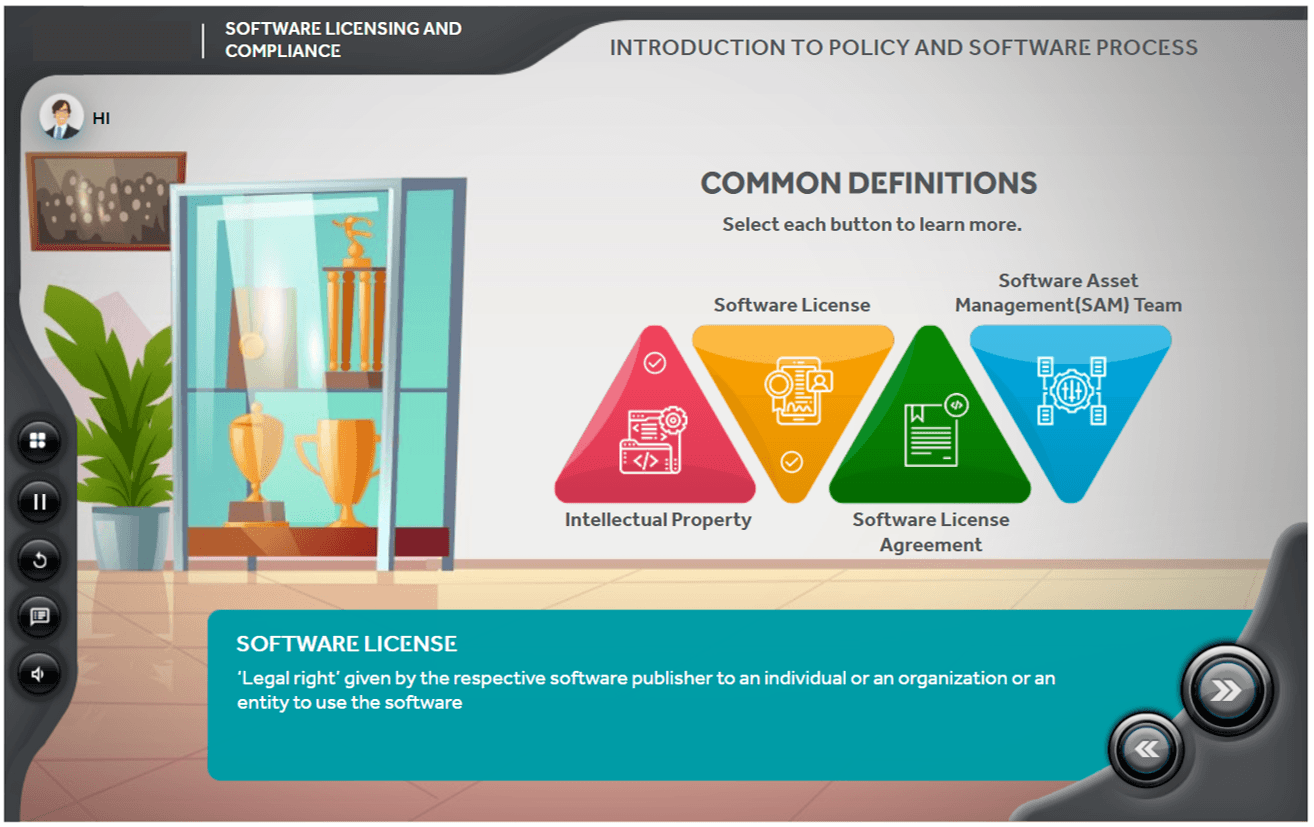 This is a custom eLearning module on software licensing and compliance. The course is beautifully designed using pleasant colors, themes, graphics, and interactivities. The main objective is to create awareness among the company's associates on software licensing and ethical practices while using software applications developed by original equipment manufacturers (OEMs). The learners can see a visual map of their learning journey in the initial slides. They can select and learn the topics in the respective order to complete the module successfully.
3. Use Custom eLearning For Easy Access To Product Information
Custom eLearning solutions deliver information to employees faster and in real time. This is especially useful for sales and marketing teams who are at the forefront and present the information on products and services to clients and talk to the final consumers directly. The example shown here is from a custom eLearning course developed for the salespersons of a leading manufacturer and marketer of nuts, dried fruits, and spices in the Middle East. The company is a renowned brand of pure and natural flavors.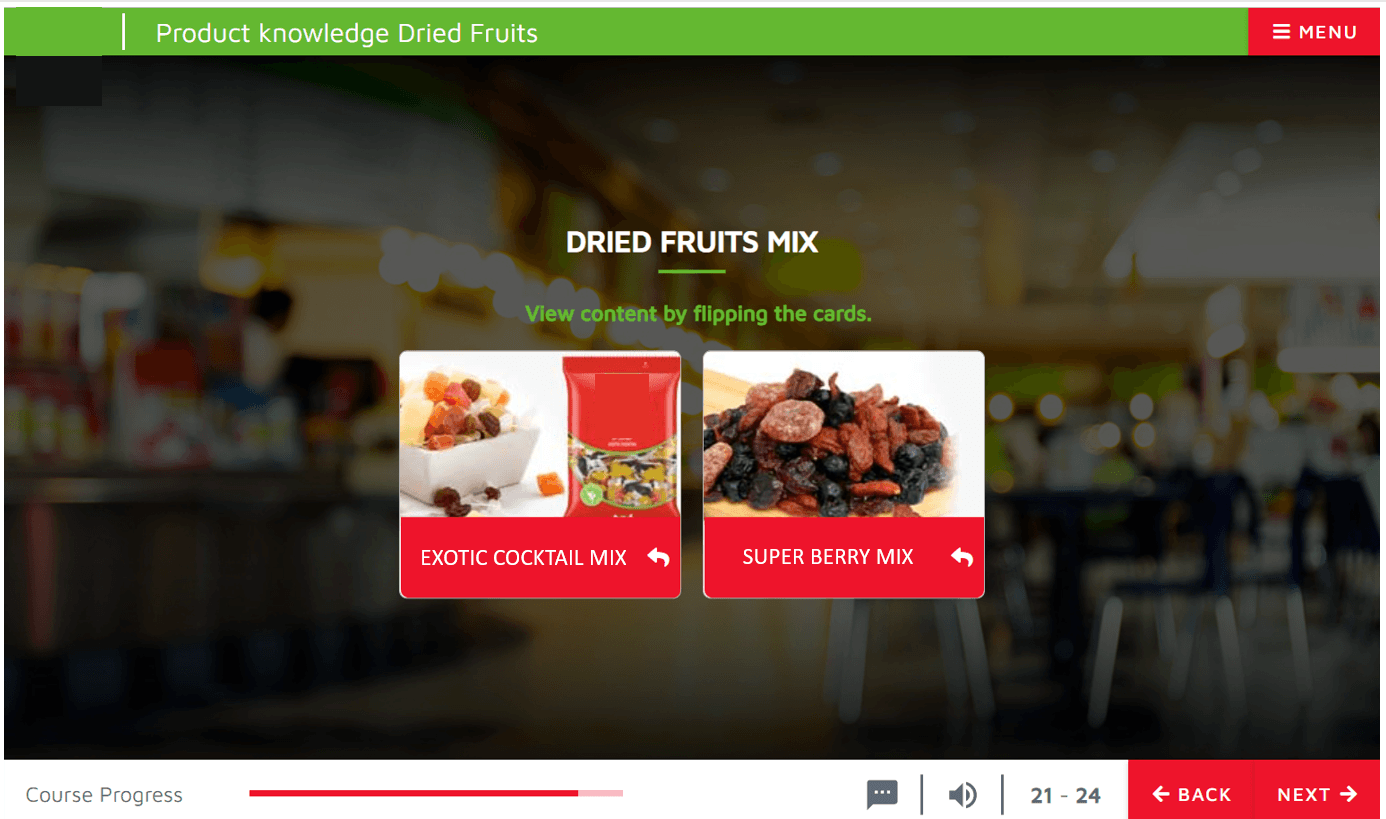 The example shown here is a part of custom eLearning training modules on product knowledge. The main objective of this training is to provide information to sales executives and sales supervisors on various products like dried fruits, nuts, pulses, grains, spices, herbs, and snacks. The course covers the product range in each category, specialty of each variety, origin country, health benefits of each product, and so on, thus providing complete knowledge to sales teams. Moreover, the course is responsive so that the employees can access it on their smartphone, tablet, or laptop, whenever and wherever they want.
Conclusion
In custom eLearning training, the learning content is organized to minimize cognitive load, increase the learner's understanding, and result in better retention. Since the custom eLearning courses are learner-centered, they engage the learners and motivate them to complete the training.
At Tesseract Learning, our microlearning solutions are innovative, engaging, and impactful, helping you enhance learners' competencies and skills. To know more about our services and how we can help you, contact me or leave a comment below.

Tesseract Learning Pvt Ltd
Tesseract Learning works with global organizations improve employee performance through spectrum of digital learning solutions. Solutions include eLearning, mobile learning, Microlearning, game based learning, AR/VR, Adaptive learning amongst others.