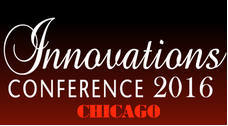 Where

Sheraton Grand Chicago
Sheraton Grand Chicago, East North Water Street, Chicago, IL, United States

This is also used to calculate the Event's timezone. VIEW ON MAP

When

Mar 20 2016 @ 12:00 am (UTC -5)

Mar 23 2016 @ 12:00 am (UTC -5)

More Info
Innovations 2016 is the premier event for professionals dedicated to improving organizational teaching and learning, and discovering new approaches for enhancing the community college experience.
Innovations 2016 provides a forum for collaboration among academic experts and leading community college professionals, while granting participants exclusive access to the most inventive and thought-provoking programs from around the world.
Innovations 2016 Conference Streams
Learning and Teaching
Leadership and Organization
Workforce Preparation and Development
Student Success
Basic Skills and Developmental Education
Innovations 2016 Conference Features
Engaging Keynote Speakers discussing critical issues facing community college educators
John and Suanne Roueche Excellence Awards and award winner activities
Forums, Special Sessions, Roundtable Discussions, and Poster Sessions24-Hour Wireless Hotspot
Extensive exhibition featuring educational products and service
Opportunities to exchange ideas with hundreds of colleagues during Receptions and Refreshment Breaks
Innovatioins 2016 Speakers
Constance Carroll, Chancellor, San Diego Community College District
Jill Wakefield, Chancellor, Seattle Colleges
Linda M. Thor, Chancellor Emeritus, Foothill-De Anza Community College District
Joe D. May, Chancellor, Dallas County Community College District
Peggy A. Honoré, AmeriHealth Caritas-General Russel Honoré Endowed Professor, LSU Health Sciences Center, School of Public Health
John Roueche, President, Roueche Graduate Center, National American University
Suanne Roueche, Director, NISOD, and Senior Lecturer, CCLP, The University of Texas at Austin, 1980-2001
University of California, Irvine Division of Continuing Education