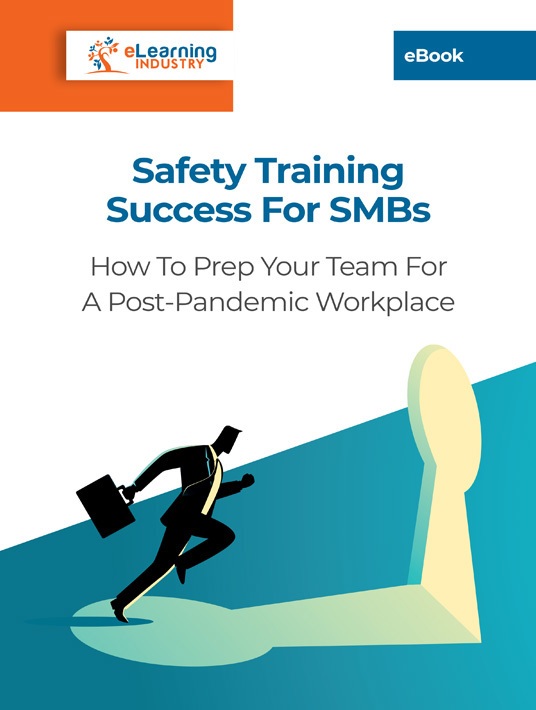 eBook
Safety Training Success For SMBs: How To Prep Your Team For A Post-Pandemic Workplace
eBook
Safety Training Success For SMBs: How To Prep Your Team For A Post-Pandemic Workplace
by eLearning Industry / Published: Jul 10 2020
What it's about
Find out how you can implement a successful health and safety training strategy in your organization. This eBook will provide you with all the essentials to update and enhance your compliance training methods so that your employees will be fully prepared for the "new reality" after the COVID-19 pandemic.
Key chapters
8 Ways COVID-19 Impacts Global Safety Training Initiatives

Find out 8 top ways the COVID-19 pandemic impacts workplace compliance strategies.

8 Reasons To Launch Safety Training Courses In Small-Scale Organizations

This chapter highlights 8 top reasons why small-scale organizations should invest in safety compliance programs.

8 Tips To Produce Relatable Safety Training Videos For Your Team

Are you looking for ways to make compliance safety training more relatable for your team? Read on for 8 tips to produce engaging safety training videos.

8 Safety Training Topics To Cover In Your Compliance Library

This chapter features 8 safety training topics that are crucial for on-the-job compliance.

7 Safety Training Support Resources That Are Always Worth The Investment

Explore 7 safety training support resources and knowledge refreshers that allow employees to learn from mistakes and apply practical skills from afar.

7 Office Safety Training Activities To Add To Your Employee Development LMS

Office compliance covers a broad range of topics and skills. How can you narrow the focus to stretch available resources?

7 Workplace Safety Training Implementation Pitfalls And Tips To Prevent Them

Discover tips that will help you prevent common pitfalls when it comes to workplace safety implementation.

6 eLearning Tools That Are Essential For Coronavirus Safety Training

Find out which eLearning tools you need to launch a successful Coronavirus safety program for your SMB.

7 Tips To Pick The Perfect Coronavirus Safety Training Solutions Provider

We share 7 tips to choose the ideal safety training solutions provider for your organization.

7 Online Safety Training Outsourcing Secrets Every Company Should Know

The key to outsourcing success is knowing about all the risks and potential pitfalls before you even begin vendor vetting. Find out everything you need to know in this chapter.
---
Recommend this read to your friends and #shareknowledge!
Get your copy now
---
Join other professionals like you, who have downloaded the eBook!
Other resources by eLearning Industry