The Future Of Work: How To Deal With Post-COVID Challenges With Immersive Learning
Emerging technologies give you the power to facilitate practical experience remotely and bridge gaps on the spot. While many organizations were gradually transitioning to online training before the pandemic, COVID-19 accelerated their strategies. So, how do you get them ready for new challenges and impart essential skills they need to achieve long-term success? This eBook helps you prepare your team for the future of work in a post-COVID world.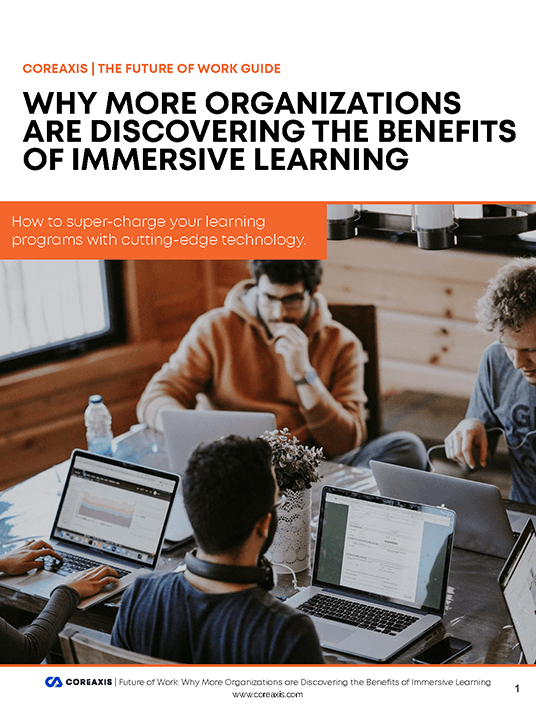 eBook Release
The Future of Work Guide: Why More Organizations Are Discovering The Benefits Of Immersive Learning
Discover how to super-charge your learning programs with cutting-edge technology and tap into the benefits of immersive learning!
Why Immersion Is The Key To Unlocking Employees' Potential
Employees often need hands-on experience to learn the ropes and mitigate risks. However, many organizations have switched to a remote work model, which means that experiential knowledge is even harder to come by. Fortunately, immersive online learning resources give employees the opportunity to make mistakes, reflect on personal performance, and build self-confidence. For example, they can use simulations and scenarios to understand why customer service skills are so crucial and how to reduce task time. In short, immersive learning allows them to explore different perspectives and approaches to see what works best.
About This eBook
How do you incorporate immersive learning into your existing training strategy? Which software do you need to launch an interactive online training program? What's the difference between in-person role-playing and virtual simulations? This eBook answers all of these questions and more so that you can deploy an immersive learning strategy that fosters real-world experience. Here's a brief glimpse of what you'll find inside:
The Future Of Remote Work
What Is Immersive Learning?
The Tools Of Immersive Learning
Virtual Reality Simulation Vs. Live Role Playing
The Business Case For Immersive Learning
Customer Success Story
What To Look For In A Learning Partner
Are You Ready For The Future Of Work?
Download The Future Of Work Guide: Why More Organizations Are Discovering The Benefits Of Immersive Learning to discover how to bridge performance gaps and prep your team for the new normal!