Benefits Of Bespoke eLearning
There's always the option to purchase off-the-shelf training solutions. But that often limits personalization, as the content may not align with your brand image or desired outcomes. Then there's custom content development in-house. However, this route puts a strain on your L&D team, development timeline, and budget. Thankfully, there is a third plan of action that minimizes the cons of both, which is outsourcing online training.
There's just one question you need to answer: is bespoke your best bet for the future of work? Is it the most cost-efficient way to implement your online training strategy? Here are 7 benefits custom eLearning development can bring to your organization.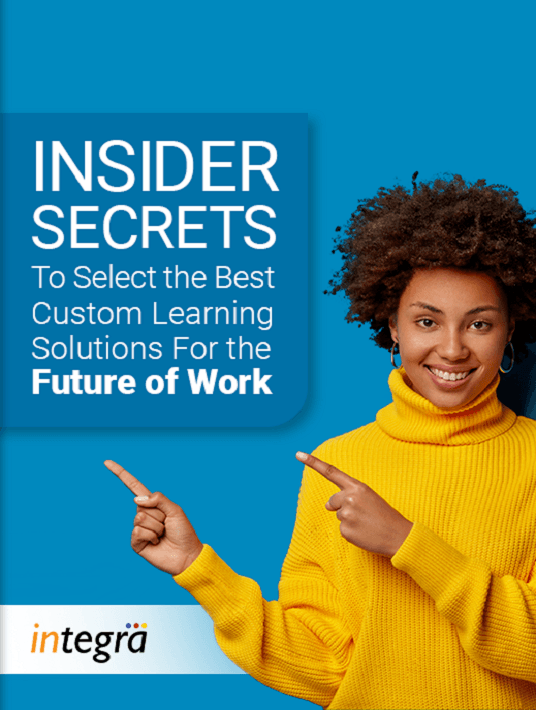 eBook Release
Insider Secrets To Select The Best Custom Learning Solutions For The Future of Work
This eBook walks you through every aspect of the evaluation process so that you can easily choose what is the appropriate solution for your organization.
1. Professional Expertise
Bespoke eLearning providers know their stuff. They've worked on countless projects in the past and understand the unique challenges associated with the training topic. As well as how to mitigate risks and deliver information in a way that's easy to understand. Their professional expertise is the number one reason to hire a custom eLearning development company versus completing the project internally. That said, you do need to vet vendors to ensure they have the experience and insider knowledge you require. Which companies have they worked with? Do they understand the obstacles your employees must contend with? Have they handled similar skill or performance gaps in the past and how did they address them in online training?
2. Improve Online Training Returns
Custom content development is often seen as an "unnecessary" expense. After all, your employees can do the same work without having to hire a third-party provider. This is one of the most common outsourcing myths. Your L&D and HR teams already have their respective job duties. Hiring a bespoke eLearning company allows them to focus on their tasks and entrust course design to experienced professionals. Other profit-boosting perks include better employee engagement and knowledge retention. Thus, you improve online training returns and get more from your investment.
3. Boost In Employee Participation
Employees are more likely to join in the fun if the content targets their needs and includes relevant takeaways. Bespoke eLearning development companies research the motivations and learning behaviors behind online training. Which allows them to create resources that are immersive, engaging, and real-world-focused. For this reason, it's essential to find an outsourcing partner who does their homework and familiarizes themselves with your target audience. No two organizations are alike. And the vendor must be ready and willing to personalize content based on your employees' preferences and goals.
4. Quick Turnaround
In-house custom content development usually requires a lengthy timeline. Which includes everything from storyboarding and software selection to implementation and data analysis. Investing in a bespoke eLearning company reduces turnaround times because they've streamlined the process. Years of experience enables them to quickly identify the best training tools for the job and custom tailor content based on your organizational objectives. They know how to use their software to produce high-quality resources. As well as how to overcome challenges that usually cause significant project delays.
5. High-Quality Content That Supports Desired Outcomes
One of the most profitable perks of hiring a custom eLearning development company is the end result. They take the work behind the scenes and offer you a top-notch eLearning deliverable, minus the stressful revisions and collaboration hurdles. Better still, this quality content supports your outcomes and objectives because it's custom-tailored. As opposed to off-the-shelf solutions that you may be able to modify slightly or incorporate branding elements. That option is limited and doesn't allow you to personalize training resources to suit your gaps and goals. On the other hand, every aspect of bespoke online training aligns with your desired outcomes. Down to the performance behaviors and skills you need your employees to develop.
6. Reduce Software Costs
The outsourcing vendor usually has all the software they need to develop online training content for your library, which saves you the time and trouble of choosing the right platforms and learning how to use them. However, you should speak with the custom content developer to ensure that software's part of the package. Do you need to purchase additional tools to maintain content? What about a replacement LMS that supports your new interactive and mobile-friendly support resources? In some cases, they may charge extra for software that isn't already in their toolbox. For instance, you require VR simulations and their current platforms aren't up to the task.
7. Faster Implementation
It's not only the development timeline that benefits from bespoke eLearning. The outsourcing partner can also work with your team to implement training rapidly and lessen the learning curve. For example, they provide detailed guidelines for how to set up user accounts on the new LMS. Or work one-on-one with your L&D team to explain the template revision process (if updates are required in the future). Even if they don't offer any follow-up services, the content is designed to be more user-friendly and intuitive, which results in smoother training implementation.
Conclusion
Download the eBook Insider Secrets To Select The Best Custom Learning Solutions For The Future of Work for tips to find the ideal external partner for your program.
Integra Software Services
At Integra, we craft learning transformation solutions to improve learning efficacy across the learning continuum. For over 27 years, Integra's forte has been innovative source-to-delivery content workflows and future-focused learning solutions.