How To Develop A Successful Sales Enablement Plan
Though the two terms are often used interchangeably, sales training and sales enablement are not the same thing. While sales training is more about sealing the deal, sales enablement centers on support and what goes on behind the scenes. It gives your staff the tools, resources, and know-how they need to provide the best CX in order to engage prospects and identify qualified leads at every stage of the buying journey. This may involve CRM software tutorials, product knowledge demos, and skill-building games. What does it take to develop a successful sales enablement plan for your organization? Let's look at some of the essential elements to include in your strategy.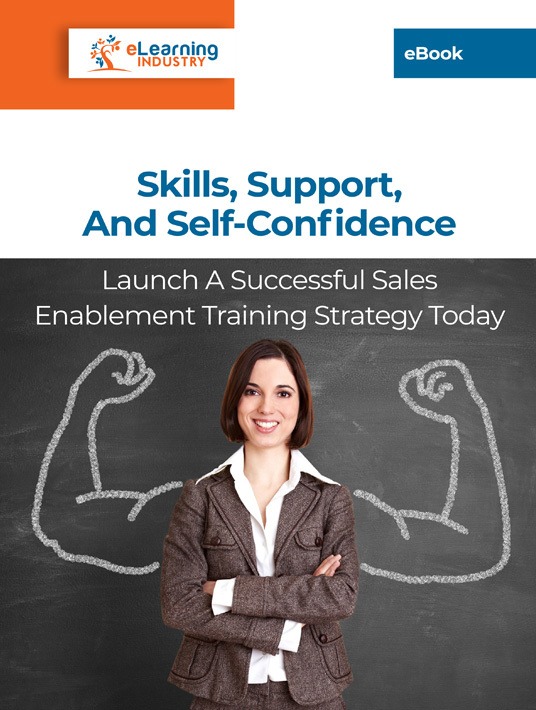 eBook Release
Skills, Support, And Self-Confidence: Launch A Successful Sales Enablement Training Strategy Today
Leverage the benefits of a successful sales enablement plan.
1. Support Resources That Target Existing Gaps
Your sales enablement plan should address existing pain points so that employees have the opportunity to grow and broaden their skillset. This requires targeted support tools they can access anytime, anywhere—even on their mobile device. From online training tutorials that cover the sales process to serious games that help them enrich customer interactions. Employee eLearning feedback and LMS metrics are the best way to identify these gaps and provide relevant online training resources.
2. Self-Evaluations To Empower Sales Staffers
Another way to diagnose performance, skill, and knowledge gaps is to encourage self-reflection. Incorporate self-assessments so that team members are empowered to evaluate their own behaviors and identify weak spots. Facing limiting beliefs or cognitions can be a challenging process. But it's the only way to continually develop their talents and overcome personal hurdles. Even a quick pop quiz can shed light on skills they lack without making them feel embarrassed or judged in front of peers/consumers because they disclose areas for improvement in a supportive training environment instead of the sales floor.
3. Customer Journey Maps That Include Touchpoints
Employees must be aware of how to engage with customers at various stages of the buying cycle. This includes crucial touchpoints where they can make or break the sale. For example, the sales training journey map offers tips to interact with prospects who are still on the fence about your brand and/or product usefulness. How can employees win them over without seeming too pushy? Is there a way to vet leads to differentiate casual queries from serious buyers? You should also cover mistakes to avoid. For instance, don't forget to offer add-ons or ask customers to opt in to your mailing list.
4. Clear Customer Profiles And Buying Behaviors
Every organization has a target demographic. This means there are customer profiles that will help staffers improve CX and provide more relevant customer support. For example, one consumer group tends to buy these items and shares these common pain points. Thus, sales employees should emphasize certain benefits and selling points based on the data. They can follow a general sales script, but there should also be some degree of personalization to make the customer feel valued.
5. Measurable Objectives And Assessment Criteria
The basis for any successful sales training plan is objectives and evaluation criteria. How will you measure effectiveness and identify underlying issues that hinder employee growth? Your sales enablement training strategy must be founded on clear objectives, outcomes, and goals. As well as assessment methods that help you spot emerging gaps and sales obstacles that have a direct impact on CX and profit margins. This also requires continual evaluation in the form of Training Needs Analysis, employee eLearning feedback, and customer service metrics.
6. Branded Resources Employees Can Pass On To Hot Prospects
One of the most common misconceptions about sales enablement training is that it's all about coercing customers into a purchase. Equipping your team with persuasion skills and techniques so that they can sell sand in the desert. In reality, it's more about making everyone happy and boosting on-the-job productivity. Employees should be able to keep customers informed and help them make the best buying decision. No tricks involved. As such, your sales enablement plan should include branded resources for consumer education, online training tools your employees can pass on to customers so that they have all the data they need. For example, product care tips, setup demos, and comparison checklists. Staffers can also use this information to match customers with the right products based on their expectations and pain points.
7. Sales Strategies And Troubleshooting Tips
Empathic sales strategies ensure that your employees know how to pitch products while still respecting the needs of your diverse customer base. Staffers must also know how to navigate challenges in the workplace so that they're prepared for consumer reluctance, for example, how to deal with a customer who is unsure of the price point. Should the employee emphasize the benefits of the product because it can address the customer's issue? Or should they recommend an item in the lower price range to keep the consumer happy and build trust? Include demos, online training tutorials, and cheat sheets so that they can tackle everyday challenges on their own.
What is sales enablement training in the workplace? This L&D approach offers staffers the building blocks they need to boost customer satisfaction and hit their quarterly targets, from communication and persuasion skills to product knowledge and company policy. The end goal is to facilitate more meaningful interactions with customers so that they stay loyal. As well as retain top talent by giving them ongoing support and bridging performance gaps as they emerge, instead of applying so much pressure that they falter under the strain and end up leaving the company to alleviate the stress.
If you want to learn more about implementing successful sales operations training, download our eBook Skills, Support, And Self-Confidence: Launch A Successful Sales Enablement Training Strategy Today. You will find all the information you need to train your sales team so that they gain the expertise and confidence they need to skyrocket their performance and offer unparalleled Customer Experience.