Celebrate Together, Even If You Are Apart
Why have a remote Secret Santa party? Short answer, because it is going to be amazing. Secret Santa is primarily a Western tradition practiced by many organizations and businesses. The premise is simple, each person becomes the "Secret Santa" of another randomly selected company member. This is a win-win scenario, and if you draw someone you are close to, you get to give your friend an extra present. If you draw someone you are not so close to, this is a great chance to bond with them as you try to learn what they like while trying to keep your identity as their "Santa" a secret. In the meantime, you try to guess who your own Secret Santa is!
Unfortunately, during a pandemic, this isn't really doable. At least, not in the old fashioned way. However, necessity is the mother of invention. Prepare to host your first Remote Secret Santa party!
Randomizing Your Nice List
If we were at our headquarters, we would write our name on a little piece of paper, drop them in a box, shuffle them, and draw randomly from it. If a person draws their own name, the process must be repeated. Unfortunately, the larger the group, the higher the chance of this happening, so this might take a couple of tries. But what if I told you that there is a way to do this online with a guarantee that nobody will draw their own name and also makes sure that nobody knows who drew with whom?
There are online platforms that are called "Secret Santa Organizers," and they do exactly that. My personal favorite for a remote party is Secret Santa Organizer that allows you to do all that and set a date and budget for your gift. The host never sees the matches, so it is a real surprise for them as well. The service is free, and all you need is an email address for each participant.
To: Dasher, CC: Dancer, Prancer, And Vixen
If all goes well, you now have your target, and nobody else knows about this. Now it is time to use your endless creativity to find the perfect gift for them! Delivering the present, however, might prove to be a bit of a challenge.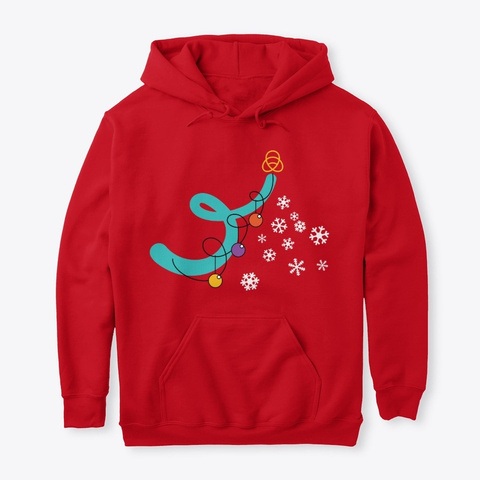 Get into the eLearning Holiday Spirit with eLearning Industry
Looking for unique Christmas gifts? Get our merch to spread knowledge and fun to your peers!
How do you deal with not being able to deliver the present in person? Maybe you can have your gift directly delivered to them, but what if their post service is shut down? Thankfully, the many digital options out there might have just what you need. Here are some ideas to get you started:
A streaming subscription
Almost everyone has one, and most of us are using it heavily. There are some great streaming services out there, both for audio and video. You can play it safe by getting them a subscription for the one they already use or introduce them to an entirely new platform if you are a bit adventurous.
An online experience
Many traditional experiences are now taking place online. You can find plenty of online concerts, plays, fitness classes, even magic shows, and escape rooms.
An online class
People are always looking to expand their interests, and we, at eLearning Industry, are all about learning. We wholeheartedly support the idea of an online class as a gift. Again, with tons of options out there, you can be as formal or informal as you like.
eBooks
Books are always a great gift, there is no denying that. But not everyone likes eBooks, however, but they do have a substantial audience. If you know that your remote Secret Santa target is a fan of eBooks, this is the gift that just can't miss.
Video games
The video game industry is vastly larger than the movie industry, so there is a good chance that your co-worker is a gamer. If so, a new game that matches their preferences will be greatly appreciated. There are many options for every budget. Be careful though, not every game appeals to every person no matter what their score on Metacritic is.
A Humble Bundle
What is a Humble Bundle, you ask? They are thematic digital bundles of movies, games, eBooks, etc., that donate all their earnings to charities. On Humble Bundle, you can gift the Bundle of your choice and pay as little or as much as you like.
An eCard
I believe that this is the most important element of your digital present. Writing something for your gift recipient is the best way to include your personal touch in an otherwise impersonal experience. Be real and actually connect with them. A few kind and heartfelt words can make all the difference in the world.
There Is No Party Like An eParty
The big day has finally arrived, and video chatting is your friend. Depending on the level of formality you want to keep, you can use a virtual background to transfer yourself to Santa's workshop, wear an elf hat, have something to snack on while you catch up, and even play some online games! For example, you can use Kahoot! to host an online trivia game.
No matter what you choose to do, it is important to stay true to the spirit of the season. Remember that remote Secret Santas, digital gifts, and online video parties are all means to an end, and that end is a simple one: Our co-workers are our extended family, for better or for worse. It is important to make sure that the people that work with you feel respected and appreciated, and that's the greatest present a co-worker can give to another.
Oh, if you're feeling stressed lately, don't forget to read these easy-breezy ways to reduce Holiday stress!
To wrap it up, here's a wishlist of thoughtful gifts for people who love learning...
That's the spirit!