Find A Microlearning Platform That Offers Flexibility
When you are wondering how to choose a microlearning solution, you have to think about the bigger picture. The best microlearning solutions will integrate with multiple authoring tools, content vendors and content curation tools so you can pick and choose the learning assets you want, then integrate them into a single subject area or course.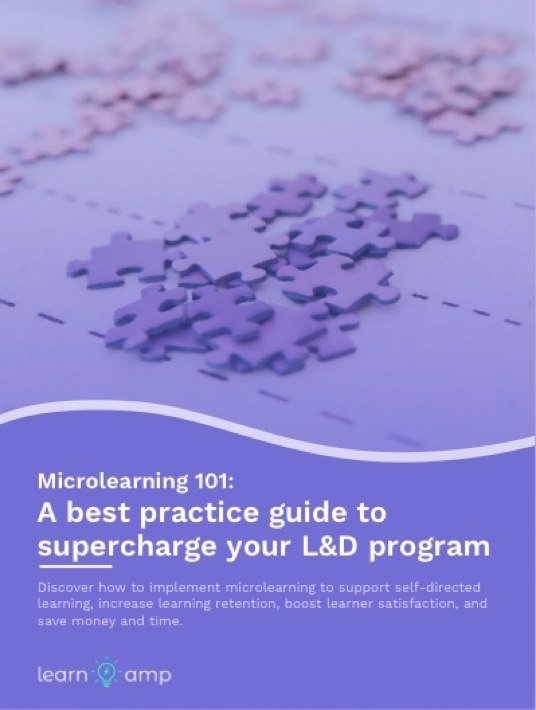 eBook Release
Microlearning 101: A Best Practice Guide To Supercharge Your L&D Program
Discover how to implement microlearning to support self-directed learning, increase learning retention, and boost learner satisfaction.
You should look for a platform that offers inbuilt authoring tools so you can create your own content on the fly in video, audio, or HTML digital formats. You should also think about a solution that lets you pool knowledge from your own in-house experts, with social features like Q&A that can then be turned into FAQs or other assets.
You'll also be better off with a platform that lets you reuse assets in multiple subject areas. That way, if you want to change or update an asset, then that change will be reflected throughout the system. This is important for keeping microlearning content up to date.
Choose A Platform That Anyone Can Use
You shouldn't need to be an L&D expert to use your microlearning platform, either as a content creator or as a learner. Gone are the days of needing to be an Instructional Designer to make great learning content. Creating micro assets should be simple enough that the learners themselves can create their own content. Managers and SMEs should find it easy to upload new information or learning content. Users should be able to curate learning content from the web and add it to their own personal learning library.
You should also look for features like quick, easy-to-use self-recording video and audio tools so you can stitch together curated content and context-setting videos. That way, you can give users a consistent journey from internal to external curated content, helping to make sure that the learning makes sense to the end user.
Make Sure Your Microlearning Tools Support Content Management And Reporting
To make microlearning work for your business, you'll need strong content management tools. Look out for content scheduling tools, so you can decide when the content appears, expires, or needs a review. To keep your content up to scratch, you'll also need a range of feedback tools like ratings, reviews, discussion forums, and survey feedback. Reporting is also key to managing microlearning programs. Keep an eye out for platforms that allow very granular reporting, this will help you decide which micro assets are working and which need polishing up or updating.
Is Microlearning The Key To A Supercharged L&D Program?
With the right tools in place, microlearning can power up your L&D.
Adding microlearning to your L&D toolkit requires some strategic planning, the right learning platform, and a thorough understanding of your company's learning requirements. But, with those elements in place, microlearning can save you hours of content development time. It can increase your employees' engagement with learning content, boost information retention, support larger learning frameworks, and provide an entertaining way to assess learning performance.
When carefully structured, microlearning can be a powerful way to support employee development. With small, targeted micro assets, L&D teams can take a granular look at the effectiveness of their learning content. Using reporting to spot trends in engagement over time can drive the overall success of a broader L&D program. Used correctly, microlearning can be a secret weapon for L&D teams, helping organizations stay ahead of the competition with powerful, up-to-date lean learning programs.
Microlearning Benefits For L&D Professionals And More
Discover how to implement microlearning to support self-directed learning, increase learning retention, boost learner satisfaction, and save money and time. The eBook Microlearning 101: A Best Practice Guide To Supercharge Your L&D Program has everything you need.