Sales Enablement Add-Ons For JIT Support
Even the most experienced employees struggle with difficult customers and performance issues from time to time. They learn from mistakes and end up with a broader skillset and niche expertise. However, converting on-the-job errors and sticking points into life lessons requires ongoing support. Your organization must provide them with Just-In-Time online training resources to fill gaps immediately and autonomously. Particularly for sales and customer service employees who must ensure stellar CX to keep customers loyal. Here are 8 JIT training sales enablement tools to facilitate an experience your customers won't forget soon—for all the right reasons.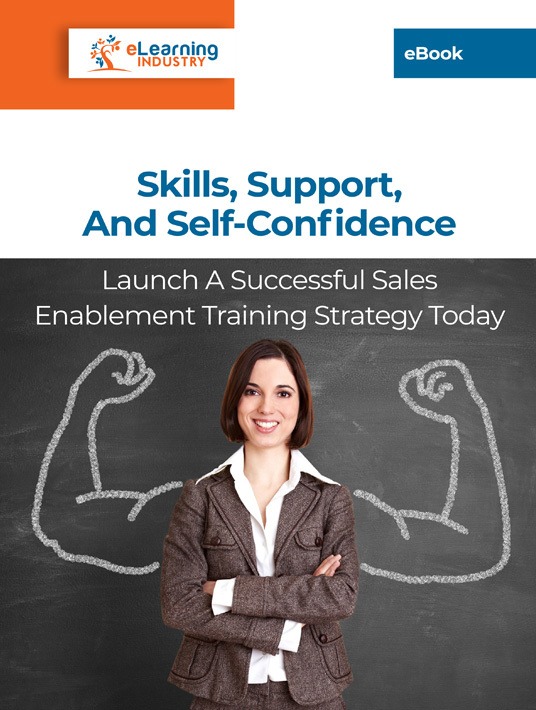 eBook Release
Skills, Support, And Self-Confidence: Launch A Successful Sales Enablement Training Strategy Today
Leverage the benefits of a successful sales enablement plan.
1. Product Knowledge Demos
Your most important asset is employees, but products are high on the list, too. Staffers need to know what your products do, how they perform in the real world, and who they're intended for. Product knowledge demos give them all the essentials so they can pass the info on to customers and highlight the key selling points. You don't want your sales associate fumbling with the device in front of customers or giving them inaccurate information.
2. Service Skill Serious Games
Communication, active listening, and empathy are just a few of the skills involved in CX. And who can resist an engaging serious game that teaches them the basics of customer interaction and exposes them to real-world challenges. Be sure to include a broad range of interpersonal skills and competencies to prep employees for customer engagement. There should also be helpful hints and trips along the way to help them identify underlying performance and knowledge gaps.
3. Onboarding Live Events
Host live events for new hires to bring them up to speed and give them a sales enablement training head start. You can even cut costs and facilitate in-house knowledge sharing by inviting a top sales performer to guest-speak at the event. Record the live session and break it into bite-sized recaps to provide JIT sales enablement support. For example, a 5-minute overview of sales techniques new employees can use to qualify leads.
4. Prospect Simulations
Since we're on the subject of leads, every member of the team must know how to interact with prospects to convert them into customers. The trick is to engage leads without making them feel uncomfortable. Some sales staffers can be too pushy, while others are so standoffish that the prospect feels undervalued or ignored. Employees need to walk the line between these two approaches to land the sale and improve overall CX. Simulations give them real-world experience so that they learn from mistakes and are more self-assured on the job.
5. Post-Sale Follow-Up Tutorials
Customers are unlikely to come back if they feel neglected post-purchase. Your sales team must follow up to gauge their satisfaction and address any last-minute questions. Provide eLearning tutorials that walk them through every step of the process and show them how to prevent customer returns. For example, what should they do if the customer isn't completely satisfied with the item? Is it best to offer an add-on that enhances functionality or possibly exchange it for another product? How do they keep customers happy while still avoiding refunds that negatively impact your bottom line?
6. Sales Process Branching Scenarios
Sales enablement training also encompasses sales processes and protocols. Develop JIT branching scenarios that map out crucial tasks so that employees can improve their approach. For example, the branching scenario involves the POS transaction. Is the employee training participant able to handle a simple software error? Do they remember to offer a service plan? How quickly do they ring up the customer without making any major mistakes? These are all elements that factor into the CX and customer satisfaction. The experience must be virtually seamless to keep them content and coming back.
7. Compliance Catch-Ups
Compliance regulations and company policies are often overlooked in sales enablement training because they aren't skill- or process-based, per se. However, rules are in place to ensure a positive CX and avoid costly fines to maintain your brand image and reputation so that customers spread the word. Create JIT training sales enablement tools that reinforce compliance knowledge and help employees spot areas for improvement. For instance, a quick pop quiz to test their know-how followed by targeted resources recommendations. Or bite-sized JIT online training infographics that remind them of key company sales policies every consumer should know about, such as the return guidelines and how to request refunds.
8. Empathy-Building Anecdotes
Tell staffers a story to build their empathy and help them see the sales process from a different angle. Namely, from the POV of frustrated or busy customers who expect the best CX from your organization. Employees are more likely to meet consumers' needs if they understand their background, preconceptions, and buying behaviors. For instance, the anecdote involves an angry customer who's been standing in line waiting for a consultant for 20 minutes. They're pressed for time and just want to make a purchase. Should the employee call upon a coworker to handle the sale, even if that means losing a commission? Looking at the situation from another perspective improves CX because they step out of their sales frame of mind, even if it's just for a fleeting moment.
There's a clear chain of information delivery in terms of product knowledge and brand messaging. While some customers may go straight to the source and use your consumer education library, most rely on employees to keep them in-the-know. These JIT training sales enablement tools equip your staffers will the experience, insights, and performance enhancers they need to provide the best CX. They also build self-confidence, mitigate compliance risks, and retain top talent. Everybody wins from a successful sales enablement plan.
If you want to learn more about implementing successful sales operations training, download our eBook Skills, Support, And Self-Confidence: Launch A Successful Sales Enablement Training Strategy Today. You will find all the information you need to train your sales team so that they gain the expertise and confidence they need to skyrocket their performance and offer unparalleled Customer Experience.