Launching A Successful Sales Enablement Strategy
One might think that small businesses should focus on growing their customer base instead of launching a comprehensive sales enablement program. That their funds should be devoted to marketing and building their brand presence. The trouble with that train of thought is that it's counterproductive. You can't achieve business success without a talented team that understands product specs and delivers amazing Customer Experience. They need ongoing support to uphold their end of the deal and bolster those sales stats. Follow these 8 steps to launch a solid sales enablement strategy for your SMB.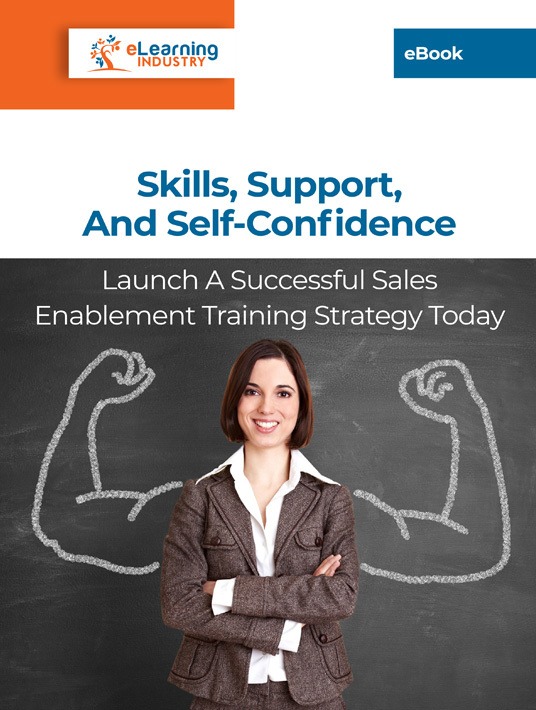 eBook Release
Skills, Support, And Self-Confidence: Launch A Successful Sales Enablement Training Strategy Today
Leverage the benefits of a successful sales enablement plan.
1. Identify Your Online Training Objectives And In-House Assets
You can't start the race—or marathon, in this case—without looking ahead to the finish line. Sales enablement training is a continual process that's based on clear objectives, goals, and outcomes. These elements frame your entire strategy. But you must also identify in-house assets to cut costs and stretch your budget. For example, do you already have content you can repurpose? Are there employees who can lend their expertise and unique skills to facilitate knowledge sharing?
2. Outline Gaps That Negatively Impact CX
Evaluate your current online training plan to identify gaps that diminish the Customer Experience. Assess team members to determine if they have the necessary skills and competencies. Analyze LMS reports to ensure that your strategy meets their needs and expectations. These gaps are your top priority because they have a direct impact on customer satisfaction. One of the most common mistakes that SMBs make is over-eagerness. They try to address every issue from the start instead of tackling issues in phases. Start small and gradually expand your sales enablement strategy to work within the confines of your budget.
3. Develop An Accurate Budget And Development Timeline
Create a budget based on your objectives, desired outcomes, and areas for improvement. For example, what resources must you develop to build their interpersonal skills and foster real-world experience? How much time will it take to train them in each targeted competency? Likewise, how much time does your L&D team need to develop and deploy sales enablement training materials? Even content repurposing involves rapid eLearning authoring costs and payroll hours.
4. Weigh The Pros And Cons Of Outsourcing
You might be tempted to go it alone to cut spending. However, your team may not have the time, resources, or necessary skills to fly solo. Consider outsourcing your sales enablement strategy for SMBs and weigh all the pros and cons involved. For instance, they can bring their own tools and expertise as well as lighten the burden on your L&D team. If you're worried about the price point, crunch the numbers to determine how much you'd spend to develop content internally versus outsourcing. Factor in everything from software to payroll and hiring an eLearning content provider might be your best bet.
5. Create Sales Enablement Content
If you choose not to outsource your entire sales enablement plan, this step requires content development. This encompasses online training assessments, JIT tools, certification courses, and real-world activities. Start with a storyboard and delegate tasks based on the timeline and budget. Another element to consider is which ID models or theories you'll incorporate into your strategy, as this dictates the overall process and steps involved. For instance, will you create a prototype? When should you schedule revision sessions? How do you assess employee performance? What's the ideal way to improve knowledge transfer and retention based on learning behaviors and motivations?
6. Develop A Winning Support System
The key to sales enablement success is support. This may be in the form of social media groups, peer coaching, or live events, just to name a few. These tools help your team bridge emerging gaps and continually broaden their skills. They also have the opportunity to quickly overcome performance challenges and build core competencies autonomously. One of the most budget-friendly ways to provide ongoing support is an online training library that features bite-sized JIT online training resources employees can access whenever, wherever.
7. Implement Your Strategy
Roll out your sales enablement plan in stages, beginning with a test round. Choose a select group of employees or external partners to participate in the online training activity. Then adjust it based on their input. You can use surveys, online training assessments, or even focus groups to identify areas for improvement. Now is your chance to catch the glitches, navigation issues, and relatability sticking points you overlooked during the revision rounds. It may take several eLearning feedback sessions to polish the online training content before the big launch.
8. Periodically Reevaluate Your Strategy
Evaluate LMS metrics, employee assessments, business reports, and other essential L&D analytics to identify pain points. There are always new skills, tasks, and products to master. As such, your online training program must evolve to suit the needs of modern employees. Even top-notch resources today may become outdated or irrelevant over time. In fact, it's best to schedule periodic TNAs so that you're always one step ahead of the game. Take a closer look at your objectives to ensure they're still on target and do some library housekeeping to improve employee engagement.
Every organization should consider implementing a sales enablement strategy for SMBs to widen their profit margin, retain top talent, and expand their customer base. Particularly SMBs and startups who are trying to grow their market share and establish a glowing reputation. Use this article to give your employees the support they deserve and ensure stellar CX. L&D is one of the most cost-effective ways to build your brand, even if your staff size and online training budget are somewhat limited—for the moment.
If you want to learn more about implementing successful sales operations training, download our eBook Skills, Support, And Self-Confidence: Launch A Successful Sales Enablement Training Strategy Today. You will find all the information you need to train your sales team so that they gain the expertise and confidence they need to skyrocket their performance and offer unparalleled Customer Experience.