Employee Onboarding App: 5 Mobile-Friendly Benefits It Brings To Your New Recruits
Pretty much everybody has a mobile phone these days, even little kids. Thus, in the average corporate organization, every team member has a functioning smartphone. Even if they are using it to discreetly check their Facebook accounts. So, how can you use this ubiquitous device for office orientation purposes? What unique benefits does it offer which regular online training modules don't? Here are some notable mobile-friendly perks an employee onboarding app brings to your new recruits.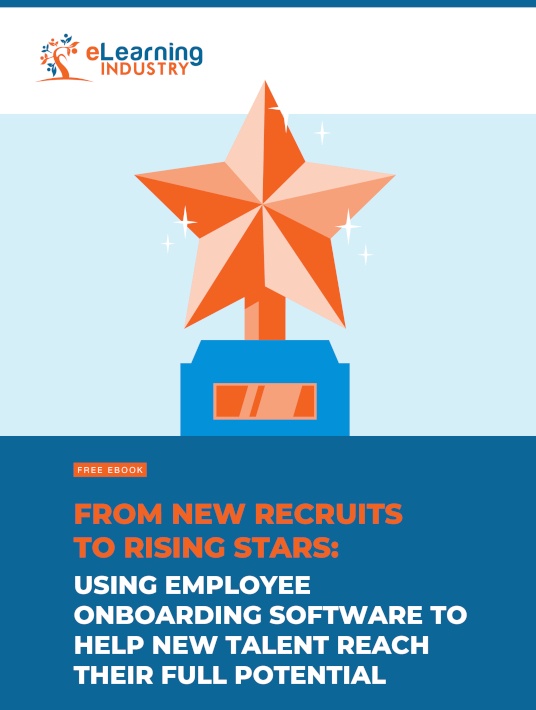 eBook Release
From New Recruits To Rising Stars: Using Employee Onboarding Software To Help New Talent Reach Their Full Potential
Discover how to choose the ideal new hire training software and identify your rising stars!
1. Lowers Turnover
It's common practice to begin engaging your new hires in advance. In our world, corporates can be poached before they ever arrive at the office. You want to start securing their loyalty early. The work-space has such frighteningly high turnover, especially among young, fresh workers. Retention strategy goes on right from day one if not before. The average onboarding course takes place inside the office, probably in a big hall or at their designated computer. With mobile employee onboarding apps, you can give your new employees access as soon as they sign that dotted line. They can familiarize themselves with their new workplace before they even report to work. And they can do it at home, in a safe, comfortable pace, without the pressure of a new physical environment.
2. Enables Immediacy
Similarly, the first-day-of-work ritual typically involves touring the office and meeting everyone. New hires spend much of the day sitting around, waiting for equipment. They have to be assigned a cubicle or workspace, and a computer. Or maybe if they're working a non-desk job, they'll be assigned a locker, or an office car. Mobile orientation apps help them start their online training as soon as they get to the office. They don't have to wait for equipment and machinery. It helps them fill the time. The psychological benefit of this is immense, because your first day is often marked with nerves, discomfort, and an alien feeling. Our human paranoia gets stoked as we wonder if people are talking about the newbie, or whether we're making dumb mistakes. With a good employee onboarding app, we can navigate the office like veterans (via the virtual maps), we can call everyone by name (thanks to staff profiles), and we know exactly who to ask when we need something to clean nervous office spills.
3. Improves Assimilation
Getting used to the new office space has many aspects. Some are little things, like finding the right parking spot or figuring out the fingerprint scanner. The sooner you adjust to office systems, the safer and less stressed you feel. And mobile phones, by their very nature, can help with this. For example, many smartphones are GPS enabled. So, your employee onboarding app can offer commuting suggestions, accommodation tips, and even office eateries based on location. It can show you the closest bus, most convenient train, or nearest scooter to get you to work on time. Also, your phone knows you better than your spouse! It can point you to a gluten-free vegan joint near work.
4. Offers Moment Of Need Support
One of the most significant perks of using an employee onboarding app to train new employees is offering them continual support. There are times when a task proves to be problematic or they simply need help with a new company policy. An app allows them to access moment of need online training resources whenever, wherever, instead of having to feel 'small' by asking their new managers for help. Keep in mind that employees who've just joined your organization are already a bit unnerved. It's an unfamiliar environment and faces. Some might even feel that they have something to prove. Thus, asking for assistance is simply out of the question, even if that means struggling with a task for an hour. Employee onboarding software with a built-in app enables them to quickly address pain points more discreetly.
5. Extends Onboarding Benefits To Remote Staff Members
Modern organizations often have remote team members who venture out on sales calls or are based on distant call centers. But these new employees still need the same access to training tools as their in-house peers. An app gives them the chance to brush up on skills and learn all about the new protocols from anywhere in the world. Even when they're about to make their first sales call or meet with a VIP client. They're also equipped with all the self-assessment tools they need to diagnose gaps on their own. For instance, pop quizzes that highlight service skills they should address before assisting customers. New employees can explore everything from compliance issues to product knowledge. Which means that you keep your top external talent instead of losing them to an organization that is willing to offer mobile-friendly training.
Ensure Success From The Start With The Right Onboarding Solution!
Discover, choose and compare the top Employee Onboarding Software!
Nobody disagrees with the convenience and flexibility of smartphone apps. They're light, fun, and easy to use. Well-constructed ones save your phone battery, occupy minimum internal storage, and have helpful bandwidth caps. But what's their practical advantage for onboarding newly hired employees? It lets the study from home before they even report to the office. When they do arrive at work on their first day, it helps them fill those idle hours. They don't feel as lost as they could, because they see familiar faces and spaces from their app. Finally, the location data on their phones can help them get to work faster, safer, and on time. And all without buying a new training device!
How can you make sure that an onboarding software includes all the must-have features, needed for your in-house and remote employees? How can you use onboarding software to figure out which fresh recruits are going to advance up the corporate ladder? Get our eBook From New Recruits To Rising Stars: Using Employee Onboarding Software To Help New Talent Reach their Full Potential to discover how employee onboarding software can help you identify top talent and train your multicultural workforce. It also features a step-by-step walkthrough for how to train your new recruits on a tight timeframe, as well as tips to provide the same onboarding benefits to employees with special needs.