The Most Important Moodle Plugins
Here is the list of the top 10 Moodle plugins that will help diversify your eLearning solution.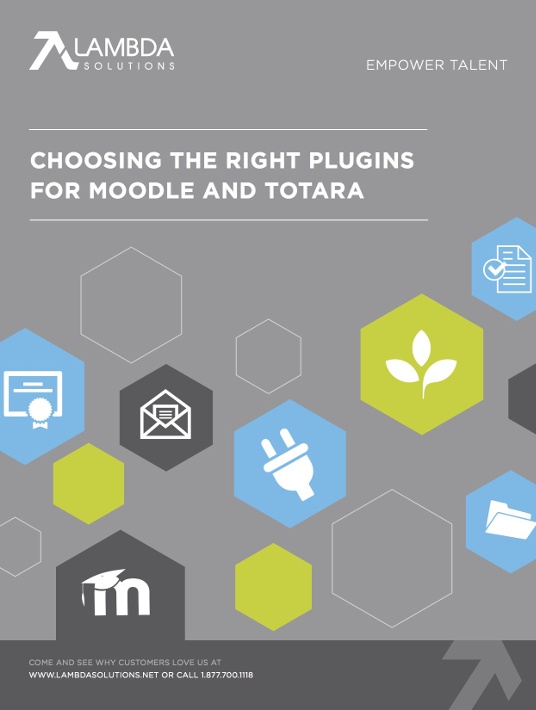 eBook Release
Choosing The Right Plugins For Moodle And Totara
Discover how to confidently evaluate your eLearning needs and select the Moodle plugins that will help you achieve your online learning and training goals.
1. Completion Progress

Now compatible with Moodle 3.4, this popular time management plugin is a helpful aid for students who benefit from visual reminders. The Completion Progress block is color-coded for up and coming activities to be completed and allows for teacher oversight so educators may intervene and help students at risk of falling behind. It also features innovative and helpful activity completion settings and combined progress.
2. Essential - Theme
The #1 ranking theme by site usage has been tried, tested, and downloaded by thousands of Moodle users for its clean and customizable layout. As per the Moodle.org description, Essential was designed to "look as little like Moodle as possible," so it may even serve as a company homepage. It's capable of using Google web fonts, and its entire color theme can be modified with theme settings.
Moodle plugins can be used to amplify the effectiveness, fun, and accessibility of your various Moodle sites. With over 1,400 plugins available for download, it can be hard to navigate which are the best. We've compiled a list of our top Moodle plugins to enhance your Moodle LMS experience.
3. Offline Quiz
The Moodle Offline Quiz plugin module adds paper-and-pencil multiple choice quizzes to the Moodle interface. In offline quizzes, students can mark answers to questions on a sheet of paper to be evaluated and graded automatically by the offline quiz module. Teachers can use Offline Quiz similarly to creating standard online Moodle quizzes.
4. Onetopic Format
Based on the Moodle standard 'Topic' format, the Onetopic format allows for an easy-to-navigate display of each topic within a single tab - all while keeping an open tab between calls to resources. Recently updated to include compatibility with Moodle 3.3, when the format returns from its original location it can return as a blog or glossary.
5. Interactive Content - H5P
A powerful and free content creator inside your LMS, capable of producing quizzes, interactive video, and collages, Interactive Content H5P also allows you to reuse and share content, and even make changes like translating to other languages. It's open source, free to use, HTML5 compatible, and very responsive.
6. Grade Me
Grade Me is a useful plugin created specifically for teachers to access and view all assignments and manual quiz questions that have been submitted by students within the same group - but are not yet graded.
7. Zoola Analytics
Zoola Analytics is a proprietary eLearning analytics solution that is more than a plug-in. Developed by Lambda Solutions, Zoola Analytics is an LMS analytics and reporting solution that allows its users to access real-time learning data to better communicate the value of eLearning, and gain control of valuable information. It allows its users to build custom reports to better utilize insights gained from data and automates workflows to optimize decision-making processes. It was purpose-built to serve Moodle and Totara systems.
8. Socialwall Format
Transforms a Moodle course into a social learning platform using a timeline of posts, filtering, and integration of Moodle's activities and resources, all with a similar interface for easy use. Similar to Facebook, Socialwall Format allows teachers to pick up the plugin and use it right away, thanks to its highly adaptable user-friendliness.
9. HotPot
An activity module that allows teachers to create and upload quizzes from Hot Potatoes and TexToys via Moodle. HotPot gives the administering educator access to a number of reports to show how individual questions were answered, and gives statistical trends generated from student quiz scores.
10. Moove Theme
This is a modern theme that makes online eLearning environments cleaner, simpler, and more intuitive for both students and teachers. Moove features an intuitive, colorful layout that allows users to maximize the space of their environment, minimizing both side columns to focus on the main content.
Final Word
Based on this list of top Moodle plugins, you can see how open source LMS solutions like Moodle offer a wealth of dynamic options to compliment your eLearning experiences. Moodle plugins are tailored to help make learning an enjoyable experience while bolstering powerful reporting and analytics tools to accurately track data to ensure progression and growth.
We recommend any of these choices as viable ways to elevate your Moodle LMS experience.
Originally published at blog.lambdasolutions.net.