7 Accessibility Issues To Overcome With Employee Onboarding Software: A New Employee Onboarding Guide
Your new recruits are a blank canvas, in many respects. It's true, they have skills, experience, and a job history that makes them a valuable team member. However, there's much to learn when it comes to company policies, task protocols, and compliance issues. All these training topics are unique to your company and must be passed on to your new hires. But what if there are roadblocks that stand in the way of them getting the crucial information they need to assimilate? This new employee onboarding guide features 7 accessibility issues to overcome when implementing online training software.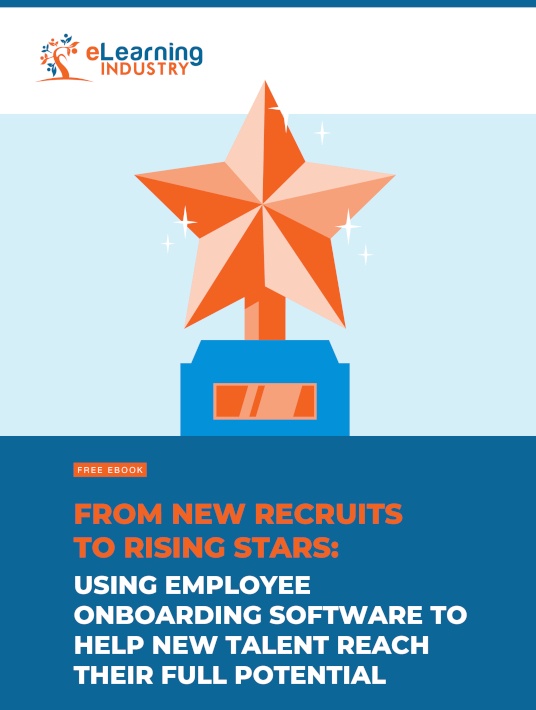 eBook Release
From New Recruits To Rising Stars: Using Employee Onboarding Software To Help New Talent Reach Their Full Potential
Discover how to choose the ideal new hire training software and identify your rising stars!
1. Non-Responsive Design
New employees aren't able to access the online training course on their mobile devices. As such, they have to wait until they get to work to train on the dedicated terminals. One of the perks included in a new employee onboarding guide would be about acquiring software that is able to provide them with flexible online training resources beforehand. To do this, you must invest in a responsive system that accommodates any device and browser. So that your new hires are able to access mobile-friendly support tools whenever and wherever they prefer.
2. Content Isn't Always Tech-Friendly
Employees with special needs cannot use screen readers to get the information they require. This is due to the fact that your online training content doesn't mesh with assistive tech. Which excludes those with visual impairments and other related issues. What a new employee onboarding guide would advise you, in terms of design, is that you should also include subtitles and captions to make it more tech-friendly, as well as descriptions for image-based resources that cannot be deciphered.
3. Limited Connectivity
Not everyone has 24/7 access to a reliable internet connection. Take your remote sales team, for example. They have to meet with clients, travel to the next sales call, and stay in accommodations that may not have Wi-Fi. But they still need access to online training resources so that they can brush up on skills and product know-how. Which is why it's integral to invest in employee onboarding software that allows for offline access and/or downloadable content. Employees can simply login to the platform, download the support tools they need to their smartphone, and be fully prepared for the challenges ahead.
4. Navigation Obstacles
The design of the onboarding course itself could be problematic. What a new employee onboarding guide will tell you is that one of the biggest accessibility blockers is tricky navigation. For example, confusing icons or dead links that frustrate new hires instead of imparting important information. When you're at the pre-launch stage, do a navigation run through to ensure everything is functioning. Do the links work? Are buttons clearly labeled? Is there an icon that new employees may not recognize? Is the overall look and feel of the online training content clear and concise, or chaotic and cluttered?
5. Limited Data Migration And Tool Integration Features
This is an accessibility obstacle that makes life difficult for your development team. They must be able to implement the onboarding LMS rapidly to disseminate information and keep your new hires in the loop. However, an unintuitive system with limited data migration and integration features can hinder their workflow. For instance, they aren't able to simply migrate user data from the old system or the new tool doesn't mesh with your authoring software. This accessibility issue requires a lot of manual work to overcome, such as inputting the information or figuring out how to handle compatibility problems with plug-ins, add-ons or back-end coding.
6. Lack Of Customizability
Another accessibility issue that plagues your L&D team, as any new employee onboarding guide would point out, is the inability to customize user settings. For example, they cannot personalize the dashboard so that employees have quick access to relevant materials. Or assign specific coursework to your new hires so that they meet the requirements and know what's expected of them. Instead, your new employees must simply wade through the entire online training library to search for crucial info.
7. No Vendor-Sponsored Support Resources
Some employee onboarding systems may be more advanced and involve a steep learning curve. However, vendor-supported support tools can help you overcome the related accessibility issues because you get an insider's perspective. For example, you're able to watch online training tutorials or video demos that show how to troubleshoot the most common roadblocks. Your new employees and your development team have the opportunity to master all the features by using the vendor support resources, rather than trying to figure out how to personalize the dashboard or access vital reports on their own. If the vendor doesn't provide this service, you may need to create support tools to address the most challenging accessibility hurdles.
Ensure Success From The Start With The Right Onboarding Solution!
Discover, choose and compare the top Employee Onboarding Software!
Insider Tip…Take A Test Drive With A List At-The-Ready
Most employee onboarding software vendors offer free trials where you get to test drive the tool. But you need to know what to look for in order to make a better-informed buying decision. Firstly, the interface should be user-friendly so that new employees and your eLearning team can use it effectively. It should also be mobile-friendly and allow for offline access. Lastly, look for a system that easily integrates with your current tools and enables you to assign roles and customize key functions.
This new employee onboarding guide can help you break down the accessibility barriers and give your fresh recruits all the information they require. Without having to deal with navigation obstacles and internet connectivity woes. It can even benefit your back-end team who develops and deploys onboarding training. As they can migrate data and access crucial vendor support tools to improve functionality.
How can you make sure that an onboarding software includes all the must-have features, needed for your in-house and remote employees? How can you use onboarding software to figure out which fresh recruits are going to advance up the corporate ladder? Get our eBook From New Recruits To Rising Stars: Using Employee Onboarding Software To Help New Talent Reach Their Full Potential to learn how employee onboarding software can turn new recruits into rising stars. It features tips to onboard employees on a tight timeframe, as well as info about how to develop effective online training courses for new hires with special needs. You'll also discover which essential features to look for in your new onboarding system.